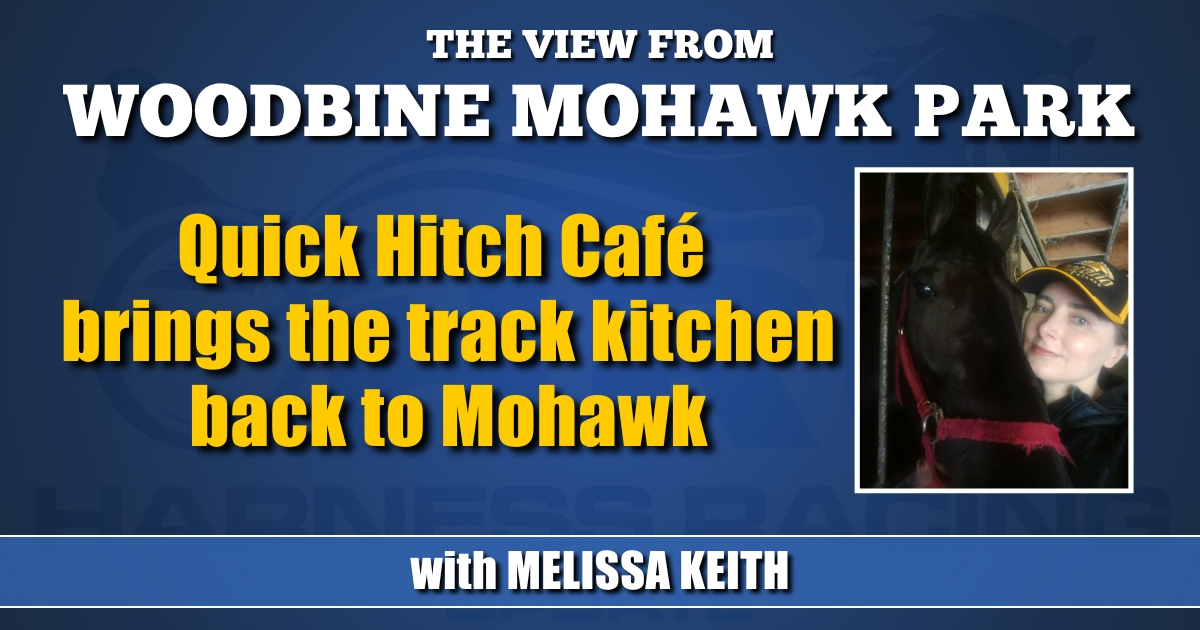 Quick Hitch Café brings the track kitchen back to Mohawk
Rose Denne and Al Mitchell bring back track kitchen meals and memories.
by Melissa Keith
Track kitchens are harder to find as fewer tracks have active backstretches. While horses ship in and race from the Woodbine Mohawk Park paddock, the humans who work with them can still get a taste of the old-school racetrack kitchens at the Quick Hitch Cafe, located in the same building. 
Before being interviewed, Rose Denne had to turn down the heat on the made-from-scratch broccoli and cheddar soup she was cooking. She and partner Al Mitchell began running the trackside canteen earlier this year, expanding on their former business of selling breakfast and lunch items from a truck that visited training centres around Mohawk.
"We started the first of June. Things are going good," she told HRU.
The Quick Hitch Cafe now occupies a canteen space that previously closed during the pandemic.
"People kept telling us, because we had a mobile that went around to all the standardbred barns, with sandwiches, drinks, and wraps: They kept saying that this place needs to be open."
Encouraged by a family friend, Rose reached out to Woodbine Entertainment's director of standardbred racing about reopening the shuttered canteen. "Our trainer, Rod Hughes, said, 'You need to get over there and talk to Bill McLinchey.' I sent Bill a message, but COVID was on, so he said it was kind of on hold. A few months went by, and then Rod said again, 'You should get over there!'"
McLinchey connected the couple with Heather Flaherty, general manager at Woodbine Mohawk Park.
"She asked me to do up a proposal," said Denne. "So I went home and did up the proposal and sent it to her. In a few days, she got back to me, and we're here!"
Mitchell and Denne have each operated several restaurants and diners, but the pandemic forced them to give up the latest.
"We had a cafe up in Barrie, it was in the Barrie Chrysler Dodge dealership. We had it for three years, and then COVID hit and they closed us. I called it 'Dodge N Go,'" said Denne.
It was trainer Hughes who initially suggested that the couple start the mobile food service for the  training centre. "Rod called and said, 'We need sandwiches and things,'" said Denne. "So we came down and just started going barn to barn. We asked all the owners that owned the property and the barns if they would let us come in and do that, and they were happy to let us, so that's how it started."
Denne's homemade sandwiches, baked goods and coffee got a warm reception on busy mornings.
"We'd just go to the barn, honk the horn, and out they'd come to get their stuff. It was pretty cool actually," she told HRU. "Now, in full circle, we're here! And I still get to see everybody and I'm with the horses, which I love, so it all worked out."
The couple currently share ownership of one horse, Warrawee Yippie, with Hughes.
"When I grew up, I had ponies and horses," said Denne. "We've been together six years and Al had horses – seven of them – in the early '90s. Jerry Hughes, Rod's dad, was Al's trainer."
The couple were part of San Pail's (7, 1:50.4m; $3,012,029) entourage of fans during his racing career. The 2011 Dan Patch/O'Brien Horse of the Year is co-owned by Rod Hughes and Glenn Van Camp of Port Perry, ON. After the Canadian Hall of Fame trotter retired in 2015, Denne and Mitchell could visit and watch him grazing near their home.
Twin B Archie (3, 1:53.1s; $604,638) is the Quick Hitch Cafe's current sentimental favorite. When operating the mobile food service with Mitchell, Denne said she was awestruck by the dark brown trotter.
"Samantha McEneny was bringing out a horse. I said, 'What's that one's name?' She said, 'Twin B Archie,' and since then I've just followed him… My dad's name was Archie Denne," she said. The 3-year-old gelding ended his season on top of the Ontario Sires Stakes Gold standings for his division. 
Denne plans to put a photo of Twin B Archie on the wall at the Quick Hitch, which currently has a few racing photos. Customers also get a perfect view of horses approaching Mohawk's first turn. But it's the food and friendliness that have quickly made the restaurant a popular stop.
"It's just all homemade," said Rose. "I don't buy it and bring it in, other than when I first started here, I didn't have enough time to do the baking, so I'd bring some stuff in… I don't like to bring stuff in that's already made, because that's not who I am."
Mitchell has a background in the sport that dates back to Greenwood Raceway.
"I started out in 1989," he told HRU. "I got involved with it through a friend of mine who was in the horse business. I'm a retired professional golfer now, but I was golfing at the time and he just said, 'Hey, would you like to get involved in the horses?' I said, "Yeah, why not? Let's buy one and see what happens.' He already had a couple, so I got involved with it. One turned into two turned into three turned into four…
"I had one that had a little bit of success [pacing-bred trotter Brown Road], so once that happens, it kind of makes you want to get another one," he said with a laugh.
Two-year-old colt Warrawee Yippie (Sportswriter–Fliponetwothree) is his most recent foray into horse ownership, after a long break. Naturally, it was Rod Hughes who helped him reconnect: "I've known Rod since he was 16 years old, so I've known him 32 years.
"I was out of it for so long, and then I thought, you know what? Maybe I'll get back into it. I saw Rod up at Georgian Downs and I just said to him, 'I wouldn't mind getting back into it and hook up with you on a horse if anything comes along.' A couple of months later he called me and said, 'I just bought one down in the states and if you guys are interested, I'll give you a piece of it.' That was three years ago, in 2019." 
Mitchell had spent 27 years away from racing before the reintroduction. 
"I got out in 1992. About the year before Greenwood shut down, and they were starting to close all the 'B' tracks," recalled Al. "They were closing Kingston and Belleville, and there was only a few left. You had Elmira still, and Orangeville was closing. We weren't having success with the horses, so I just soured on it."
He switched careers and became involved in the restaurant business. 
"Being a golf pro, I managed a golf course up in Port Sydney, Ontario, which is just south of Huntsville, and we had a restaurant there that I built from scratch. And I had two Shoeless Joe's locations, one in Oshawa and one in Maple. They're long gone."
This year, the couple opted to focus exclusively on the Quick Hitch Cafe.
"We're basically open from 5  'til 10 on race nights and then the qualifier mornings, which have slowed down because it's wintertime," said Al. "It's been really good. We were happy doing our mobile service, which was good too, but with the cost of gas and driving around… We still enjoyed it, but this just seemed like a better opportunity."
It's also been an opportunity to bring back the old-school backstretch kitchen feeling, in a corner of Mohawk's very modern paddock.
"That's what the older trainers and drivers that I've known over the years all say: We're very similar to the backstretch kitchen at Greenwood or the backstretch kitchen they used to have here at Mohawk," said Mitchell. "There was quite the backstretch one here, before the big fire [in April 1992]…I think a lot of the younger drivers and trainers don't remember that."
Al said he's noticed a few changes from the track kitchen clientele of yesteryear. "We've had a good mix of people. We've had not too many owners – that's died down over the years – but some owners coming in, and caretakers and trainers and drivers. The drivers will walk through one door and say hi to Rose, whether they are buying something or not."
The unexpected bestseller? Chicken fingers and fries. 
"They are definitely the number one seller," said Mitchell said. "When we first took it on, when [Bill McLinchey and Heather Flaherty] talked with us about what we wanted to do, or what we were going to sell, they said, 'If you just sell chicken fingers and fries, you'll do okay.' At our cafe in Barrie, we didn't even sell chicken fingers and fries! So we said, 'You guys are nuts.' But we brought in chicken fingers and fries, and now everyday we're buying more."
The runner-up is "any of Rose's sandwiches, because she won't keep a sandwich overnight. So they're always fresh," he said. "And we've just started with the soups. Our first night was Saturday night [Nov. 12], because it was cold, and now we have soup again tonight. We sold all of our soup on our first night – cream of potato and bacon."
Mitchell estimated that "probably 90 per cent" of Quick Hitch Cafe orders are for takeout, including a special meal they prepared for Canadian Thanksgiving (Oct. 10).
"Woodbine paid for Thanksgiving dinner for all the horsepeople," he told HRU. "We made it all in here. They just came in and got their free turkey dinner. [Rose] did turkey and mashed potatoes and vegetables for 200 people. Actually, we had a lot of people stay in and eat too, because it included Woodbine employees. Caretakers took it with them."
Expect something festive at the Quick Hitch over the Christmas holidays.
"We're going to put up a tree and lights and have a turkey dinner," said Mitchell. "We're going to hang up a lot of paraphernalia from the horse racing business. Just things like whips and bits and harnesses, and the stories behind them. We're going to redecorate to make it look more like a hometown tavern kind of thing."
At a time of year when many reflect on their blessings, Rose said she was grateful for the opportunity to run the Quick Hitch Cafe, for the support from horsepeople, and for Rod Hughes' encouragement.
"He was a big, big help. I could never thank Rod enough, that's for sure."