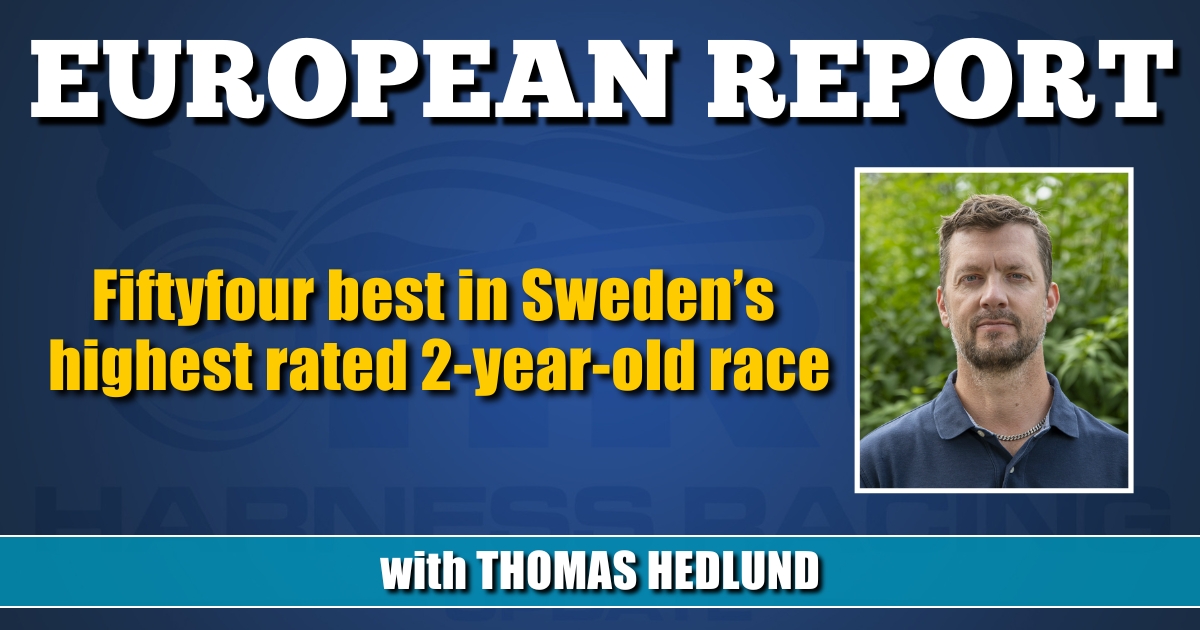 Fiftyfour best in Sweden's highest rated 2-year-old race
by Thomas Hedlund
Tomas Malmqvist-trained Fiftyfour (Fourth Dimension) dominated the $320,000 Uppfödningslöpningen for 2-year-old trotters at Jägersro on Saturday (Nov. 19) afternoon.
Danish driver Ken Ecce sat behind Fiftyfour, who came to the final after a safe elimination win two weeks ago and Ecce had a definite plan as the car left the field. Fiftyfour opened quickly and came to the lead, challenged by outside horse King Of Twilight throughout the first turn.
After the quick first quarter opening, Fiftyfour slowed the pace down before the attacks from behind began with 500 meters to go.
Frustration (Fourth Dimension) was served a perfect pocket trip and used her speed as the road opened at the top of the stretch. But leader Fiftyfour had no plan in slowing down the pace on the home stretch and the win was safe.
The winning time was 1:58.1 for the son of Fourth Dimension, who has his first crop racing in Sweden this year. Having the winner and the runner up in the biggest 2-year-old race in Sweden is a promising start as a sire, to say the least.
Fiftyfour made his fifth lifetime start and collected his fourth win.
"This was a big relief and it's hard to find the right words for me. This is my biggest win in my career so far. When 200 meters remained of the race I felt that Frustration would maybe beat us, but my horse answered when she tried to challenge," said Ecce after the big win at Jägersro.
GOCCIADORO SCORED IN THE NETHERLANDS
Alessandro Gocciadoro went to Wolvega and Victoria Park in The Netherlands on Friday (Nov. 18) night where the prestigious $70,000 Prijs Der Giganten was held.
Zaccaria Bar (Ready Cash) was Gocciadoro's weapon in the race and the duo hit the lead on the first backstretch. A fast opening and a considerably slower second part of the race was the winning receipt for Zaccaria Bar and Gocciadoro's horse sprinted to a safe win in a mile rate of 1:56.2 over 1.3 miles.
Early leader Floris Baldwin held to second place ahead of quick finisher Hades de Vandel.