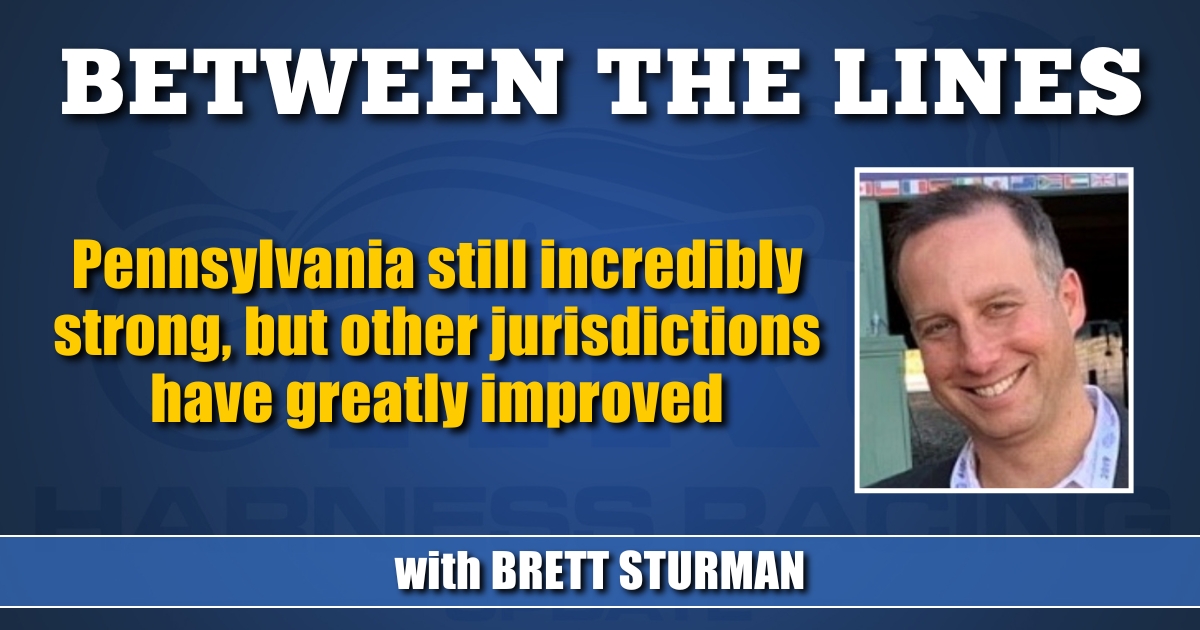 Pennsylvania still incredibly strong, but other jurisdictions have greatly improved
Comparing this year Lexington and Harrisburg sire averages with the more recent pre-pandemic year of 2019.
by Brett Sturman
I received a note recently from a knowledgeable friend located in Ontario. The person wasn't quite sure, but had an inkling that Pennsylvania-bred horses had been less prominent in the past couple of years. Trotting sires in the state, including Greenshoe, Father Patrick, Bar Hopping and Cantab Hall as examples speak for themselves, but this person inquired as to the quality of top pacing stallions in the state outside of Captaintreacherous and Always B Miki. Being in PA myself it didn't occur to me there might have been a shift in the state one way or another, but maybe with this being the first year there wasn't a 2-year-old pacing crop from the late Somebeachsomewhere, perhaps there was at least a perception in the states standing compared to others.
Prompted to dig into the question, I'd now say that the state of affairs in PA continues to remain unequivocally strong. But what could be happening at the same time is an increase in the prominence of other state programs.
For example, let's take results from the 2019 Harrisburg sale, the last year prior to COVID-19 as a baseline. In that sale, yearlings eligible in PA averaged $52,248. At least week's sale, PA-eligible yearlings sold for $50,884, still a solid number. The difference is that in 2019 Pennsylvania was the only state other than New Jersey from that sale to have yearlings average over $50,000. Ontario has seen gains over that time, too. This year, Ohio and New York both crossed that $50,000 threshold for average and PA was actually a close fourth in that grouping (though you could say Ohio was skewed by a disproportionate offering of high-priced Downbytheseasides).
Obviously, the sale prices largely reflect the continued success of on-track performance for the progeny from each state's top stallions. At the top of the list for PA remains Captaintreacherous who continues to remain the only pacing stallion to average over $100,000 per yearling at both the Lexington Selected Yearling Sale and the Harrisburg Sale. In fact, he's actually increased year over year. The price of his Lexington yearlings went from $109,200 to $129,300 this year over last, and in Harrisburg they went from $113,590 to $120,073 over that same time period. Last month, his Allywag Hanover tied for the second-fastest mark in racing history with his 1:46 upset over Bulldog Hanover, and then just last week established the fastest mile ever on a five-eighth mile track when he won the Potomac Pace Invitational in 1:46.4 at Rosecroft. This year, Captaintreacherous' 2-year-old crop includes two sub-1:50 winners. Combustion, who took a 1:49.3 mark when winning an International Stallion Stake at Lexington, and Save America who has gone 1:49.4 on two different occasions in his freshman year, most recently when winning his Metro elimination in September.
Beyond Captaintreacherous comes Stay Hungry, a first-crop sire who has burst onto the scene this year. As a result of his early success, his yearlings at Harrisburg increased from $37,640 last year to $59,667 this year. Similar gains were seen at the Lexington sale where his yearlings went from an average of $61,593 all the way up to $76,063. He has six 2-year-olds thus far that have paced in 1:51 or better, including his lone sub 1:50 performer Kopi Luwak who took a 1:49.2 mark at the Red Mile. He also has standouts in Annapolis Hanover, Zanatta, and Bluegrass stakes winner Lyons Surfing.
Proven pacing sires in PA such as Sweet Lou and Always B Miki continue to hold strong as well. Always B Miki saw his yearling averages fall somewhat at Harrisburg from $61,095 to $43,448, but it was almost the exact opposite at Lexington where his offering of yearlings increased from $49,167 to just shy of $60,000. This year, he's the sire of the brilliant 2-year-old filly champion Sylvia Hanover (1:50.2), as well as the sire of $416,560 2-year-old earner and sub 1:50 performer Strong Poison (1:49.3). It's a similar story for the tried and true, Sweet Lou. He remains strong, with yearlings averaging $50,242 in Harrisburg and $72,968 in Lexington this year. In just the past month with his 2-year-olds, he's sired Breeders Crown champion Ammo, International Stallion Stake winner Mamba, and Bluegrass winner Admiral Hill. In that time, he's also the sire of Breeders Crown elimination and a 1:49.2 performer, Confederate.
What may bolster the pacing ranks in PA even more in the coming years could depend on new sire Captain Crunch. A son of Captaintreacherous who stands for $7,500 at Diamond Creek, his yearlings were highly regarded at this year's
sales. His selection at Harrisburg averaged $55,688 over 32 sold horses, and that was paralleled at Lexington with an average of $62,000 for 34 yearlings. In fact, his average price at Harrisburg was better than any other pacing stallion
offered at Harrisburg with exception to Captaintreacherous and Stay Hungry (both PA-eligible), along with Downbytheseaside (Ohio).
For as encouraging as the stallion prospects are in PA, the same holds true elsewhere, which is why other states have continued to gain prominence in recent years. New York has Chapter Seven on trotting side who just averaged massive average yearling numbers of $149,462 at Harrisburg and $129,300 at Lexington, but also has an extremely nice pacing stallion in Huntsville, sire of, among many other notables, 1:49.3 winner as well as Bluegrass Stakes winner All About The Hunt. Downbytheseaside put up remarkable numbers in Harrisburg, averaging $90,875 over eight sold yearlings to pave the way on the Ohio pacing front. There's no question that New Jersey is being carried almost exclusively on the trotting side with Walner and Muscle Hill and watch out for Tactical Landing, though Lazarus N may still prove to be a welcome addition on the pacing end.