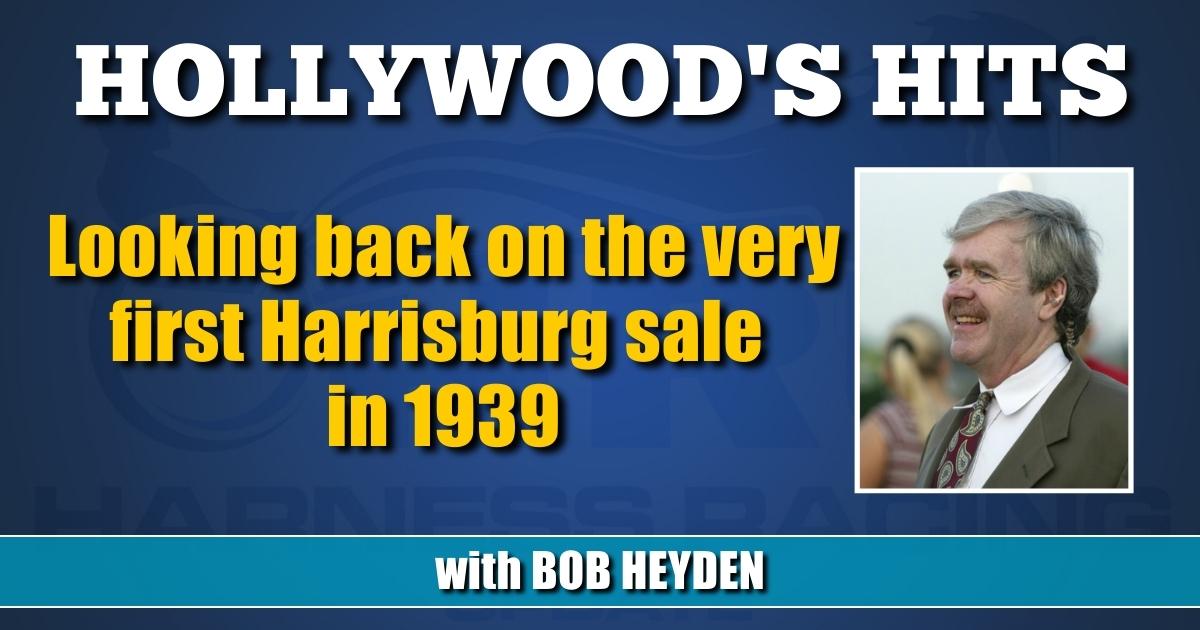 Looking back on the very first Harrisburg sale in 1939
by Bob Heyden
The first Standardbred Horse Sales Company auction was held Nov. 2 and 3, 1939 at the brand new Pennsylvania State Farm Show Arena.
The sale started at 10 a.m. sharp and hip numbers 17 through 112 were sold on Nov. 2. Hip numbers 113-216 were sold on Nov. 3.
The average sale price was $960.
The first 16 hip numbers were stallions:
1. Mr McElwyn
2. Peter The Brewer
3. Guy McKinney
4. Calumet Chuck
5. Red Ace
6. Sandy Flash
7. Abbedale
8. His Majesty
9. Dillon Axworthy
10. Scotland
11. Guy Abbey
12. Real Frisco
13. Peter Volo (who died on Nov. 7, 1936)
14. Guy Axworthy (who died on July 3, 1933)
15. Guy Day
16. All Worthy
The first yearling sold was Hip #26 Tabb Hanover (Peter The Brewer—Bertha Hanover)
The first 21 yearlings were all Hanovers.
No personal checks were accepted — only currency or Bankers Check On New York.
Here's a sampling of some of the owners comments throughout catalog #1:
"Farm-Hitched Only"
"Won a GOODLY amount of his starts last year"
"Most Pleasing way of going"
"Usually pleasant going to drive"
"Mahogany Bay"
"Model Of Deportment"
"He won't ask for any favors when you ask him to race."
"Sound-Unblemished-Unspoiled"
"Should prove of rare value as a matron"
THE 2022 SHSC AUCTION
This year, there are 68 sires represented in the yearling section.
Only four were Horse Of The Year themselves— Always B Miki, Chapter Seven, McWicked and Muscle Hill.
How amazing is Bettors Delight? Consider:
He has 50 in the sale at Harrisburg — 26 colts and 24 fillies.
All other sires that have produced at least one Horse of the Year have a combined 18 yearlings to sell — Kadabra with 10, Andover Hall with six and Swan For All with 2 each.
Twenty-two of the trotting sires raced in the Hambletonian, but just two won it — Muscle Hill (15) and Royalty For Life (1).
What The Hill has but one in the sale at Harrisburg — Hip 373 Myth. I wonder if he was not disqualified from the 2017 Hambletonian if he would have had more? Or even plenty more?