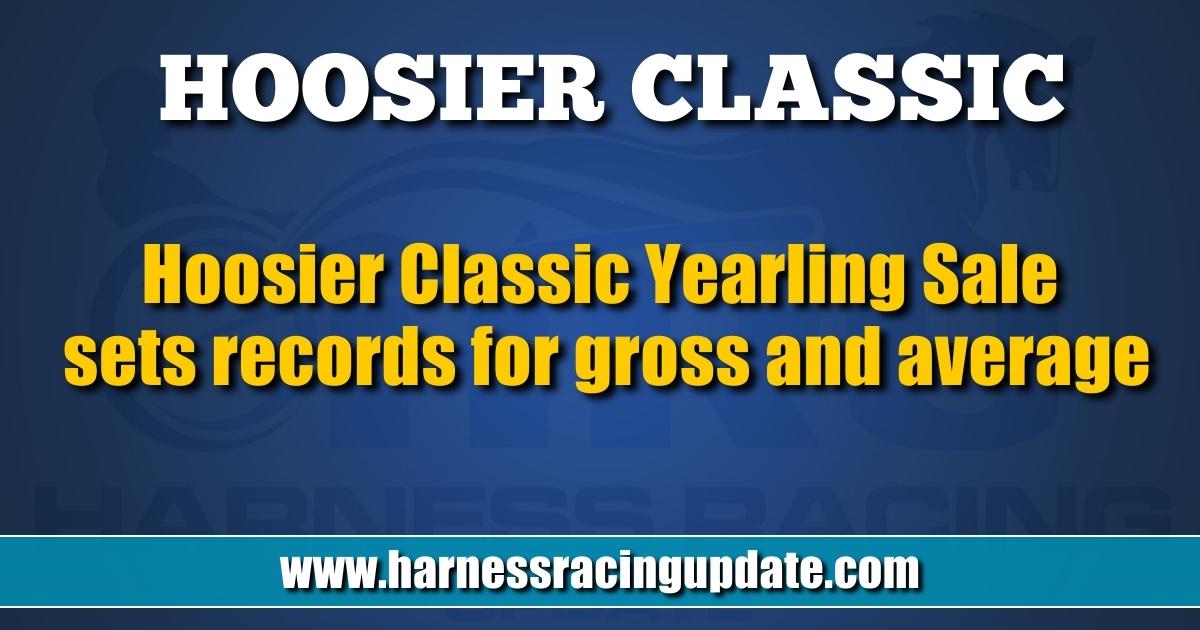 Hoosier Classic Yearling Sale sets records for gross and average
The two-day sale concluded Saturday in Indiana with a gross of more than $9 million and an average of $22,633.
by James Platz
Several new records were established during the recently-concluded Hoosier Classic Yearling Sale, held Friday (Oct. 21) and Saturday (Oct. 22) at the Indiana State Fairgrounds. The event, which features some of the top Indiana-sired pacers and trotters, surpassed $9 million in gross sales for the first time. Over the course of the two sessions, 399 babies were sold for an average of $22,633, up 5.5 per cent from a year ago, is also a record. A total of eight yearlings topped six figures, twice the number in 2021, with Helpisontheway colt Ponda Marshall topping the first session, and the sale, consigned by Pond-A-Acres and sold for $170,000 to Ohioan Greg Luther.
Friday's session finished just shy of $5 million, and the session average of $23,963 signaled a new record, up nearly four per cent over 2021. Saturday's session eclipsed $4 million for the first time in the sale's history, and the $21,186 average jumped more than 7.5 percent over last year.
"One thing that was refreshing was to see the smaller operations hit home runs. It's just great to see the smiles on their faces. It made their year," said sale manager Steve Cross.
The home runs came in the form of six-figure and high five-figure buys spread across multiple consignments. The number of yearlings bringing $50,000 and up nearly doubled from last year, 44 in total this year compared to 25 in 2021.
Two babies from Rollin Acres brought considerable interest and bids on the first day. Swan On Broadway, a first foal Swan For All colt consigned as Hip 146, sold to Tom Pollack for $105,000. Helpem Dance, a Helpisontheway colt that is the first living foal from a sister to Indiana champion Satin Dancer, brought $72,000. Jamie Macomber signed the ticket.
"We've never had that many people come and look. We keep working to improve our conditioning every year and, of course, keep trying to improve our breed every year. We've been doing it 15 years and we've never sold a yearling for over $25,000," said Roman Stoll, who partnered with Dave Wagler to form Rollin Acres. "For all the small breeders out there, hang in there, because you're going to get your day in the sun."
The score with Helpem Dance was particularly gratifying. After being unable to get Serenas Serenade in foal her first season, she delivered a Swan For All baby that was consigned to last year's Hoosier Classic but died in July 2021.
"It's been a long road. Five years since we bought the mare and we finally got the gold," Stoll said.
Rollin Acres sold eight yearlings for $302,500, including another Helpisontheway colt that brought $53,000 on Saturday.
Sires with successful progeny on the racetrack produced strong numbers in the marketplace. Oakwood Farms was another consignor that benefited from buyers' interest in what is hot on the track. Swan Aleah (Hip 178), a first foal Swan For All-Grammy Winner filly, was hammered down for $100,000 to S&R Racing Stables of Fishers, Ind. DC Flash, a Muscle Massive colt that was an agent yearling consigned as Hip 6, set the tone early, bringing $90,000.
"You try to get some good mares and cross them right. Obviously, when you breed a mare, you're shooting down the road three years, so it can change on you," said Oakwood Farm's Harvey Knepp.
Oakwood sold Swan For All colt Swan Captain, recently a third-place Super Final finisher, for $100,000 at the 2020 Hoosier Classic sale. Knepp, who bred his first mare 20 years ago, said it is the Montgomery, Ind.-based farm's policy to continually upgrade the broodmare band, which numbers 20. They also have other mares with Steve Stewart's Hunterton Farm.
"I think it's a good policy to try to add a good mare or two each year. You can breed your mare and they can do okay, but sometimes you can have three or four foals and you get to the point where you have to cull one out," he explained.
Oakwood sold 11 babies for $459,000, good for an average of $41,727.
Many Hoosier Classic consignors have upgraded their broodmares in recent years. This year's catalog featured first foals or first live foals from nearly a quarter of the broodmares represented. There were also many second foals cataloged.
"It gets better every year. The guys are continually upgrading their mares. We're seeing better broodmares, better raised yearlings, it's just good for everybody," said Victory Hill Farm's Jeff King.
When Cruisersfoxyjudy entered the sale ring, breeders Devon Knepp and Devon Beechy hoped there would be significant interest. Eight days earlier the filly's full brother, Buzzsaw Russ, captured the $250,000 Indiana Sires Stakes Super Final for freshman pacing colts. As the bidding pushed the number on the board past $80,000, emotions began to kick in as they observed in amazement. The filly, consigned by David Wayne Yoder, sold for $100,000, purchased by Indiana horseman Doug Rideout.
"There were definitely some tears," said Beechy.
The dam, Up Front Cruiser, also had a rough start to her broodmare career, unable to get in foal the first year and losing a foal in January of her second season. Then Buzzsaw Russ arrived, selling last year for $52,000. The partners were more than pleased then, making Saturday overwhelming.
"There were good 2-year-olds this year. Ours wins the final and we have a full sister. It's just overwhelming," said Beechy. "For a small guy, that's what everybody is trying to do, sell a yearling for a nice price and everybody wants to win the final."
"I hope everybody has that experience. It's exciting," added Devon Knepp.
Rocco Ruffolo did not purchase the sale topper, but he comes to the Hoosier Classic each year searching for the yearlings that will deliver in his pursuit of the next Super Final victory. Ruffolo, Doug Overhiser and trainer Erv Miller were very active over both days, buying several yearlings to compete next summer in Indiana's lucrative program. The Chicagoan signed eight slips, ranging from $100,000 for colt Summer Is The Best, to $11,000 for filly Rock N Brook.
"I want to win a blanket," he said. "I have two sires stakes champions. I owned Rockin Tony in 2017. In Kentucky in 2011 I had a 2-year-old champion, T B Beach Girl. I need one more. It's hard. Indiana is hard."
Ruffolo's purchases totalled $466,000, and he said he will partner on several with Overhiser and Rick Howles. For his part, Overhiser also helped fill Miller's barn with a new crop of trotters and pacers. The owner signed 13 slips totalling $561,000.
"The buyers showed their hand early and it was quickly evident what they were looking for," said Cross. "As expected, they were bullish on Tellitlikeitis and Helpisontheway."
Offspring of Helpisontheway, whose first crop made a big splash in Indiana this season, were in high demand. The son of Chapter Seven sired two of the top three yearlings sold at the Hoosier Classic. A total of 29 babies passed through the ring, selling for a gross of over $1.2 million and averaging $42,603. Swan For All, the perennial leading trotting sire in Indiana, continued to sell well, with 51 bringing just shy of $1.8 million, good for a $35,167 average.
Tellitlikeitis led all pacing sires with 45 babies selling over the two days for a $1.55 million gross and $34,578 average. Mystical Oz Park, a colt out of the Sportsmaster mare Mystical Victress, topped the second session at $168,000. She was purchased by Jeff Fought.
"You can't really fault him. He's a flawless looking colt. For a pacing video, he's got the best pacing video in the sale, hands down," said Fought. "I was really hoping to buy a Tellitlikeitis. He's obviously had a great year. The 2-year-old crop, it's the best mares he's bred."
King and his wife, Maria, operate Victory Hill Farm, which stands Tellitlikeitis. Victory Hill sold Mystical Oz Park and JK Endofanera colt Summer Is The Best, both six-figure yearlings. In total, the farm sold 21 horses for $956,000, producing a $45,524 average.
"The good horses sold very well. We had more $100,000 horses than last year. That's really good for this program," King commented. "What really helped the sale is that the majority of yearlings at the sale were from sires that raced well this year. That really helped."