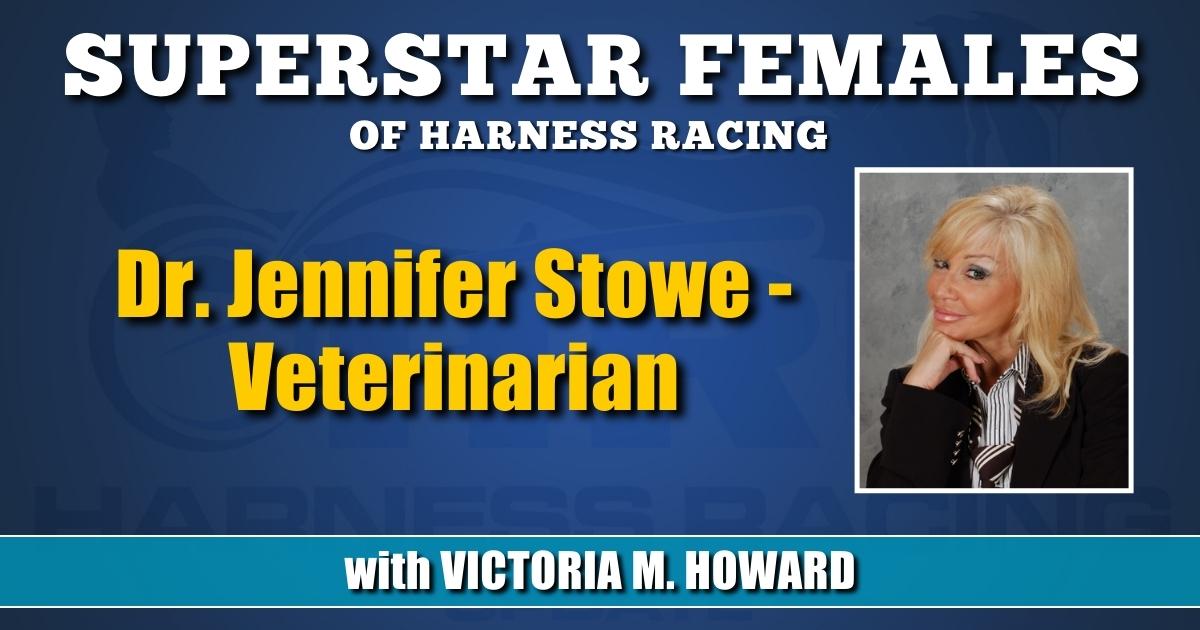 Dr. Jennifer Stowe — Veterinarian
by Victoria Howard
As a little girl growing up in a small town in Michigan, Dr. Jennifer Stowe was always obsessed with horses. Spending as much time in the barn so she could be around the majestic animal, her parents indulged their daughter with riding lessons in hopes she would tire of it and grow out of the "horse phase" that a lot of little girls go through — but Stowe never did.
"It was when I was in high school that I decided to pursue a career as a veterinarian. I always was fascinated with medicine and science, so it just made sense to pursue that pathway," Stowe said. "After graduating from high school, Jen attended Michigan State University: both undergraduate and veterinary school.
"After graduating I did a year-long internship at Mid-Atlantic Equine in New Jersey, before making the move to Lexington, Kentucky.
"I began working for Dr. John Cummins nine years ago, splitting my time between Lexington, Kentucky in the summer months and work at the South Florida training centers in the winter."
Choosing to focus mostly on standardbreds, Stowe has had the pleasure to work on some of the sports most famous athletes, such as McWicked, When Dovescry, Stay Hungry, Atlanta, Captain Corey, and Betting Line.
"Probably one of my most absolute favorites is Ramona Hill. She is just a classy filly full of heart," Stowe said.
Although being a veterinarian could be extremely fulfilling, there are times when it can be heart wrenching — like when you have to put one down.
"I think the hardest thing I have had to do as a veterinarian is euthanizing one that has broke down. Thankfully, this is extremely rare, but nonetheless, it never gets any easier.
"Standardbreds are athletes in a demanding sport. I think general soreness is the most common ailment I see — due to the fact the horse trains and races quite frequently — much more so than with thoroughbreds, who race less frequently.
"The times standardbreds are going today are unreal. There are many that go sub-1:50 — a time that was rarely seen in the past.
"I think the breeding is producing faster young horses. They are much more refined than the 'jugheads' of old. I believe only time will tell if these young fast horses that are being produced will race as long as their predecessors did.
"I've also worked on racing thoroughbreds and my opinion on the difference between the two breeds is thoroughbreds are much more fragile compared to our standardbreds. A little soreness our standardbreds may have, most of them can deal with, but with a thoroughbred it could cause a catastrophic breakdown.
"Today, there are many more horses racing while they are either breeding mares or mares are racing in foal, than ever before."
Her opinion on this subject:
"On the mare side, I don't think racing a mare while she is in foal is in any way harmful or beneficial. I don't recommend breeding stallions while racing, as I do believe it can affect their attitude.
"As far as gelding yearlings versus keeping them intact, I believe the majority of these colts will not be breeding stallions, so keeping a young horse a stallion on the off chance he will become a superstar has never made much sense to me. A good stallion will be a wonderful gelding. I think it's an easier life to be a gelding."
With the future of our sport in question, Stowe thinks Kentucky is in great shape.
"In Kentucky, harness racing is booming. The purses are great and the racing has never been better. Horse racing is a big business in Kentucky. It always was and always will be. It has a very strong following in the community with continued support from the public and private sectors and the future looks bright.
"With mind blowing performances that are seen today — such as the great Bulldog Hanover's — Although I have not yet had the pleasure to work on this phenomenon, I think that freaks of nature such as the Bulldog are born, not made."
Veterinarians are so important in the sport of horse racing and today there are more female vets than ever before. These superstars have to be able to deal with the downs, as well as the many ups they encounter on a daily basis.
In Stowe's case, she competes in show jumping with her warmblood gelding, Gordo, and also breeds Gordon setters. When you see her at the barn you'll most likely see her loyal sidekick, Moose /aka "The Boss," who supervises all veterinary care, and competes in bird dog field trials.