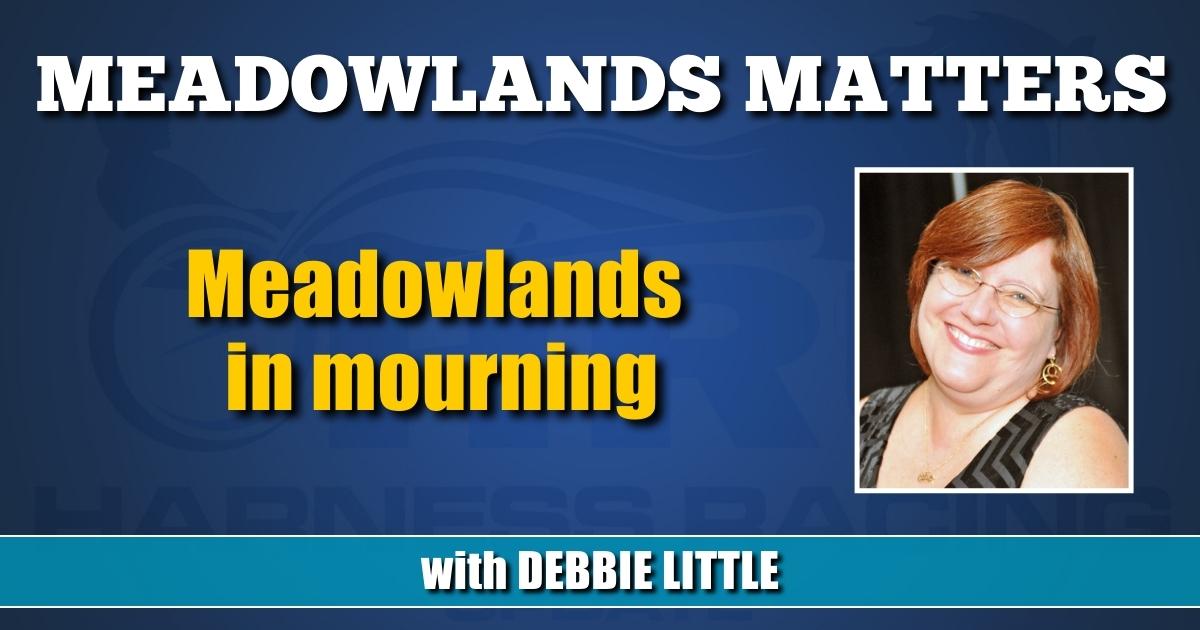 The death of Dave Brower is just another immeasurable tragedy in The Big M family.
by Debbie Little
A week ago, The Meadowlands family was once again rocked to its core.
The news that Dave Brower, 53, was found unresponsive in his Lexington hotel room Friday morning (Oct. 7) a little over five years after Sam McKee, 54, died from stroke complications, was almost too much to bear.
In both cases it was the kind of news that makes you wish you were dreaming so you could wake up and it wouldn't be true.
Unlike McKee, who had been in the hospital following the aforementioned stroke, Brower showed no major signs of what was to come.
The outpouring of love on social media, since the confirmation of Brower's passing, has been overwhelming.
Driver Dave Glasser was on his way to compete in the Billings Amateur Series at Vernon Downs when he heard the news about Brower passing earlier that day. As soon as he could, Glasser found a store where he could buy material that he fashioned into black armbands worn by every driver in that race, which was introduced as the "Dave Brower Memorial."
That same night, prior to the Monmouth at The Meadowlands thoroughbred races, Big M chief operating officer/general manager Jason Settlemoir paid tribute to Brower, saying in part:
"Dave was a great friend and a great employee. Dave will be missed by not only by The Meadowlands Racetrack but the entire horse racing community.
"He was a Yankees fan and a Rangers fan who fell in love with horse racing by going to The Meadowlands Racetrack with his father in the 1980s. We're devastated and at a loss for words of this untimely passing of Dave."
On Saturday afternoon, Oct. 8, a tribute was also held at the Red Mile.
A Celebration of Life ceremony for Brower will be held at The Meadowlands on Saturday, Nov. 12 prior to the races.
It's never easy to lose someone you care about, but when it comes so unexpectedly and to someone still in the prime of their life, it's much harder to comprehend.
My husband, Dave Little, and I, knew Brower for over 30 years and I was fortunate enough to work with him in 1996. It was Brower's first year doing Meadowlands' TV and my husband and I were featured on the show as the handicapping combo known as the "Dueling Littles."
We were good friends over the years, but never more so than in the last five years when Brower and my husband became on-air partners on The Meadowlands show.
I interviewed Brower many times for my column and he was always proud of the job that the TV department did at the mecca of harness racing.
"People forget sometimes that it's live TV," said Brower. "You only have one chance to get it right and when it comes down to it, we do. Our TV staff on both sides of the cameras are professionals and I couldn't be prouder of what we are able to accomplish."
Over time, many have posted that there was unbeatable chemistry on the "Dave and Dave" show. But what made it so good?
"Knowing the strengths of the man in the other chair," said Little. "In my opinion, he was better as a co-host, because he had such a wide scope of knowledge."
I once asked Brower about their chemistry specifically when it came to a complicated night like the 2021 live Meadowlands Pace show. Until now I have never shared this quote with anyone, including my husband.
"If you ever tell him this, I might deny it," said Brower with a laugh. "I never have to worry when he's sitting next to me. No matter what is happening, however crazy it is, when I stop talking, I know he will start and keep going."
"I can't tell you how much time we had to fill with the shoe repair and the inquiry but it felt like forever. And every time I threw to Dave he just kept talking. I don't know how he had so much to say, but he did and that's what makes him good and what makes us good."
The love and respect that the Daves had for each other was apparent to anyone who watched that show and it's hard to imagine how difficult it will be for Little to go back to that set when The Meadowlands opens on Nov. 4, knowing Brower will never sit next to him again.
One thing I do know is that someone will eventually sit in Brower's vacant seat, but no one will ever take his place.