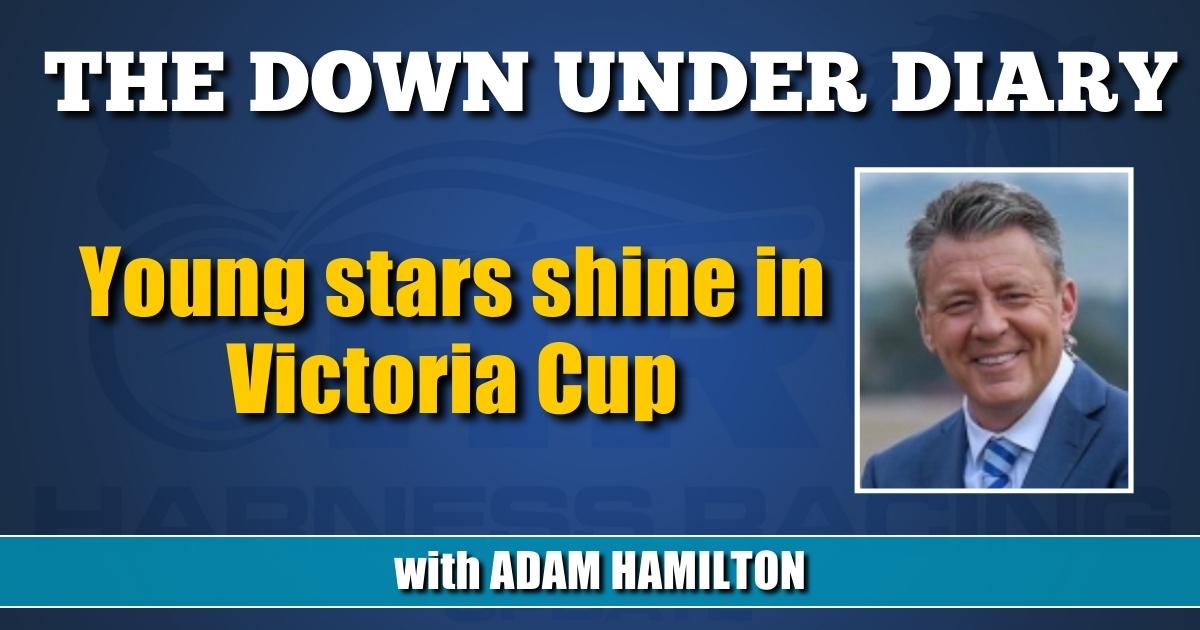 Young stars shine in Victoria Cup
by Adam Hamilton
The future of Aussie harness looks bright after the young stars shone brightly at the huge Victoria Cup meeting on Saturday (Oct. 8) at Melton.
Victoria Cup has become Australia's best race card with four Group 1 races and a stack of other highlights, and it certainly delivered last Saturday night.
Rock N Roll Doo's dominant, even arrogant, win in the main race itself – the Group 1 Victoria Cup – grabbed top billing.
Only special horses can park outside the leader and win with the style and dominance Rock N Roll Doo did.
It moved his likeable trainer/driver Mick Stanley to declare him "very special" and lock in a rare and exciting trip to New Zealand to chase that country's iconic Group 1 NZ Cup in Christchurch on November 8.
Rock N Roll Doo is booked on a flight to New Zealand Thursday along with defending NZ Cup winner Copy That, who finished a luckless fourth in the Victoria Cup.
Since My Lightning Blue won the 1987 NZ Cup, the only other Australian-trained winner of the race was Arden Rooney in 2015 for trailblazing female trainer-driver Kerryn Manning.
"He's going and now you can see why we've been so keen to go for a while," Rock N Roll Doo's owner Brendan James said.
"He's such a great stayer, we think it's a race that will really suit him."
The NZ Cup is a gruelling 3200m race from a standing-start in front of a packed crowd of at least 25,000 in Christchurch.
It's something Stanley cannot wait to be part of.
"It's one of the great races and race days. To think we're going to be there and be a real winning chance is so exciting," he said.
"I think this horse is quite special. We've loved him since day one, but he's been a bit goofy and raw and needed time.
"It's all coming together mentally for him now. He's won his past three, two of them in big races without the (ear) plugs being pulled and running right through the line.
"He hit the line so well the other night. He certainly wasn't all out, he had more to give and that's pretty amazing when you consider he did all the work outside the leader."
Simply, Rock N Roll Doo is the horse Stanley has been dreaming of and will likely be the horse who keeps him harness racing after years of seriously pondering a switch across to thoroughbred racing.
"I did more than think about it. I applied for a stable foreman job with a gallops trainer and didn't get it," Stanley said.
"We've got a big farm and I've got two kids to support. There were times we were down to 10 horses in work and it just wasn't sustainable."
Stanley's wife, Gen, has long held a thoroughbred training licence and together they now train a mix of thoroughbreds and standardbreds.
"The mix is about 65/35 harness to gallopers," Stanley said. "We've played around with tried (thoroughbred) horses so far, but we've bought some young ones and we've giving them a try.
"I've done all the paperwork for my (thoroughbred) licence and will get it at some stage, too."
For now, though, Team Stanley will keep riding the Rock N Roll Doo express for all its worth.
"You haven't seen the best of him. He's just starting to come into his own," Stanley said.
"It was great to win the Victoria Cup, but it's also another stepping-stone.
"We're looking at the NZ Cup the same way. Can he win it? Yes, and we'd love to. But it's also going to help make him as a horse, the trip away, the different experience.
"He's only four and we hope he's got another two or three years at the top level."
The Inter Dominion is the most famous race Down Under, but it may not be on Rock N Roll Doo's agenda this year.
"We haven't made a final decision, but it's unlikely he'll run," Stanley said. "It's less than three weeks after the NZ Cup and it's a big ask to get him to and from NZ and then give him the four runs in a fortnight which the Inter Dominion is," Stanley said.
The Inter Dominion comprises three compulsory rounds of qualifying heats into a final.
"The plan has always been to go Victoria Cup, New Zealand and then give him a break before the Hunter Cup (February 4)," Stanley said.
The other young star to make a statement on Victoria Cup night was Queensland's Leap To Fame in the Group 1 Victoria Derby.
The Grant Dixon-trained son of Bettors Delight dominated the classic and became the first pacer since Captain Joy in 2009 to win Australia's three major Derbys – Victoria, Queensland and NSW — for 3-year-olds.
Leap To Fame worked to the lead soon after the start and Dixon backed his strength, cutting him loose through some blistering midrace sectional times to break the hearts of his rivals.
His 1:54.4 mile rate for the long 2,760m trip was just 1.2sec outside the all-aged track record set by former open-class star Tiger Tara winning the 2019 Hunter Cup.
"We love him to bits. He's the best horse we've had. We hope to take him all the way," Dixon said.
"He just ticks all the boxes … great manners, great speed and great strength."
Leap To Fame now heads to next month's Breeders Crown at Melton.
Another highlight of Victoria Cup night was the clash of glamour 4-year-old mares and stablemates Ladies In Red and Tough Tilly.
In something of an upset, Tough Tilly did what no other horse has done and beat Ladies In Red for the third time. The career head-to-head between the pair now sits at 6-3 in Ladies In Red's favour.
Tough Tilly's races for awareness and fundraising for EB Research and her driver, Kate Gath, is heading to New York next month to run the marathon to raise funds for the cause.
"She's such a special mare to me and to be part of the whole EB thing is such a thrill," Gath said. "She had the draw tonight and I knew when I got across to the front without doing too much work that she'd be very hard to rundown.
"Ladies In Red is a champion, but this mare isn't far behind her and she's shown a few times now when things go her way, she's good enough to beat her."
LOCHINVAR ART HAS LANDED
Former champion Down Under pacer Lochinvar Art has arrived at his new home.
The former Victoria and Hunter Cup winner landed in Chicago on Oct. 5 and then arrived at Shane and Lauren Tritton's upstate New York stables on Sunday.
"It's so exciting to have him here now," Shane Tritton said. "He's come at a great time, nice and early. We can give him a break and bring him up our way because he doesn't have to be right at his top until late March."
Lochinvar Art was sent to Team Tritton to continue his racing career after having a minor bleed in his last race at Melton last month.
At his top, he was the best pacer Down Under.
Lochinvar Art sits up with former Kiwi superstar Lazarus as the best Down Under pacer to be sent to the U.S. to race.