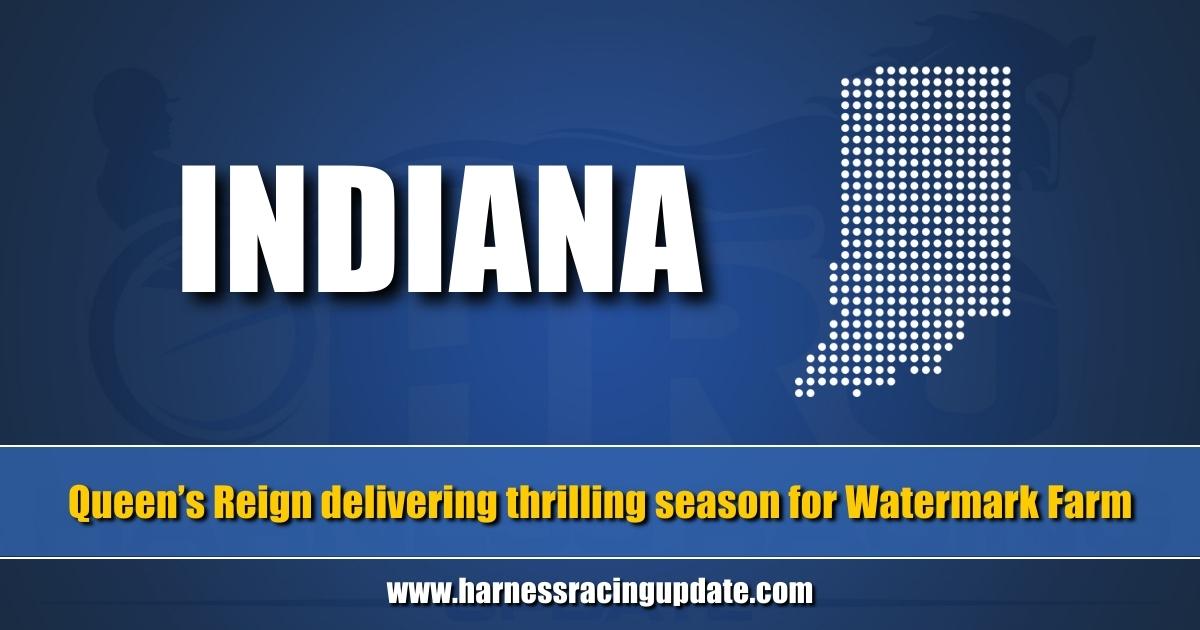 Queen's Reign delivering thrilling season for Watermark Farm
by James Platz
On the racetrack, Queen's Gold collected one win in 16 attempts over two seasons. As a broodmare, she has produced a succession of winners for breeder Watermark Farm LLC. Her latest is the JK Endofanera freshman Queen's Reign, a recent Indiana Sires Stakes winner Wednesday (Oct. 5) at Harrah's Hoosier Park Racing & Casino. Owned by Watermark and trained by Ernie Gaskin, the filly picked up her third seasonal win in a lifetime best 1:52.1.
"This one came along and we just fell in love with her. She's just been a real surprise for all of us. We're thrilled with her," said Cleo Lowe, who, with her husband, Brad, make up Watermark Farm.
Queen's Reign is the eighth foal from the Riverboat King mare, campaigned by Watermark Farm and Benny Eggers as a two and three year old. Since transitioning to a broodmare, Queen's Reign has yet to miss. Each baby of racing age has gone on to reach the winner's circle, with four six-figure earners and two in under 1:52. Indy Ingot, a 14-time winner with $172,402 on his card, leads the first seven, all colts.
"She raced good as a 2-year-old. As a 3-yaer-old, something was off and we were really never able to put our finger on it. I always liked the mare," Lowe said. "I kept her and bred her. She's had some nice youngsters, but you know how the horse business is. They get sick, something goes wrong, they're not good enough. We've just been playing the game all these years."
Lowe and her husband have a background in saddlebreds and opened Watermark Farm in Lexington in the late '90s. Through that experience they learned of standardbreds.
"My husband is not a rider, so we got him interested in driving, and he became interested in road horses. He's kind of an all or nothing guy, and it was right up his alley," explained Lowe. "I didn't know anything about Standardbreds, and I heard about the yearling sales they used to have at Tattersalls. I thought we could raise and train one."
Lowe attended the 2001 Tattersalls sale and the couple purchased their first standardbred, a Conway Hall colt named One Act Play. They paid $6,500 for the yearling.
"We went over, and that year was the first year for Conway Hall's first offspring. I was sitting behind the auctioneer, and I said, 'Boy I really like this horse, I wish he would do something so that I can see him better,' He had his back end to me. He raised up, turned around and looked at me. I was like, 'That's it, I raised my hand and bought him,'" she recalled.
One Act Play won two of 28 career starts, but the Lowes were hooked. They fell in love with the excitement of racing.
"He raced in one of the sire races and finished second. We thought this was easy money. From then on, we were punished," Lowe said with a laugh. "We just fell in love with them."
Now in retirement, the Lowes have sold Watermark Farm and have scaled back in their participation. They kept Queen's Gold, however, and have enjoyed her offspring. Now at Cane Run Farm, the mare produced a string of colts before foaling her first filly, Queen's Reign. She delivered three consecutive fillies before being retired as a broodmare. The Lowes have a Stay Hungry yearling and Always A Virgin weanling remaining.
"I wasn't counting on a girl. She was the first one, I now have three," said Lowe.
Gaskin has been entrusted with training the Watermark racing interests for nearly a decade. Queen's Reign is one of the most successful from the mare, but earlier this year, Gaskin wasn't sure just what she would become this season.
"This filly's a little special. She's a JK, she's a beautiful filly. Gosh, she's gorgeous. She doesn't wear anything," commented Gaskin. "She would have been last in her class all winter, just going along, not doing it. You kind of had to tap her to make her do it. Good gaited, but you just had to wonder if she was going to want to do it or not. To prove that, in her first baby race, she went in 2:08. It's been kind of funny to watch her develop into something that good when she showed no indications of it."
Since making her debut this summer, Queen's Reign has missed the board only once in 11 starts. Her lone miscue came in the second leg of Indiana Sires Stakes, where she raced seventh. The filly has registered six runner-up performances, with her three wins coming in her last four attempts, all with Mike Oosting in the bike and each in Indiana Sires Stakes action. The young pacer has banked $154,250 this season.
"This little filly has really proven herself. We just have our fingers crossed. We're happy, no matter what she does. She's just been great. She's so much fun to watch race," said Lowe, who now lives in Florida and watches her filly race via an iPad.
Queen's Reign ranks fourth in ISS points, qualifying for next Friday's $250,000 Super Final at Hoosier Park. Her latest victory, coming in a $68,000 division, established a new lifetime best. Rollin Rosie, another JK Endofanera filly that leads the division in points and is undefeated in her career won the other $68,000 split.
"I know Rosie's going to be tough competition. I love it that two of the top fillies are out of JK Endofanera. That's going to be kind of fun," said Lowe. "I feel anything could happen. She's definitely up for it, I believe."