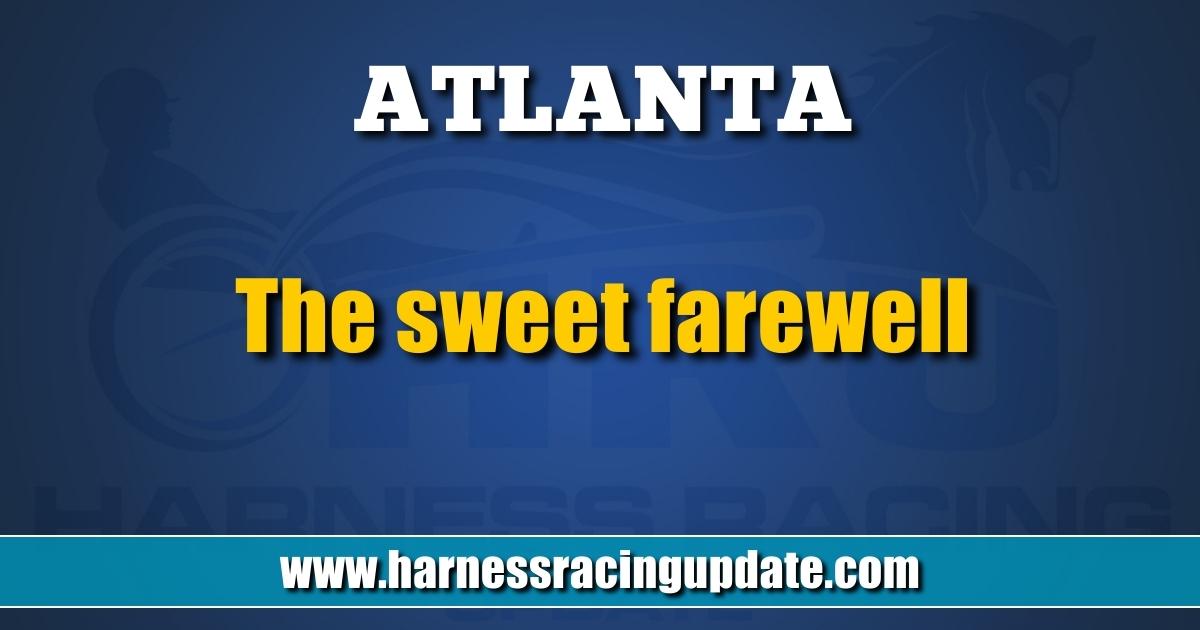 With three races left before she is retired, superstar trotting mare Atlanta was soaking up the attention as she was feted Tuesday at Fasig-Tipton.
by Dave Briggs
Awash in soothing Lexington autumn sunshine, the incomparable Atlanta was greeting well-wishers Tuesday morning on the backside of the Crawford Farms shedrow at Fasig-Tipton with the air of class befitting a Hambletonian-winning queen. The look in her eye suggested the intense gameness that was the hallmark of a career that has earned over $3.4 million and counting.
Trainer Jimmy Takter — who, along with his daughter, Nancy, campaigned Atlanta's chief rival, Manchego — came to pay his respects at the latest of several farewell parties Atlanta's part-owner Michelle Crawford is throwing in the trotter's honor as she winds down her racing career.
"That mare cost me a lot of money," Takter said with reverence.
Brad Grant, who owns Atlanta with Crawford and Howard Taylor, smiled.
"For the man that's king of the sport to come over and look at a 7-year-old mare when he's here to look at yearlings, it shows respect, but it also shows what she's earned," Grant said.
Mickey Burke Jr. from the Ron Burke Racing team that campaigned Atlanta at ages 4 through 7 was also watching. Asked to pinpoint Atlanta's defining characteristic, Burke didn't hesitate.
"Determination," Mickey said.
"Jimmy Takter was just standing here saying, 'She's not always the greatest gaited or anything, but she just doesn't want to lose.' She just loves to go and she's game."
The daughter of Chapter Seven—Hemi Blue Chip was originally picked out and purchased by trainer Rick Zeron from the 2016 Standardbred Horse Sales Company yearling auction in Harrisburg, PA for $60,000. Zeron campaigned Atlanta to a 2018 Hambletonian victory and earnings exceeding $1.1 million at ages 2 and 3 before the trotter was sold to dissolve a partnership at the end of her sophomore year and placed in the care of the Burke Brigade.
Atlanta has added some $2.1 million to her earnings in the four years since.
"I think you guys had the bigger chore, because she was already there and you kept her there for years," Grant said to Mickey. "To keep any horse at that top end of their game like that, Ronnie was taking a challenge on, because she was the best when he got her and he's kept her there."
But soon, that part of Atlanta's career will come to an end — as evidenced by her being feted with Bloody Mary toasts at Fasig-Tipton.
"People are thanking us for bringing her so that they can see a true champion. Look at her, she's just stunning and she knows it. She's just special and… I get so much happiness when other people love on her," Crawford said.
Atlanta has just three races left — the Allerage this Sunday (Oct. 9) at Red Mile, the Breeders Crown at the end of October at Woodbine Mohawk Park and then the TVG at The Meadowlands — before she becomes a full-time broodmare at Crawford Farms. Atlanta already has a Muscle Hill weanling filly on the ground produced by embryo transfer.
"I think the sad part isn't that she's going on to a new career and greener pastures, as far as being a momma and broodmare… I think the saddest part in my stomach is that we're not going to see her on the racetrack anymore," Crawford said. "It's the staking, it's the racing, it's the 'Is she going to race against the boys or the girls?' There was so much that went into all of it and following her. I just couldn't wait for her first race of the year, every year, so I try not to think about it because it just makes me sad."
"This mare – year after year after year — she's ranked at the top of her game. She's going out on a high," Grant said. "She's where she belongs. Michelle has loved her since the day she joined the group. She said one day she'd have her as a broodmare and she's where she belongs. It ended up perfect. If you wrote a book, you wrote a happy ending," Grant said.
Add in Crawford's other Hambletonian-winning mare Ramona Hill (2020) and it makes for quite the pair for her broodmare band and quite the décor for Crawford's house.
"The pictures on the back wall over there, they are bookends in my house that big," Crawford said, pointing toward huge banners. "They are life size, nose-to-nose flanking my fireplace. Who gets to do that? Two Hambo-winning fillies within three years of each other."
Atlanta was also instrumental in bringing together Crawford, Grant and Taylor.
"We're working on our next partnership. Haven't found it yet, but we're working on it," Grant said. "In all the time the three of us have owned the horse, there's never been an issue."
"If two felt strongly, the other one just went with it," Crawford said. "We just worked it out. It's been fun and it's been easy and I want to do it again."