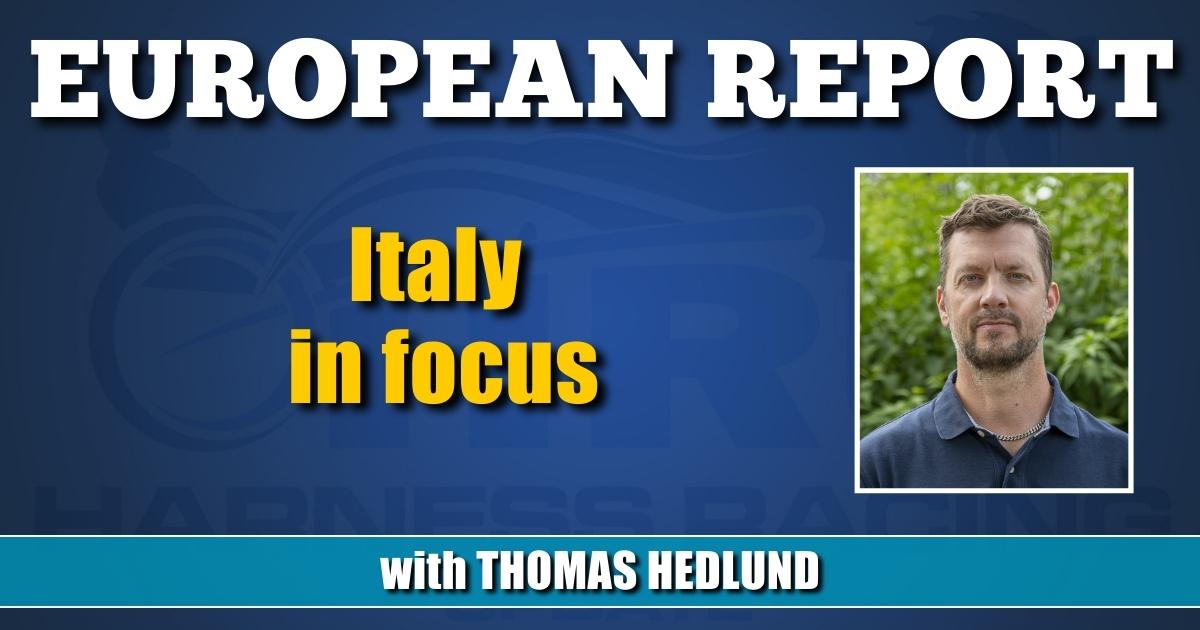 by Thomas Hedlund
Alessandro Gocciadoro was victorious when the $660,000 Gran Premio della Lotteria was held in Naples, Italy on Sunday (Oct. 2) afternoon. His Vernissage Grif (Varenne) disarmed the leader and stablemate Vivid Wise As in the final.
Three eliminations were held and trainer Holger Ehlert was the most successful man ahead of the final. Zacon Gio (Ruty Grif), who will enter the International Trot at Yonkers Raceway on Oct. 15, hit the lead after a quarter of a mile in the first elimination and driver Roberto Vecchione had everything under safe control when Zacon Gio came home in 1:53.3.
Ehlert trained Bleff Dipa (Mister J.P.) got a similar trip as Zacon Gio. With a lap to go, Roberto Vecchione put Bleff Dipa in front and from the lead the duo was unstoppable in 1:53.2.
Alessandro Gocciadoro's well merited Yankee Glide son Vivid Wise As was served a second over trip by Matthieu Abrivard in the third elimination and the 8-year-old top trotter played, more or less, with his opponents when he won in 1:54.2.
And it was Vivid Wise As who controlled the field early in the final. Gociadoro's choice Vernissage Grif finished second to Bleff Dipa in his elimination heat and when the trainer found a spot in second over in the final, stablemate Vivid Wise As was without defense when the 8-year-old chestnut Vernissage Grif showed great capacity in the stretch.
Vernissage Grif was flying and captured the leader 100 meters before the wire as he came home to win in 1:52.4. Vivid Wise As was second and Zacon Gio third after a pocket trip.
That gave Gocciadoro his first title in one of Europe's biggest races for older trotters. The dominant Italian trainer has won elimination heats four years in a row prior to this year's edition, but never the final before Sunday's race.
CORAZON COMBO OUTSTANDING IN KRITERIET
Pekka Korpi trained Corazon Combo (Express Duo) has dominated the Finnish 3-year-old crop so far and when the $195,000 Kriteriet was on the schedule in Tampere on Saturday (Oct. 1) afternoon, he was too tough to beat.
Korpi hit the lead in the first turn and when he gave Corazon Combo the order to sharpen the pace at the last backstretch, the 3-year-old Express Duo son answered by sprinting to a safe win in a mile rate of 1:58.4 over 1.6 miles.
Corazon Combo claimed his 16th win in his 18th start and the only defeats so far came in the two E3 finals in Sweden earlier this year.
Halley Wania held strongly as runner up after a first over trip and Everlasting Boogie finished third.
TESSELAAR'S SUCCESSFUL WEEK
Dutch trainer and driver Dion Tesselaar has experienced a great week. On Wednesday (Sept. 28) night, his Novato (Maharajah) won the $140,000 final of Breeders Course for 2-year-olds at Jägersro racetrack in Sweden and on Sunday (Oct. 2) afternoon, Tesselaar's Gio Cash (Victor Gio) claimed the $30,000 Peter Heitmann-Rennen in Hamburg, Germany.
Two-year-old colt Novato bested his opponents in a high paced story where Tesselaar served his horse a perfect second over trip and when the attack was on, the Maharajah son proved to be the strongest horse in the field. A mile rate of 1:56.2 means that Novato set a new Swedish record for 2-year-old trotters bred outside of Sweden.
Gio Cash, who won Breeders Course final for 2-year-olds last year and the final for 3-year-olds earlier this year, took a safe wire to wire triumph in Hamburg and the 3-year-old trotter won in a mile rate of 1:59 over 1.3 miles.
On Monday (Oct. 3) afternoon, the $40,000 Grosser Preis von Deutschland was held in Hamburg and it became a big success for Johan Untersteiner trained Indy Rock (Readly Express). The 4-year-old Swedish-bred trotter has battled against Francesco Zet during two seasons and when Untersteiner opted for the race in Germany, the antagonists suited him well. Indy Rock was pushed hard for the lead by driver Jörgen Sjunnesson and in the last turn the duo said goodbye to the chasers. Indy Rock cruised to a 10-length victory and impressed a lot.