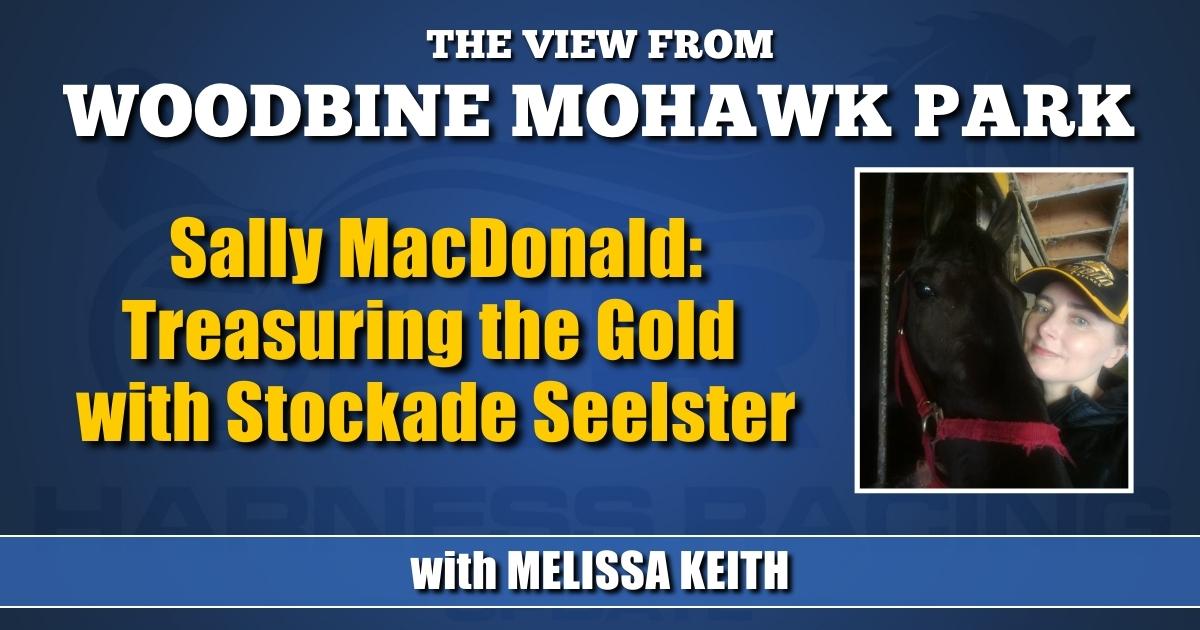 Sally MacDonald: Treasuring the Gold with Stockade Seelster
The PEI native is enjoying every second of the early success of the son of her champion State Treasurer.
by Melissa Keith
Last Saturday night (Sept. 3) at Woodbine Mohawk Park, Stockade Seelster paced the fastest mile by a 2-year-old in Ontario Sires Stakes history, winning in 1:49.3s.
"We were extremely excited," owner Sally MacDonald told HRU. The Souris, PEI resident's best previous horse won just a single start at age 2, a non-stakes race at Mohawk in August 2011. Of course, future world champion State Treasurer (p, 6, 1:47.0m; $1,908,424) went on to redeem himself many times over in a career that spanned six years. In 2015, he earned both the O'Brien Award as Canada's Horse of the Year and the Dan Patch Award as the Older Male Pacer of the Year.
Sired by State Treasurer, a former $6,500 yearling, Stockade Seelster's first season on the track is closer to his dam's. Soiree Seelster (p, 2, 1:52.2s; $179,645) won three races at Mohawk, two of them OSS Gold events, in four starts as a 2-year-old.
MacDonald said her family was already following Stockade Seelster well before he entered the virtual sales ring as Hip #18 in the 2021 London Select Yearling Sale.
"We liked him, and my [business partner and nephew] Paul [MacDonald] lives in Toronto. He watched [Stockade Seelster] develop from the time he was born until the time he went to the sale. We just liked everything about him. Then we had [trainer Ian] 'Doc' Moore check him out before the sale, and we were pretty convinced, when [Stockade Seelster] went to the sale, that we were going to do everything in our power to get him."
The colt was theirs for $45,000.
"The sale wasn't live – it was online," said MacDonald, speaking from her PEI cottage. "So we just bid online for him. We thought we might have to go a bit higher, which we were willing to do, so we were quite pleased when we were able to get him for that price."
Stockade Seelster was a good student in early lessons for Ian Moore at Southern Oaks Training Center in Sorrento, FL. "'Doc' was quite pleased and thought he was promising right from the beginning… He thought he had a lot of potential," said MacDonald. "We actually spent the winter in Florida for a couple of months, once the border opened. My husband and I went down for the months of March and April, so we saw quite a bit of Stockade before we came back to Canada. Actually, my husband, Allan, got to jog him a few times while we were in Florida. He was a very sensible colt."
Undefeated in six races at home track Woodbine Mohawk Park, Stockade Seelster is based at Shamrock Training Center in Cambridge, ON.
"Shamrock is where Ian Moore is at," said MacDonald, adding that the ready proximity to Mohawk is an asset for her colt.
While Stockade Seelster doesn't have far to travel, the same cannot be said for his Maritime owners. "Well, he's raced six times," said Sally. "My husband's been up [to Mohawk] four times; I've been up three times. Paul, our nephew, lives in Toronto, so it's very convenient. We all get to go to the races to see him together."
She attributed some of Stockade Seelster's success (winning four OSS Gold legs, plus a Dream Maker leg and final) to having a consistent team.
"We've been very fortunate. We have an excellent trainer with 'Doc' Moore, and Jody [Jamieson] has just been phenomenal driving him. Once Jody was on him for the first time, it was kind of agreed with 'Doc', my husband, and Paul that he would continue on [driving] him, because he seems to have a relationship with him."
MacDonald doesn't consider any particular race to be her colt's best, so far. Major tests lay ahead for Stockade Seelster, who is taking a week off after his OSS record mile.
"He will be in the elims for the Metro [Pace], and then hopefully in the Metro [final], and then we'll sit down and go over everything and make decisions."
With Metro eliminations coming up Sept. 17 at Mohawk and the $850,000 final on Sept. 24, Stockade Seelster's schedule is intensifying, and so is attention to his career.
"We just discovered in the last day or two that Stockade has made the Hambletonian Society number 10," said a pleasantly-surprised MacDonald, remarking on her colt's first appearance in the weekly expert poll. "We couldn't be happier."
Her freedom to travel and watch her colt race is an added pleasure, because Sally battled metastatic breast cancer during State Treasurer's racing career.
"There was a period there when I wasn't able to travel a whole lot, but I can now," she told HRU. "I still receive treatment and I've been fortunate that I continue to be stable."
Following State Treasurer's races helped raise her spirits during illness; visiting Stockade Seelster and seeing him compete at Mohawk is an ongoing delight.
"It is therapy, by itself," she said. "We're making a lot of trips up there. We're enjoying it, though."
Spending time with her colt is a considerable part of that enjoyment. "He's very much like his father – his favorite treat is black licorice," she said. "We make sure he gets it after every race. We usually go to the training center the morning after the races, to visit with him."
Even with the 2022 Breeders Crown coming to Mohawk next month, she's hesitant to plan too far ahead.
"The rest of the year, we'll just take it one race at a time."
Racing analyst/Canadian Hall of Fame driver Randy Waples was quick to praise Stockade Seelster's 1:49.3 win last Saturday.
"That's a fantastic mile and he did it all on his own, you know, whacked it all out and did all the hard work," he said after the race. "He's just simply is the best 2-year-old that we have up here right now, without a doubt. It's going to take a really nice 2-year-old to track him down in the Metro."
A flattered MacDonald said that Waples should know. He was in the sulky for two of sire State Treasurer's most treasured victories.
"The first Molson Pace that State Treasurer won [2013], Randy was on him, and Randy was on him for the [2015] Canadian Pacing Derby. It was unbelievable."
The stallion retired from racing in 2016 and now stands at Seelster Farms of Lucan, ON. He is currently #7 among OSS pacing sires, in his third and best year with participating offspring.
"State Treasurer was just a phenomenal horse, and we always said if he could even get one of his offspring that was half as good, it would be exciting," said MacDonald. "Well, I think we've done that."