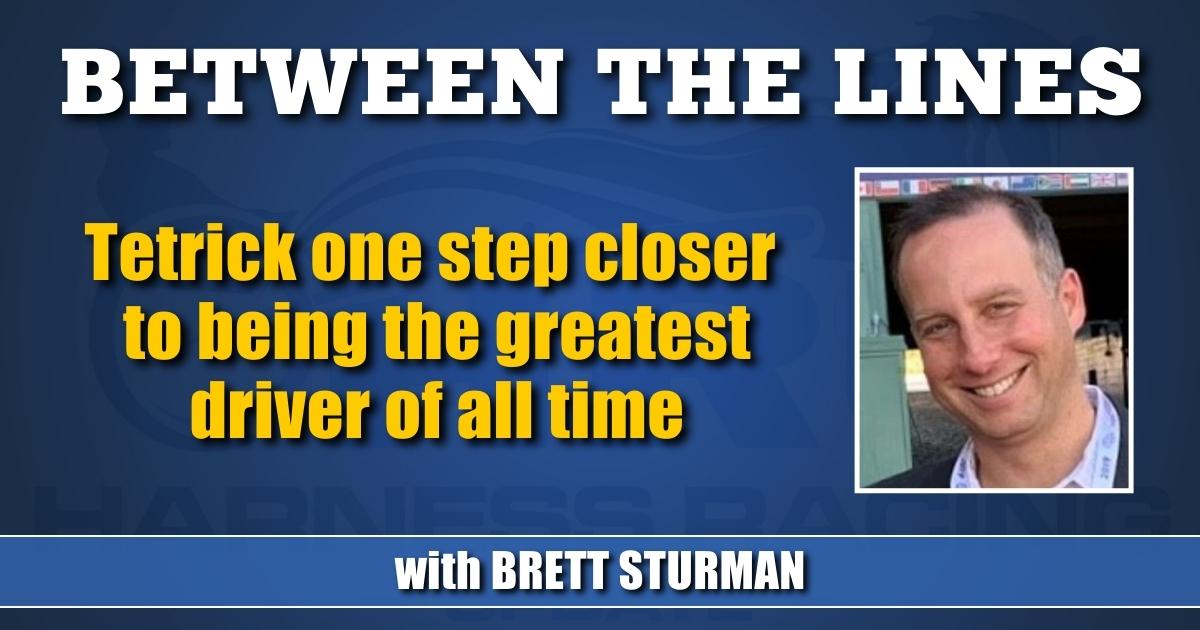 TETRICK one step closer to being the greatest driver of all time
Last week, the driver surpassed both 13,000 wins and $250 million in earnings.
by Brett Sturman
Over the course of a week, Tim Tetrick surpassed two major driving milestones. On Wednesday, Aug. 31, Tetrick notched career win 13,000 at Harrah's Philadelphia. Six days later at the Red Mile, he joined John Campbell and David Miller as the only drivers to earn more than $250 million lifetime.
Already a member of the Hall of Fame — he was formally inducted last year — it's not too early to now ponder where Tetrick ranks as an all-time great and more specifically, the greatest of all time. A completely subjective question for sure, but one worth exploring.
As a benchmark, John Campbell is generally regarded more than all others as the greatest driver in the history of the sport. His talent and storied career go far beyond a number, but needing some objective measure, his career earnings of $299,892,141 is a record that only three or four drivers total to this day have any chance to reach. Those drivers include Tetrick, as well as fellow Hall of Famer Dave Miller.
In all likelihood, Tetrick will reach $300 million, short of any unfortunate and unforeseen circumstances. It's still quite possible for Miller, too.
It was only about 18 months ago when Tetrick got his 12,000th win, and at that time his career earnings were just over $228 million. Having earned $22 million in that span alone, including $9.3 million in 2022 to date, it would seem that at worst, Tetrick will reach $300 million within five years. Today, Miller bests Tetrick in the career earnings department by about $16 million. But that gap was more than $20 million a year ago, and will continue to presumably narrow as Tetrick, 40, has a near 20-year advantage in age over Miller who will turn 60 in two years.
The challenge with comparing Tetrick to Campbell – and Miller is somewhat of a bridge between both of them – is that they raced, for the most part, in different eras. The purse structures were different, particularly with overnights, as was driver competition.
Sticking with the turn of this century excluding a lion's share of major stakes wins over two decades prior, Campbell competed at the Meadowlands five nights a week with full fields against the likes of Mike Lachance, Ron Pierce, George Brennan, Miller, Luc Ouellette, Cat Manzi and a host of others. Similarly, Tetrick has competed throughout his career against a hyper competitive group of drivers that include Yannick Gingras, Brian Sears, Miller, a fresh rivalry with Dexter Dunn, and an overall deep group of top to bottom drivers no matter the competing track.
If there's one area where Campbell has a decided advantage, it's in the classics. For example, Campbell leads Tetrick in Meadowlands Pace wins 7 to 5, Pepsi North America Cups 6 to 2, Hambletonians 6 to 1
and Little Brown Jugs, 3 to 0. But those numbers could change dramatically in the coming years as Tetrick remains relatively young, and still driving in the prime of his career.
As Tetrick continues to march towards the magical $300 million number as well as almost never achieved career win numbers, his case will continue to be bolstered. Numbers alone won't make him the greatest ever, but they'll certainly put him in a debatable position.
POST SCRIPT
Included in Tetrick's whirlwind past 10 days, in which he overtook the season's-long leader Jason Bartlett in earnings, were wins in four separate $252,000 PASS Finals and an upset in the $463,600 Canadian Trotting Classic. One of the more interesting races though was a $40,000 invitational in which he drove Allywag Hanover to tie an all-time world record of 1:47.3 for an older gelding pacer on a five-eighths mile track.
What made that race noteworthy, aside from the record, is that it was a real race essentially conducted the same way a time trial would be. In the race, Dan Dube took Ruthless Hanover to the front and went wild through fractions of :25, :51.4 and 1:19.1. I'd have to think that at least one or all of those fractions are records for the Harrah's Philadelphia track. But Ruthless Hanover did all that while Allywag Hanover sat nicely in the pocket after beginning from the rail; and he didn't have to move until the top of the stretch at which point he paced clear with a final quarter in :28.1 to complete the mile in 1:47.3.
Contrast that to Bulldog Hanover's 1:45.4 mile when he was wide, parked, used and pressed. If Bulldog Hanover does race this fall at Lexington as is currently on the radar and someone is willing to set similar fractions for him, it's possible he might be able to break 1:46 for a second time.
SPEAKING OF BULLDOG…
Bulldog Hanover is a certified star and has the potential at this point to complete one of the most historic seasons ever for a 4-year-old pacer. He continued his domination last week with a win in the Canadian Pacing Derby on Saturday, which coincidentally was the same day that a 4-year-old thoroughbred horse named Flightline drew comparisons to Secretariat with a 20-length Grade 1 win. It's all relative of course, but both horses from different sides of the breed are creating substantial buzz in their respective industries. Bulldog Hanover was (finally) made the top ranked horse unanimously this past week after winning over a couple of holdouts, and eyes on him will continue to grow as he travels onward to Hoosier, Lexington and then hopefully the Breeders Crown back home at Woodbine Mohawk.
TEST OF FAITH DÉJÀ VU…
HRU received a letter from a reader last week, calling into question the integrity of a winners over race last Friday at Harrah's Philadelphia in which Test Of Faith lost at odds of five cents on the dollar. An eerily, almost identical scenario played out three months ago that I wrote about then in HRU. So, no need to rehash every detail, but I will add this: If there is going to be a legitimate high stakes quality horse allowed to race in an overnight condition, then a race secretary needs to take action by simply barring the horse from wagering. Enough is enough.