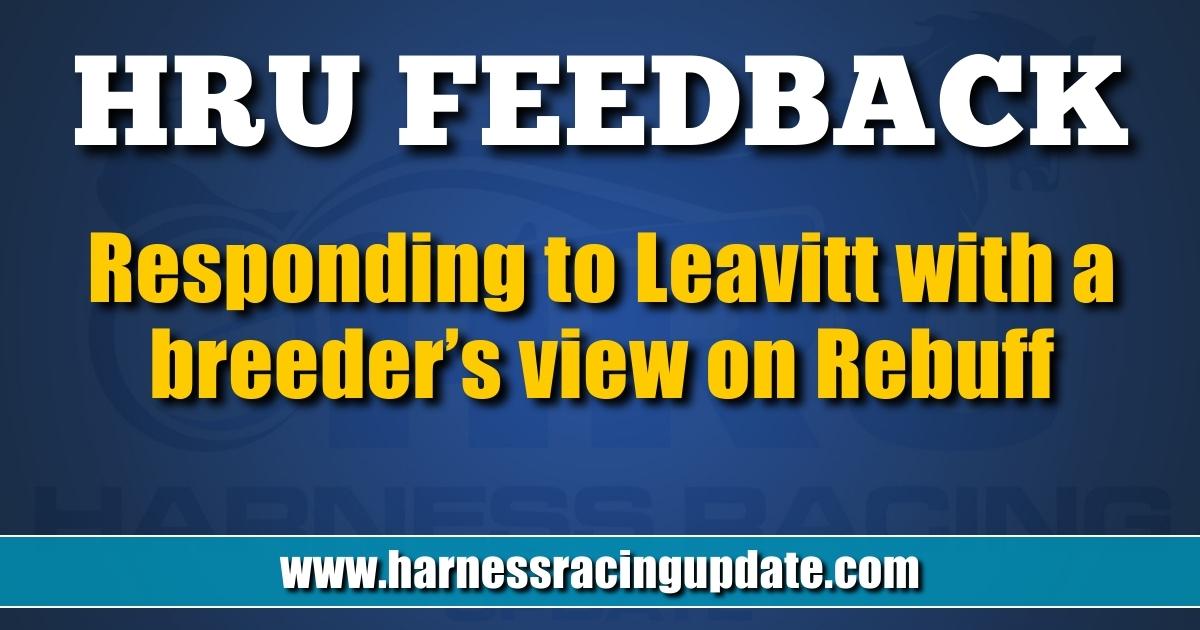 Responding to Leavitt with a breeder's view on Rebuff
I own the mare Meucci Madness, dam of Rebuff, I bought the mare at the Harrisburg Sale in 2006. I was trying to buy a few good mares and, of course, a good racehorse. Trond Smedshammer and I loved the mare's confirmation. I had her down on my list of preferred pedigrees.
It is certainly exciting to have a link to Rebuff. He is exceptional and perhaps will prove to be the best son of Muscle Hill. Muscle Hill is arguably the best sire of the past decade and the best of the Valley Victory line, which helped to reshape American trotters.
I read with interest Alan Leavitt's analysis of Rebuff's breeding in the July 24th issue of HRU. I would like to offer a slightly different perspective. Alan uses the analogy of a deck of cards in which Muscle Hill seems to always give a high card for a speed gene. Meucci Madness, who he describes as an ordinary mare, somehow gave out her top speed gene. I don't believe there is a single speed gene. I expect what we call speed is the result of several genes; it is a quantitative trait. The horse has some 21,000 genes, which are located on 32 pairs of chromosomes. These 32 pairs separate independently at meiosis, the formation of egg and sperm. Mathematically that's about 4 billion possible combinations! Muscle Hill is blessed with a stacked deck of speed genes so many of his sperm have a 'winning hand.'
Meucci Madness's dam, Margarita Miss, produced Rum Boogie ($900,908) when bred to Valley Victory. That shows that the dam had a good selection of 'high cards' in her genotype and perhaps an affinity for Valley Victory. In fact Rum Boogie was the sixth highest money winning offspring of Valley Victory. Meucci Madness was sired by Yankee Glide, a very good Valley Victory son. She was also inbred 3×3 to Speedy Crown — in the middle of the pedigree. Valley Victory had a strong affinity for Speedy Crown mares as is very evident in looking at his progeny. That doesn't mean you can breed to just anything with Speedy Crown — he had plenty of duds too. The Speedy Crown sires have to be strong individuals. Meucci's Speedy Crown blood is as a grandfather of Yankee Glide and Margarita Miss.
I bred the mare badly the first three years: SJ's Caviar, Malabar Man, and Kadabra — nothing wrong with these three sires and two of the fillies have done well in Europe, but I intended to breed to the best Valley Victory line sire. Instead I was cutting financial corners and bred to horses where I had a share or an inexpensive breeding. This is usually a mistake.
In 2012 I sent Meucci Madness to Hunterton Farms to foal share with Steve Stewart. Steve and I decided to try Lucky Chucky. Nobody knew then that he wasn't going to be a great sire, but it did line up a 3×4 cross to Valley Victory in the middle of the pedigree, so I thought there was some potential. We got Non Stick ($587,890) the 2nd best money winner from Lucky Chucky. For two years we tried Explosive Matter. Again, not the best decision, but I had a share! I think the two fillies from these breedings are going to show up as good producers.
We finally bred to Muscle Hill in 2017 and 2018. The 2017 colt, Junto, had lots of potential but encountered a few problems. Next was Rebuff. The formula we followed was the best of the Valley Victory line, Muscle Hill on a very good mare, inbred to Speedy Crown.
I think that formula greatly increases your chances for an outstanding horse. The rest is luck.
Dr. Michael D. Andrew / Gorham, ME