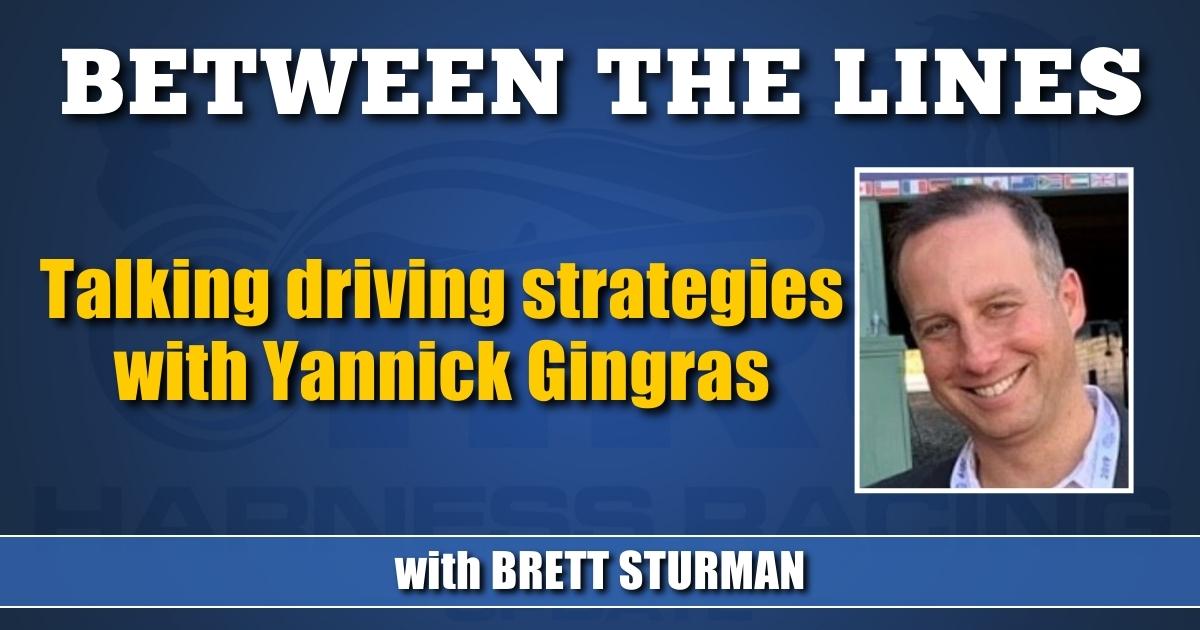 Talking driving strategies with Yannick Gingras
The Hall of Fame reinsman details his winning drive on Beach Glass in the Max Hempt.
by Brett Sturman
In last month's Max Hempt Memorial at Pocono Downs, driver and 2022 Hall of Fame inductee Yannick Gingras was integral in engineering a mild upset win with Beach Glass. In beating what bettors thoughts was the seemingly invincible 1-5 favorite Bythemissal, the race was an example of how key driver tactics can be.
In the race, Beach Glass with Gingras in tow refused to yield from the rail and parked Bythemissal past a :25.2 opening quarter before forcing that one to relent and settle for a two-hole trip. Again, Gingras had no intention of backing down either when Bythemissal again came at him when he vacated the pocket at about the five-eighths mark of the race. In the end, Bythemissal was game, but so was Beach Glass, who prevailed in the end by a half-length with the strategically better trip.
Gingras and I communicated this week on that race, as well as other driving topics.
Q: In the Hempt, I think that drive and the decision to take it early to Bythemissal won the race. Was the plan always to be on the front end at any cost?
"No, and the funny part about that race is that it never even crossed my mind that there would be no speed from the outside. I thought for sure that Timmy (Tetrick) with Mad Max Hanover would be going really hard, and I figured that Dexter's first time driving Fourever Boy would be leaving hard, too. So, I didn't see the race going the way that it did at all. It wasn't even a thought in my head going in. And then once the gate opened, I had to adjust and in my opinion at that point it became a two-horse race and I figured whoever was going to control the race was going to have the best shot. That's where that strategy came from."
Q: Maybe that's a good example then of the better drivers being able to be nimble and change when a race unfolds in a way they didn't first anticipate?
"Absolutely. And there's no doubt in my mind that you've got to be able to adapt, I think that makes a difference in some drivers versus others in that they're able to adapt on the fly. But for me, all the other guys that I'm driving against every day can do the same and have that same ability. The Hempt was one of those instances where we don't make plans that can't be changed. I say all the time, I have a Plan A, Plan B, Plan C, and it rarely happens where everything goes according to your Plan A. It just changes so much and you've got to be able to make different decisions at any given time in a race."
Q: One more question from the Hempt. Usually in these types of racing you're driving for Ron Burke and in this case he co-owns and trains the horse that you were up against and parked early in that race, Bythemissal. Does that change your thinking at all in how you treat going up against a horse in that situation?
"Absolutely not. When I drive for Brent MacGrath in that instance, that's who I'm driving for. As far as that race, they (Bythemissal connections) knew that I was doing what I believed was best for me and my horse. I honestly don't really care during a race who has the other horse, and it should be that way for everyone. I'm driving only for the person I'm driving for, and I'm giving that person the best chance I think I can give them, and that's just the way it is."
Q: With that said, do you think that speaks to the competitiveness of drivers?
"You put money on the line, and there's no favorites. Maybe there's a mentality out there that some people may have, that we do favors for each other and this and that, but you put money on the line and I don't care if it's my dad I'm driving against – I'm driving the horse how I see is best for the horse, and the rest of the guys out there are just like me. We do what we feel is best to win the races."
Q: Beach Glass was obviously always highly talented, but was still yet to put it all together to the point he has now, when you first started driving him in the North America Cup. Have you observed any changes in him during the past couple of months you've been with him?
"Well first, he's crazy good, number one. And I just think maybe he was a little short in the beginning, from the first time I raced him in the elimination of the North America Cup. The final was one of those things where maybe in hindsight I would have done things differently. That was another example of where I thought it was a two-horse race and looking back maybe I let Pebble Beach go a little too easy and if I took it to him a little bit more then maybe would have done things different, but in that moment I didn't want to do anything stupid to jeopardize being second. I'm also certain I choked him and shut his air off in the final turn. I'm not saying he would have won but maybe he wouldn't have been beat by as much. But I do think my horse has been getting better and better and it started then. I've also learned from the horse there, I've adjusted my driving a little bit, driving him more aggressively and he's liked that and at the same time he's continued to get better."
Q: This time of year you're routinely listed on multiple horses in a given race for top trainers, most notably Ronnie Burke and Nancy Takter for example. What goes into your decisions and how much stock should bettor's place on those decisions?
"It all depends, and you can look at me as an example. If I'm picking a horse that is owned or trained by Burke, well a lot of times I'm picking that horse just because of that reason; it may not be related to much else. There's definitely a loyalty factor and the same goes for a lot of other drivers also that are loyal to certain barns; that's the way that it is. But now, if there are times where I pick off a Burke horse, then it probably is because I do believe that the other horse is better. But then, half the time he still beats me anyway, so it's one of those things that you have to be smart and careful how much you read into those decisions."
Q: This Saturday at Woodbine Mohawk you drive Atlanta as usual in the Maple Leaf Trot and this is the first time she'll be going up against the likes of Alrajah One. Do you think she'll be up to the task?
"It's going to be hard; this horse Alrajah One is a freak. He's been ultra-impressive since he's got here. We drew right outside of Alrajah One and we'll see how the race plays out. She can do it either way obviously and in an ideal trip maybe I'd like to follow him, but that'll depend on what he's trying to do as well. We're going to have to get lucky and he's going to have to come back to us a little bit to be able to beat him. But she's been good. She was great three starts ago in the Ms Versatility and then I over-raced her on Hambletonian Day in the Steele Memorial; I think that one was my fault. And then last week in Canada they said she was really good, and so I'm happy with the way she's coming into the race. But she is 7 years old now, so I may have to take it a little easier on her and again that was my mistake on Hambo day, so I'll be trying to give her a better trip this time to give her a chance to get it done."
Q: Last week at Woodbine Mohawk you drove a really nice looking 2-year-old Save America to a win in the Nassagaweya Stakes. That was only his third career start and you've driven him in all his races to date including his baby races. What are your impressions thus far of him?
"I really liked him a lot last week and thought he raced really well. He was very good in both of his qualifiers earlier in the summer and I was very happy with his first couple of starts. He won in 1:49.4 in his second start at the Meadowlands. The track was obviously fast that day but he did it pretty easy. And then last week, there's some little things we're going to change on him heading into the next few starts, equipment-wise. He was a little bit bumpy at times last week at Mohawk and he's never done that before, so we're just going to make some small changes, change his shoes around a little bit. And other than that I think the sky's the limit for him. He's got tremendous ability, he's got big lungs, he's nice to drive, and he's just dumb enough to – and I mean that in a good way – he just doesn't know what he's doing yet which is great because you don't want them to be too keyed up and too ready too early anyway. And so I think he's coming into his own and just have to hope he stays healthy and sound. I think he'll do very good things."