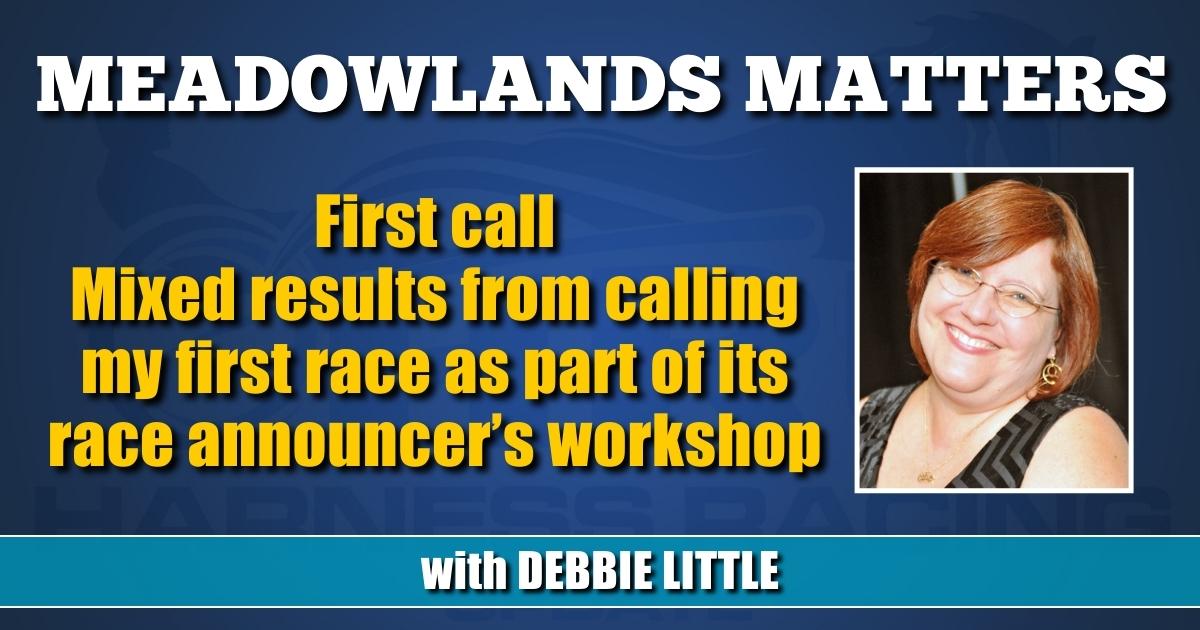 Mixed results from calling my first race as part of the race announcer's workshop at The Meadowlands.
by Debbie Little
They say you always remember your first time.
Despite the fact that I have been married to a race caller for nearly 33 years, I've never had any desire to try it. So, what changed this year? I thought it would make for a good column.
Back in April, when I asked to be included in The Meadowlands-sponsored race announcer's workshop on July 9, I didn't realize it would start at 8 a.m.
Since my husband, Dave, didn't get home from work until 1:30 that morning, I didn't want to wake him to drive me to the workshop. Instead, I used a rideshare and, perhaps, I should have taken it as a bad sign when my driver had trouble staying in a lane, and when I finally arrived, all the doors at the front entrance to the track were locked.
The workshop is run by the "Voice of The Meadowlands", Ken Warkentin, and organized by Matt Zuccarello.
Warkentin spent the hour prior to the 9 a.m. qualifiers' post time explaining how the workshop was established and giving tips on how to call races.
The class of 10 had a few late scratches, so only seven actually participated, with three – including me – looking to break their maiden.
As they were getting ready to come onto the track for the first qualifier, Warkentin asked: "So, who wants to go first?"
I'm sure it didn't actually happen, but I think everyone suddenly took a step back.
So, I volunteered, figuring it would be good to get it over with.
When I drove in my first exhibition race, Walter Case, Jr. told me: "That feeling like you're going to throw up goes away when you step onto the track."
I was hoping the same would apply to announcing because vomit would definitely not enhance a race call.
It all became real when Warkentin put the headset on me.
Strangely enough, the nerves went away when I spotted Tim Tetrick's familiar green and yellow training suit.
The field of four filly and mare pacers was scratched down to three, which was a blessing and a curse. Obviously, I shouldn't have a problem keeping track of which horse was which, but so few competitors meant there would definitely be some dead airtime.
Not surprising for a qualifier, there was very little action until mid-stretch when Tetrick popped Treacherous Dragon out of the pocket to score in 1:52 by three-quarters-of-a-length over Queen Of Success. Hot Mess Express finished third.
At the time, I was just focused on getting through the call but it is certainly not lost on me that I got to call a race with horses of sky-high caliber.
I definitely felt great relief when it was over, and was met by kind words from the rest of the workshop, but I know I could have been better. Except for watching several baby races my husband called in 2021, I didn't really practice and I think it showed in my call.
"The only way you're going to get better is reps," said Warkentin. "You need to just keep doing it."
Since there were 10 races and only seven participants, anyone who wanted to call another race had their name drawn from a hat.
Andrew Ibendahl, a marketing sciences manager and first-time caller, was lucky enough to get to call two.
"It was nerve-racking but a lot of fun at the same time," said Ibendahl after his first call. "It goes by slower and quicker than you think it would. When you talk too fast you could run out of things to say easily, so a lot of it is pacing and realizing that less is more."
I was not lucky enough to be chosen to call another race, but if I opt to do this again next year, I would like to call a bigger field. And in a perfect world, I would also like to know which race I would be calling so I could make notes, but that's not how this workshop functions.
From year to year, they never know how many qualifiers/baby races will be contested or how many people will attend the class.
If the class size outnumbers the race count, there is then a blind draw to see who gets to call.
Dan Kondel and his son, Daniel, attended the workshop for the second straight year, and even though they both got to call this year, last year only Daniel was lucky enough to have his name drawn. Donna Kondel was not a workshop participant, but was there nonetheless to support her husband and son. The Kondels are harness racing fans that can often be seen at The Meadowlands.
Following the workshop, the Kondels ran into my husband at The Big M and talked about what a great experience race calling was. Hearing Daniel's enthusiasm, Dave invited him to call a race next year at Goshen Historic Track, where Dave is the Grand Circuit announcer. The Kondels are now considering skipping their yearly beach vacation to go to Goshen instead.
Freehold Raceway announcer Edison Hatter, who normally calls Meadowlands' baby races, was on hand at the workshop and offered me the opportunity to call a race at Freehold. His idea is to get my husband and I to both call a race on the same card. Considering Freehold probably doesn't have too many three-horse fields, I'm not sure if I'm ready for that quite yet, but you never know.
I would personally like to thank The Meadowlands, Zuccarello, and most of all, Warkentin. After the workshop we all got to go home and relax for the rest of the day. Warkentin had to make a quick turnaround to be back and prepared for the eliminations for the Meadowlands Pace.
The $25 workshop participation fee goes to the Harness Horse Youth Foundation, a charity that means a lot to Warkentin. He sees this workshop as a way to give back, something that his buddy, the late Sam McKee, would be proud of.