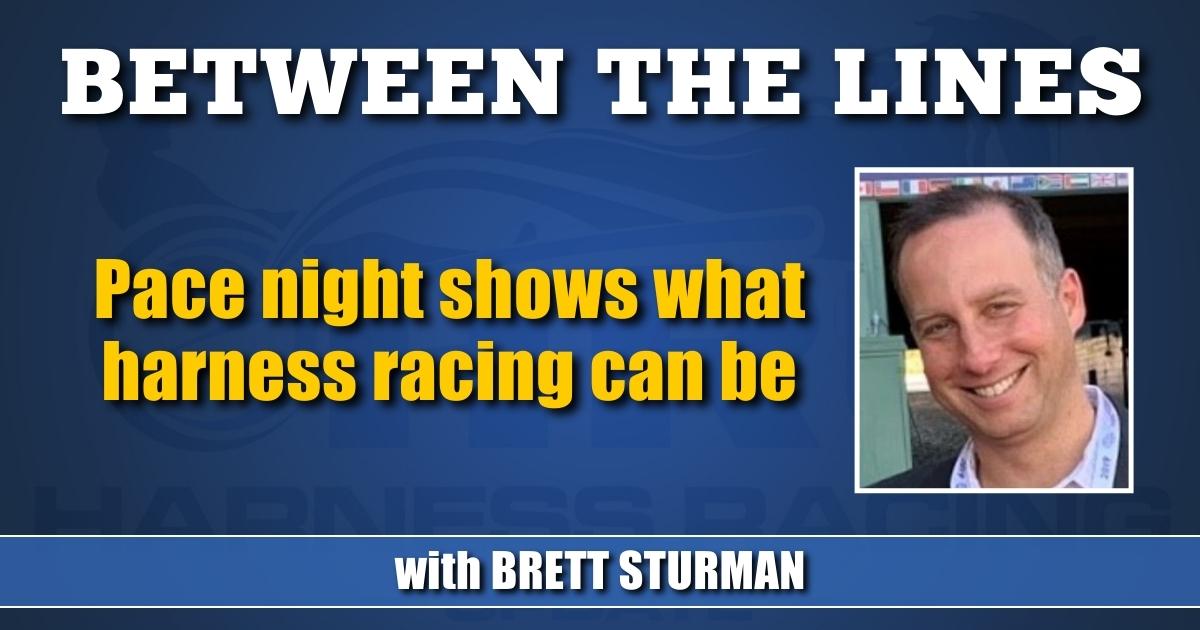 Pace night shows what harness racing can be
by Brett Sturman
Hands down, Meadowlands Pace night from this past Saturday at The Meadowlands will go down as one of the most memorable race cards in the history of the sport.
It's easy to look around and complain about all the obvious issues plaguing the sport week after week. They all still exist. But for one night, Meadowlands Pace night showed that when at its very best, what the sport is capable of.
Bulldog Hanover in the William Haughton and Beach Glass in the Meadowlands Pace provided an unprecedented 1-2 punch, with nearly every other stake on the card carrying their weight and then some.
It's not every year that the track's signature pacing event has to share the spotlight with the undercard, but there was real buzz all week long in the lead up to Pace weekend that the 1:46 all-time speed mark had the potential to fall. On the heels of back-to-back 1:46 and 1:46.1 miles by Bulldog Hanover, the anticipated weather forecast and track condition became almost more important than the actual competition in projecting how the Haughton would play out.
There were indications right out of the gate that a special night may be in store. When Backstreet Shadow kicked off the card with a win in 1:47.2 and then three races later Rebuff became only the seventh ever 3-year-old trotter to break 1:50 (doing so in just his second start of the year), the race to beat 1:46 was on. Momentum reached a fever pitch when Test Of Faith paced a 1:47 mile in the Dorothy Haughton, the race immediately preceding the William Haughton.
But then it almost all changed. Right as the horses began parading for the $500,000 Haughton, rain began to fall. It wasn't heavy, but it was noticeable, nonetheless. And Gabe Prewitt, who had been fulfilling Fox Sports broadcasting duties, observed at that time that temperatures had cooled off considerably from what they were even moments before. Figuring pristine conditions were needed for a horse to go a 1:45-type mile, the late change in weather seemed to dash those hopes.
As for the race itself, it can't be overstated enough what type of effort Bulldog Hanover put forth. This wasn't a type of record mile where another horse paves the way to three-quarters in something like 1:19, and then others can pick up the pieces in around 1:46. If Bulldog Hanover got that type of trip he seriously might have broken even 1:45. In the Haughton, Bulldog Hanover was used hard from post seven and was parked until just shortly before the half-mile when he finally cleared to the lead in :53.1. Even track announcer Ken Warkentin noted during his call that Bulldog Hanover was "working hard early."
Once in control, the three-quarter mile time was "only" 1:20.3. Fast for sure, but not 1:45-type fast. No matter, Bulldog Hanover was still somehow able to close with a final quarter of :25.1 and stopped the clock in 1:45.4. And for as much focus that was put on the teletimer, credit must be given to Rockyroad Hanover who gave unbelievable chase through the stretch and in the process made Dexter Dunn and Bulldog Hanover go harder in order to not just break 1:46 which turned out to be incidental, but to even win the race.
Completely aside from any wagering component which is usually the basis of a cheering interest, the Bulldog Hanover performance turned out to be one of those rare moments where it was impossible as a fan of the sport to not be in awe of what just transpired. I can't imagine anyone not having let out some form of positive emotion when that final time of 1:45.4 popped up; it truly was a performance for the ages.
What made the night one of the best I've ever seen in racing wasn't simply because of the balls to the wall effort in the Bulldog Hanover race. It's because that type of effort was on full display in nearly every single race. For all the exhibits of "no-try" drives in recent weeks, all of that was out the window on Saturday.
It's amazing the type of excitement that racing can generate when horses are allowed to actually race. Take the Hambletonian Maturity, for example. A week after allowing Rattle My Cage to coast in a $250,000 race, that same horse didn't get any such breaks on Saturday and was beaten soundly after having to endure a contested pace. Conversely, Cuatro De Julio was put into play early and made another determined account for himself, losing only to an oncoming Bella Bellini who closed along with Ambassador Hanover from well off the hot pace.
It didn't stop there. Just as Andy McCarthy was aggressive with Cuatro De Julio (and Rockyroad Hanover, for that matter), fellow McCarthy, Todd, was aggressive with Boudoir Hanover in the Mistletoe Shalee. That duo set engaged Treacherous Dragon early and set the pace, only to beat that heavily favored rival but lose to longshot Max Contract who flew home with a final quarter of nearly a full second quicker than anyone else. No easy rides though for the favorite. Same thing in one of the Stanley Dancer divisions where Brandy By Lindy posed a strong first-over challenge to King Of The North, only to have another longshot (Slay) fire up the inside to win at odds of nearly 13/1 (Dunn, again). Venerable continued her improvement of late and nearly tracked down Joviality in the Del Miller, and it was announced two days later that following the races from that night, that Joviality would target the colts in the Hambletonian.
This all happened even before getting to the main event, the Meadowlands Pace. Just as Bulldog Hanover was bet down to 1-5 odds, so was Pace favorite Beach Glass. And despite the same heavy favoritism, he didn't get off cheap either. Gingras wasn't able to clear with Beach Glass until right at the half mile, and once he did, he faced serious pressure in the form of I Did It Myway. But just as he did in his elimination, Beach Glass continued to power on. Though longshots on the odds board, both second-finisher Mad Max Hanover and third-place finisher I Did It Myway didn't race like it. They were both put in play throughout, and because of that Beach Glass had to earn his Pace victory, going in 1:47.2 to do it.
Considering Beach Glass' connections, it couldn't be more fitting that he'll be the final foal from Somebeachsomewhere to win the Meadowlands Pace — the one race Somebeachsomewhere failed to win.