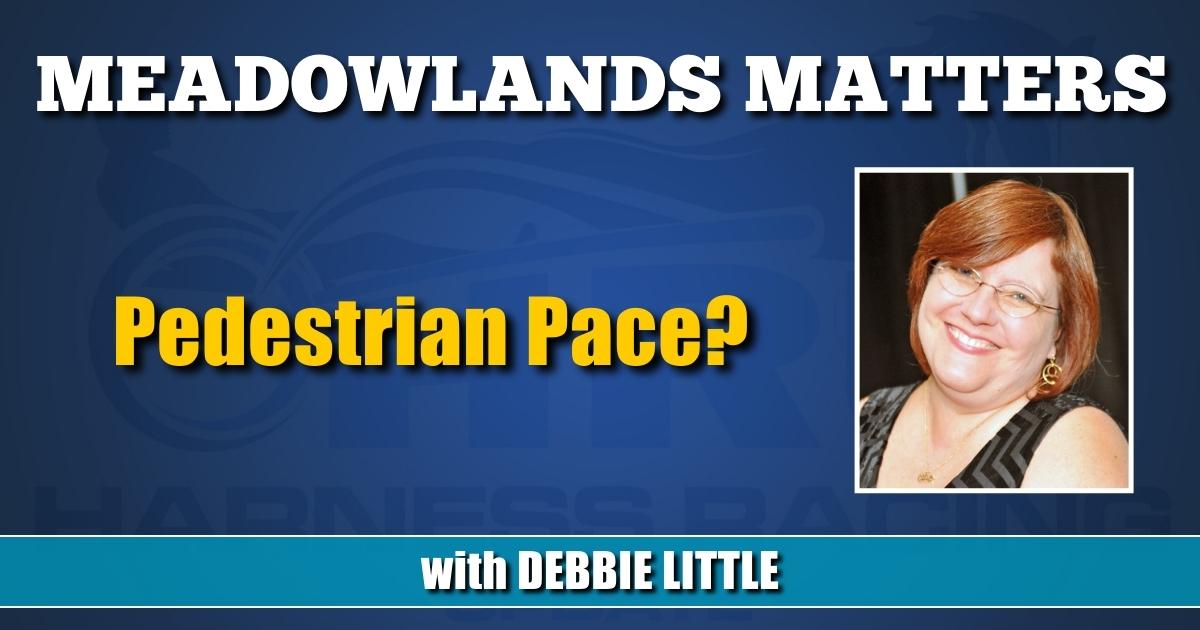 Breeding experts David Reid and Art Zubrod give their take on the quality and potential of the Meadowlands Pace field.
by Debbie Little
More than one trainer has referred to this year's Meadowlands Pace eligibles as subpar, even questioning if there's a top stallion in the bunch.
But breeding experts David Reid and Art Zubrod aren't jumping to premature judgements.
"It's a little early to predict the depth of the class," said Reid, sales manager/director of operations for the Lexington Selected Yearling Sale. "I would say that maybe it doesn't have the potential stars at this point than in years past, but it's early in the season, and you just kind of have to wait and see what develops."
Zubrod, general manager of Brittany Farms and owner of Fair Island Farm with his wife, Leah Cheverie, thinks that less than ideal divisions happen often, if not sometimes, annually.
"There's usually one division that's weaker than normal," said Zubrod. "Some years, it's the 3-year-old trotting colts. It could be anything. I don't think it's a sign of things to come."
What makes this year a little different is that four of the preseason top colts in the division can't compete.
In early May, the reigning Dan Patch 2-year-old champ Monte Miki was retired due an injury, while just before the Pace elims, Hammering Hank, the top-ranked horse in the "Road to The Meadowlands Pace," was sidelined with a condylar fracture for an unspecified period.
"In a case like Hammering Hank, it's a good prognosis now, but how they recover and come back and perform after an injury, you never know," said Reid. "Take a horse like Always B Miki. He suffered injuries multiple years and he was able to come back and compete at a high level, but not all horses are able to do that."
In addition, Pebble Beach and Gulf Shores, sons of Downbytheseaside, are ineligible due to The Meadowlands' stallion restriction condition.
"I can't keep track of 'The Gural Rule' from year to year and if they change or they don't change," said Reid. "The breeders have to take into consideration all rules I guess, and who bears the consequences and who pays the price on knowing. At the end of the day, the probable favorite for the race is ineligible."
So, does it matter that some horses aren't Pace eligible?
"You can argue that it does matter and then you could also take the counter affect, and say does the Meadowlands Pace lose some of its luster because it doesn't have all the horses eligible to the race." said Reid.
Ultimately, do breeders expect the next top stallion to be crowned off a Pace win?
"You can't take one race and pin your hopes on a stallion on that one race," said Zubrod. "For years, people stamped the Little Brown Jug [winner] as being a stallion. And they couldn't have been more wrong than that. The list of failed stallions that were Little Brown Jug winners is long. So, one race is not going to make a difference."
For those that will compete it is certainly another chance to add to their resume.
"It gives somebody an opportunity to showcase themselves," said Zubrod. "If his whole resume looks the part, they certainly should get the chance at being a stallion. Smart people aren't going to jump on a one-race career anyway. For a stallion, you want one that has shown you at least two years of good racing."
Winning the Meadowlands Pace as a favorite or a longshot but not doing anything else for the rest of the year will not get heads turning your way.
"Take [Rich Strike] the horse that won the Kentucky Derby," said Reid. "If Epicenter [the 4-1 favorite] had won there would be a lot more people trying to negotiate for Epicenter than there is for Rich Strike [the longest shot in the race at 80-1].
"He could be 99-1 and win the Meadowlands Pace but if he goes on and wins significant races at the end of the year, that goes back into the body of work for the whole year and people will make that adjustment as the year goes on."
And it isn't always about if you win or lose but how you play the game.
"Perfect Sting is a great example," said Reid. "No one was off his bandwagon, obviously. I'm sure the connections wish he would have won earlier than he did, but at the end of the year, his body of work was very, very good. So, people take that into consideration."
Pebble Beach and Gulf Shores are also ineligible to the Cane Pace for the same reasons as the Meadowlands Pace, so they will have to make their mark away from East Rutherford and the breeders will certainly be taking note.
"I would say on the pacing side, people are waiting, and I think on the trotting side, there are a few of them that people are already thinking about," said Reid. "There's no set rule, but I can confirm that it's very competitive in trying to acquire these stallions."
For Zubrod, there are all sorts of assets that he looks for.
"A horse that can leave hard, then make a move down the backside and then come home, that's what we're looking for," said Zubrod. "There are a lot of horses that are well-bred, that are extremely well conformed that have no shot at being a stallion because of how they raced, their talent level. To me, the biggest thing is the talent level, then you've got to put the other stuff with it.
"At one time, I would have said that pedigree is so important, but you look at horses nowadays, I don't think it's quite as important to be a stallion. Somebeachsomewhere was not a horse that you would say was fashionably bred, he was just one of the greatest – if not the greatest – that I've ever seen. So, you've got to give a horse like that a shot and whatever it was that he put in them, he just keeps repeating it and repeating it until this day."