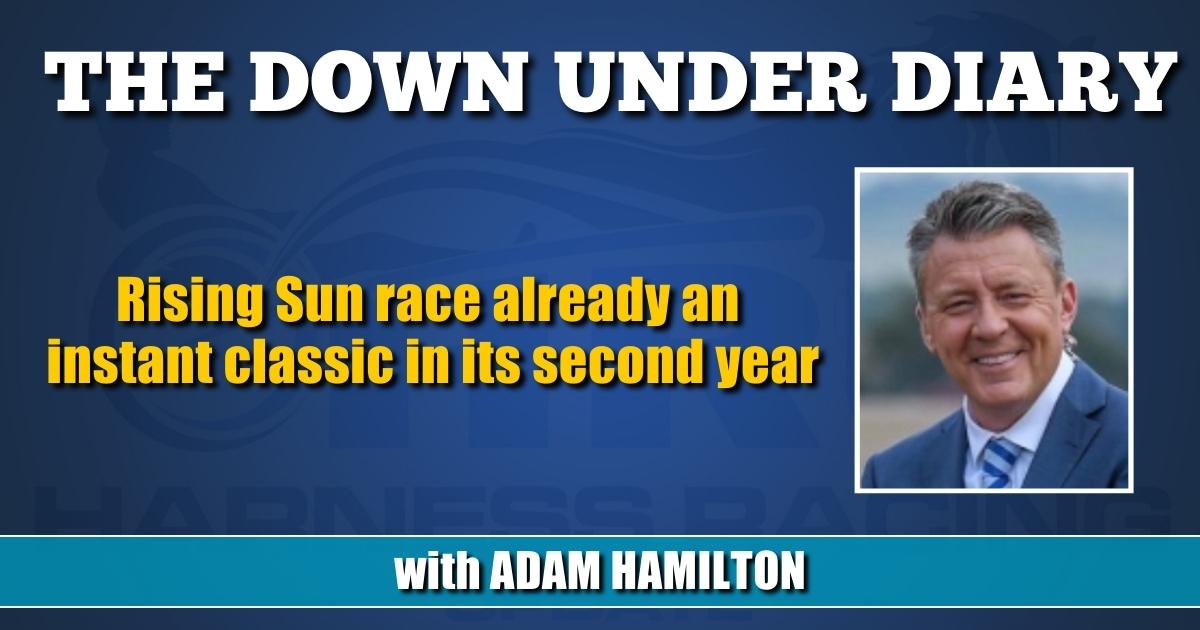 Rising Sun race already an instant classic in its second year
The race, to be contested Saturday night in Brisbane, pits 3-year-olds against 4-year-olds.
by Adam Hamilton
Innovation is certainly a buzz word when it comes to racing, sport or even modern business for that matter.
In the harness racing world, it may be the single most important thing.
In many ways, harness racing has been standing still, somewhat tied so passionately to tradition, while other sports have been creatively innovative.
That is why a new Australian race – the $A305,000 Rising Sun – has become such a popular, interesting and important race in just its second year.
It will be run for the second time at Queensland's Albion Park track in Brisbane in the evening (Aussie time) on Saturday (July 10).
So why does it tick the innovation box? And what makes it such a wonderful PR tool for the sport?
Simply, there is no other race like the Rising Sun in this part of the world. It is restricted to 3- and 4-year-old pacers only.
Then there is the added flavor of four early "invitational" tickets into the 2,138-metre mobile start event.
When Racing Queensland first played around a concept, they felt a fair slice of negativity back from the trainers they canvassed in regard to 3-year-olds taking on older horses at a relatively early stage of the season.
So, they added a crucial tweak. Three-year-olds get the best barrier draws – in the case of this year's race, barriers one, two and three.
"One part we probably forgot a bit about at the time was the 4-year-old mares,'" Racing Queensland and key creator of the race, David Brick, said.
"We needed to have an incentive for them to take on the boys, so we added that middle layer of preferential draws for the mares… they draw outside the 3-year-olds, but inside the 4-year-old boys."
And that has proven crucial in the first two years.
It essentially "won" the race for champion mare Amazing Dream – who has obviously since moved to the U.S. to continue her career.
Amazing Dream started from gate three, began well enough to drop in behind the leader, Krug, and made the most of a gun run to use the sprint lane and win the inaugural running of the Group 1 feature.
The connections of Australia's current champion mare Ladies In Red have been abundantly clear they are only tackling the race because of the preferential draw she gets (gate four) and the fact Amazing Dream showed a girl could beat the boys in the race.
Owner/breeder Bill Anderson explained: "It was Anne's (Anderson's wife) call. She said if Amazing Dream could do it last year, then we had to give Ladies In Red her chance."
Co-trainers Emma Stewart and Clayton Tonkin admitted they were "pleasantly shocked" when the Andersons accepted the invitation to race.
"When we rang to tell them about the offer, we were sure they'd say no, but they surprised us. It's exciting," Stewart said.
This will be the first time Ladies In Red will race against boys in her 22-start career which has netted 18 wins and four seconds.
Tonkin said: "With most mares you'd be nervous and doubt them, but not here. She's something else. I'm not saying she'll win it, but I'm sure she will be very, very competitive.
"Emma and I debate this all the time at home… I think she's the best we've ever trained. But Emma thinks we need to wait and see how she goes this year, especially in a race like this, before giving her that title.
"We've been lucky enough to train some amazing horses, but just for sheer dominance, I don't think we've had one like her. She's got it all and she's repeatedly done what looks impossible on paper or during a race."
In a race of stars, Ladies In Red is the main attraction for all the reasons above.
Such is the diversity of the race, there is strong argument to say the other most "important" horse in the race is untapped local (Queensland) 3-year-old Leap To Fame. He's the pacer money couldn't buy despite some thumping offers after his breathtaking NSW Derby win in early March.
Daringly, trainer/driver Grant Dixon has opted to go first-up since that Derby win into the Rising Sun with Leap To Fame.
"We think the 3 year-olds just add so much to the race," Brick said. "It really came about when our CEO, Brendan Parnell, talked about how important the 3-year-olds are in a big thoroughbred race over here like the Cox Plate. He asked if we could ever get 3-year-olds to run in our biggest race, the Blacks A Fake.
"That wasn't going to happen, so we went away and workshopped things and came up with the concept for the Rising Sun.
"Not only do the 3-year-olds get a preferential draw, but there is a $A100,000 bonus for any 3-year-old who wins the race.
"The 3-year-olds were competitive without fighting out the finish last year and we'll be watching closely again this week. It's so important to the race they are not only part of it but run well. Giving away an extra $A100,000 is not something you usually want to do, but in this case, we would love to for the sake of the race."
Brick admits he and Racing Queensland were a tad peeved and bemused when Australia's national body, Harness Racing Australia, announced the world's richest new race – the $2.1 million Eureka – would also be for 3- and 4-year-olds.
"We made our point, but in many ways it is a complement to our concept and we think both races could value-add to each other," he said.
"The Eureka is a bit different being for Australian-bred pacers only, while ours is open to all.
"Given the Eureka is a slot race and will be run a couple of months after our race, we think lots of the slot holders will be watching our race closely for a potential horse to race in their slot."
While the Rising Sun has already changed the game Down Under, Brick said the strive to innovate meant Racing Queensland will unashamedly reserve the right to keep tinkering with it.
"We certainly don't say we got everything right from day one. We will continue to review and make any changes we think can make it a better race.
"We got the prize money up from $A250,000 to $A305,000 this year and aim to have it at $A500,000 before too long. That doesn't include the bonuses."