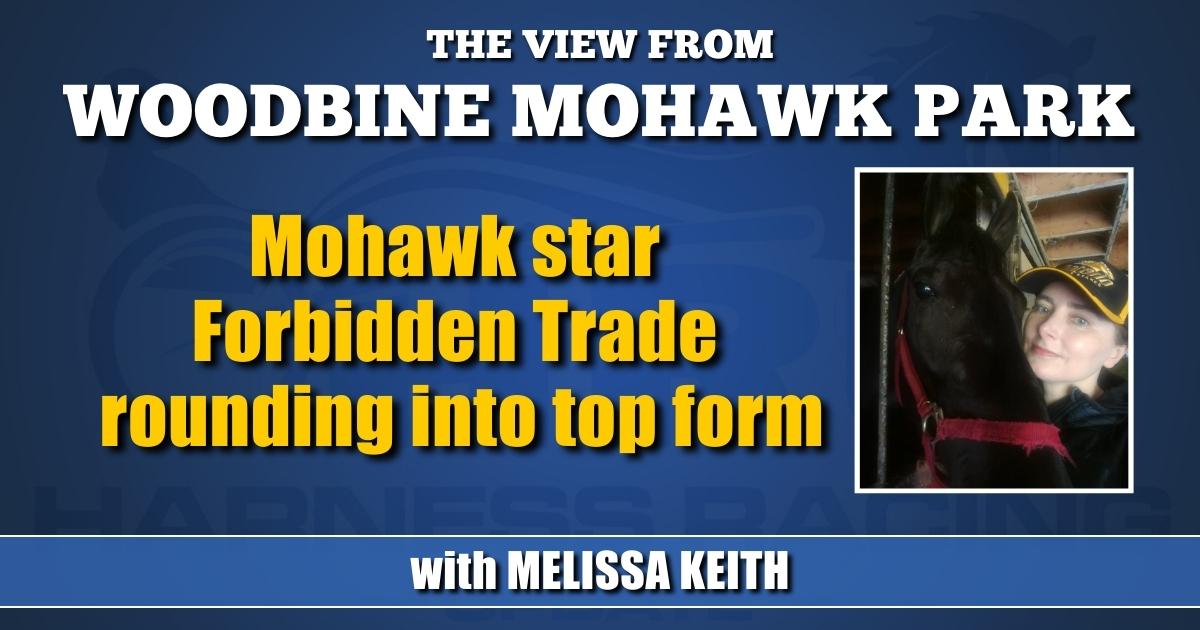 Mohawk star Forbidden Trade rounding into top form
by Melissa Keith
On April 29, Woodbine Mohawk Park announced that an "enhanced free-for-all" would be offered to attract competitive new top-class horses. Beginning in May, the purse for the FFA trot and pace would be based on a formula of $6,500 per horse, "with the possibility of a $65,000 purse should the class attract 10 entrants."
Forbidden Trade is the reigning Dan Patch Older Male Trotter of the Year. The Kadaba–Pure Ivory son began his 2022 comeback gradually, starting with Mohawk's $45,500 FFA trot on May 16, in which he finished sixth of seven horses.
"I don't think he changed too much, he just needed a few starts in the beginning of the season and now I think he's getting into better shape, feeling better and better," said trainer Luc Blais.
There's no better proof than Forbidden Trade's steady rise through the month of June. In the $36,000 preferred handicap on June 6, he and regular driver Bob McClure flew home ahead of Dream Nation and Hey Livvy in 1:53.1s.
"I think if you check a few starts before, you [would] see he's coming better and better," said Blais, referencing Forbidden Trade's late speed.
In that first 2022 win, the stallion closed in :26 flat over a surface rated "good."
On June 18, Forbidden Trade made the front early in the $45,500 Mohawk FFA, opting to follow Its Academic from the pocket after the opening quarter. McClure launched his horse three-wide for the stretch drive, overtaking Its Academic and Oney Hall, and holding off fast-closing Pikachu Hanover in 1:52.3s.
"He needs all the time and a few races before he gets [in] shape," said Blais.
On June 27, he returned as 3-5 favorite in the $38,500 open, sitting fourth as Hey Livvy cut the fractions. "He was far [back] a little bit. I was a little bit worried about it, on the last turn," said Blais. Forbidden Trade quickly made up the four lengths it took to catch leaders, gaining ground in a :27.2 last quarter that carried him past Patriarch Hanover in a new seasonal mark of 1:52.2s.
Forbidden Trade likes to chase horses on the track. Between races, he enjoys running in his paddock, playing hard-to-get when it's time to go inside. Those characteristics have served him well at Mohawk and The Meadowlands, where he contested Saturday's (July 2) $147,000 Crawford Farms Open Trot.
"We're lucky here," said his trainer. "I think he likes the track, and sometimes when you change tracks, the horse likes that… they step up."
Forbidden Trade stepped up there in the 2021 Crawford Farms Open Trot, just as he did in the 2019 Hambletonian – still his fastest (1:51) win.
The 6year-old trotter's career highlight remains that unforgettable 15-1 upset. "It's got to be the Hambo," said Blais, recalling Forbidden Trade's battle with heat winner Greenshoe. "Double heat and in the final, the way he just beat them, it was amazing. He was on top of his game."
While many top rivals have since retired, Blais said that wasn't the plan for Forbidden Trade, even two years ago. "We had a bad year at 4 – he [injured] a foot behind, and we were waiting for him. He came back last year and he was the best horse in North America. It's nice to watch him race, and [owner] Mr. Godin likes to watch him race. If he stays healthy and sound, we go year by year."
Canada's 2018 O'Brien Horse of the Year began a limited stud career in early 2022, matched with a select number of broodmares also belonging to Serge Godin (Determination) of Montreal, QC. Blais didn't think double-duty Forbidden Trade's performance on the track was affected much, if at all: "We don't breed too much. We bred a few mares, homebred, and that's it."
Mohawk preferred regular Its Academic joined the defending champ in Saturday's Crawford Farms Open. The enriched Mohawk FFA has yet to bring significant change to the top level at Canada's top track, in Blais' estimation: "I think they look like almost the same horses [each week]. Sometimes [there are] a few more. All those horses are good."
This time of year, Forbidden Trade typically travels. Bob McClure was back in the bike for the trotter's return stateside; Dan Dube was his catch driver in 2021.
"I think he's getting better and better by the week," his trainer told HRU. Last year, the stallion won two major races (Crawford Farms Open, TVG Open) and missed the board in two (John Cashman Memorial, Breeders Crown final) at The Meadowlands.
"It's like that sometimes," said Blais. "It's tough at that level, to be on top all the time. That's a tough level of horse. You try to keep him on top of his game, but it's livestock and sports. It's a long year and you can't control everything. You do the same thing all the time, and you hope everything turns [out] good. You need luck. You need a trip. That level is very tough because they are all good, they can all go fast–anybody can win that race, you know. It's sometimes how the horse feels that day. It's like people–you have good days and bad days. You try to have the good days, but sometimes you won't."
Forbidden Trade has more good days than most.
"He's a great horse anywhere, everywhere. He's very laid back. Not tough on himself. He doesn't waste energy on anything; he uses the energy at the right place," Blais said.
He has brought the stallion to The Meadowlands solo, as staff, including Forbidden Trade's caretaker Nadia Carriere, look after 24 other horses at the private farm in Campbellville.
Ecurie D is "the horse to beat," in Blais' opinion: "I think he is a special horse, that horse. Very special. I see him, we race against him twice, and he was an amazing horse." But Forbidden Trade is also hitting peak form: "He's not complicated at all. He's very natural. He makes me look good," said the 2021 O'Brien Award of Horsemanship winner.