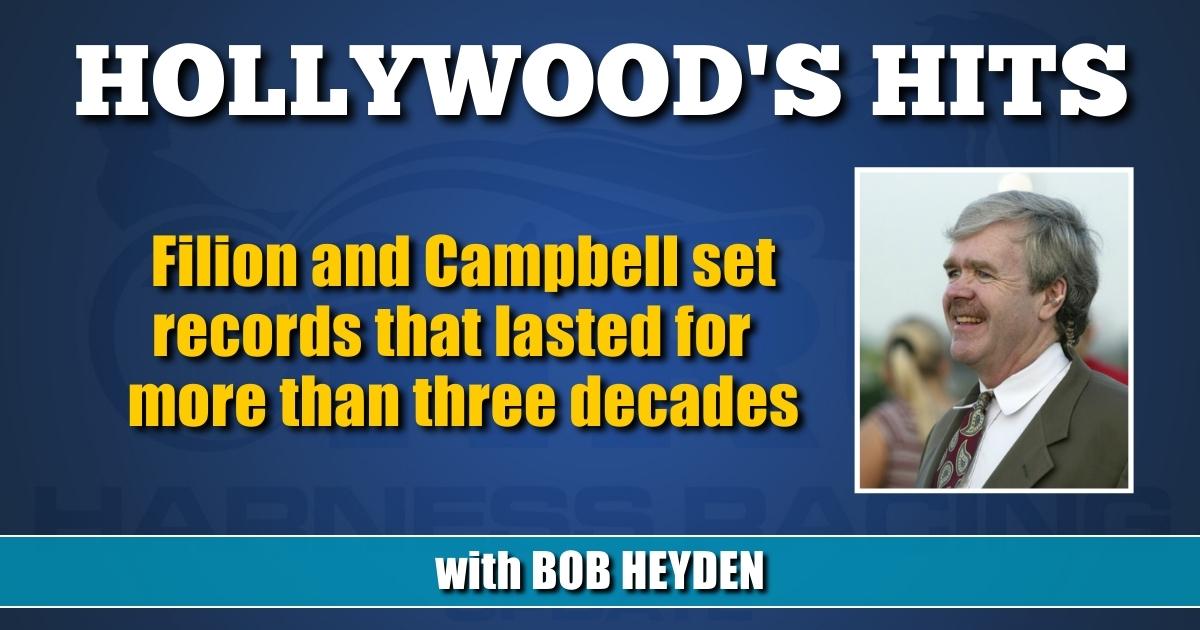 Filion and Campbell set records that lasted for more than three decades
by Bob Heyden
Herve Filion held the all-time wins record from December, 1972 until 2015 — 33 years. Dave Palone now has had the record for seven years.
John Campbell will have held the all-time earnings mark for 35 years as of the end of July. On June 30, it will be five years since Campbell stopped driving.
SELECT COMPANY
Three trainers have had both a pacing colt and a filly voted Horse of the Year — Glen Garnsey, Brett Pelling and George Teague, Jr.
BIG MONEY SCOTT ZERON
Scott Zeron needs to have a good Hambletonian in 2022 in order to still be the best money driver in the race at a comparable age. Through age 32, which takes him through the 2021 Hambletonian, Zeron earned $1,266,500. Now 33, he will have to step up since John Campbell in 1988 won it at age 33 with Armbro Goal and improved to $1.5 million.
THE ONE THAT GOT AWAY
Ernie Banks — World Series
Frank Thomas — World Series
Tim Tetrick — Jug
Yannick Gingras — Hambletonian
Jan Johnson driving a Breeders Crown winner
Charles Barkley — NBA title
Karl Malone and John Stockton — NBA title
David Miller — Hambletonian
Arnold Palmer — PGA
Steve Asmussen — Kentucky Derby
Ted Williams — World Series
Dan Marino — Super Bowl
THAT 70'S SHOW
As in those 70 years old — plus.
Rick Plano is 70 and was the leading trainer and third leading driver at Pompano Park this year.
Dan Shetler is 72 and still racing and training and driving mostly stakes colts/fillies in Indiana.
JoAnn Looney is 76 and right there with all the Jim King trainees (Jimmy turned 70 in February) and had the 2019 HOY Shartin N-STILL the fastest female ever 1:46.4.
Del Miller was 77 in 1990 when he drove a winner in his record eighth decade.
Mike Lachance will be 72 on Dec. 16 this year.
Carl Allen was 73 when he drove his last Hambletonian contender — 2003's Holy Guacamole (fifth in elim).
Stanley Dancer last got in the bike in the fall of 1997 at 70.
Cat Manzi is 72 on June 27 this year.
Bi Shively at 74 and still the elder statesman in Hambletonian wins with his 1952 effort with Sharp Note.
Berndt Lindstedt is 86 this July.
Ben White was 70 in 1943 when he won his then record fourth Hambletonian.
Harold Story was 71-72 years old when he drove in the Breeders Crown last with his supremely talented trotting mare Scenic Regal.
Jacqueline Ingrassia, a recent PASS winner with Dandy, is 75 and still going strong training driving. She and Frank also own Dandy who is a reclamation project of sorts. I guess even 22 years after she won the Yonkers Trot at age 53 we shouldn't be surprised. Lady J shows no signs of slowing up either.
500TH TRIPLE CROWN RACE THIS YEAR
The 500th Triple Crown race will come in this year's Little Brown Jug. The Triple Crown series starts up with elims for the Yonkers Trot and Messenger the final weekend of June this year.
125 Kentucky Futurities
96 Hambletonians
76 Jugs
67 Canes
66 Yonkers Trots
65 Messengers
In thoroughbreds, they are at 449 and it won't be #500 until the 2039 Belmont Stakes.
154 Belmonts
147 Preaknesses
148 Kentucky Derbies