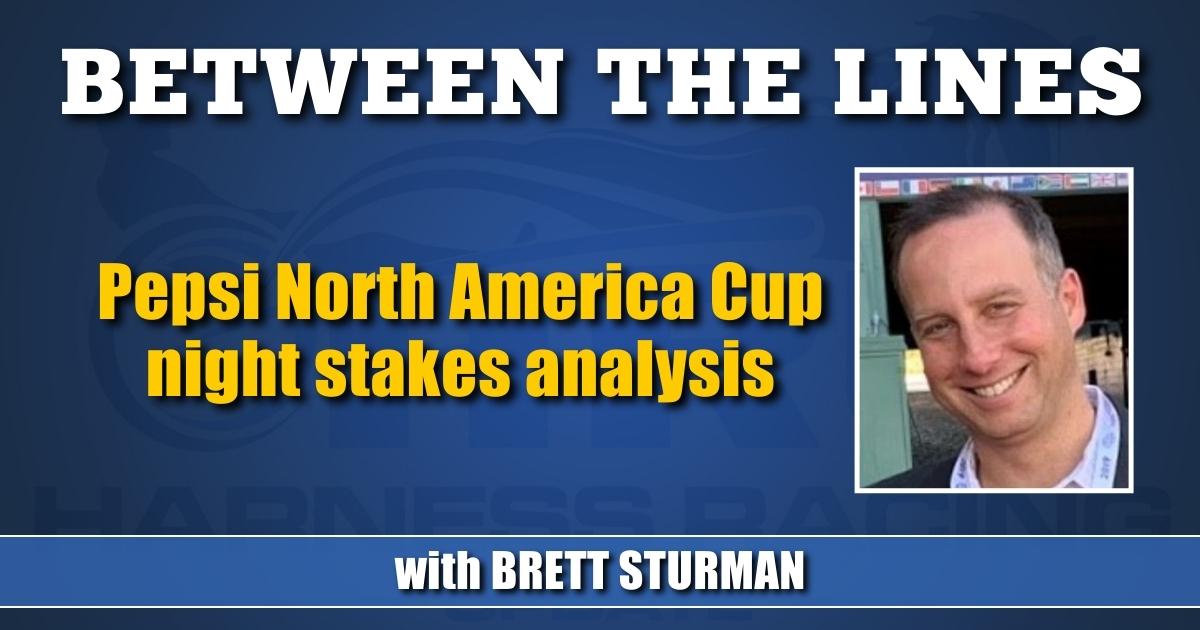 Pepsi North America Cup night stakes analysis
Analysis and selections for all stakes across the rich Pepsi North America Cup card that includes three Pick-5 wagers — two guaranteed at $100,000 — and the mandatory payout of the Jackpot Hi-5.
by Brett Sturman
Saturday is a huge stakes night at Woodbine Mohawk Park, highlighted by the Pepsi North America Cup. There are three Pick-5 wagers on the card. The first two (races 1-5) and the all-stakes one (races 7-11) each have a $100,000 guarantee. The last one (races 9-13) is not guaranteed. There's also a mandatory payout of the Jackpot Hi-5 in race 13.
Here's my picks for the stakes on the card, including my all-stakes Pick-5 ticket. Further handicapping via a special Woodbine program insert is available here.
RACE 5, $100,00 MOHAWK GOLD CUP: INVITATIONAL
FUNATTHEBEACH N is the sports new #1 in the Hambletonian Society/Breeders Crown poll, but will probably be no better than the fifth or sixth wagering choice in this race alone, so go figure. A feel-good story for sure capturing two rich races in dramatic fashion, but he was a non-threatening 7th at odds of 20-1 when last seen here in a free-for-all.
For all the recent talk of horses being excused a couple of starts before trying their best, ALLYWAG HANOVER came out of the gate blasting last week in a race that wasn't much more than a prep for the Gold Cup. He was used not only to make the lead but then again to retake by the half, though he was no match for Bulldog Hanover who put up the mile of his life. JIMMY FREIGHT had been on an absolute tear before running into a hopelessly uphill trip from post 8 last out at Northfield in the Battle of Lake Erie. He was understandably tired towards the end of that mile; can he bounce right back? Prior mile at Western Fair was awesome. WORKIN ONA MYSTERY was overlooked again last out in the Commodore Barry at Philadelphia, and he remains in raging form; class horse is obviously more than capable. LINEDRIVE HANOVER went toe to toe with Carbine last out in a tough first-over trip through fast fractions; is only two races removed from that record 1:49 mile at Flamboro and maybe goes a bit overlooked in this spot. LITTLE ROCKET MAN had a useful prep over the track last week.
Picks: Workin Ona Mystery, Linedrive Hanover, Allywag Hanover
RACE 7, $251,000 GOODTIMES FINAL
(START OF $100,000 GUARANTEED PICK-5)
PRETENDER went an interesting trip last week, getting away without much hurry, landing sixth after starting from the rail. Nonetheless, he grinded away first over to give FAST AS THE WIND a challenge before backing away late. That test drive should set him up well for the final; was awesome in capturing the New Jersey Sires Stakes final in May. FAST AS THE WIND is tough to knock and even that race three back looks better than it first did considering what that race's winner Rattle My Cage has gone on to do. Valley Victory winner won't get off as easily to the half this week. TWIN B ARCHIE was able to push by and hold off the pacesetting rival in his elimination off a pocket trip to earn a lifetime best mark of 1:53.1. LOOKS LIKE MONI was stubborn against TWIN B ARCHIE in that elimination last week though his post for the final isn't ideal. WORLD AT WAR DEO had to await clearance though much of the stretch and had visible trot once clear to the outside; likely to be sent early. ARCHERY SEELSTER had some late trot to offer last week and can save ground from the rail.
Picks: Pretender, World At War Deo, Fast As The Wind
RACE 8, $401,000 FAN HANOVER FINAL
SEA SILK has come back as good as she was last year at 2 which saw her conclude that season as runner-up from post 10 in the Breeders Crown and had the look of a killer in her first two races this year in Ohio. She finished solidly last week coming first-up from fifth and I think is best. Key rival TREACHEROUS DRAGON will be favored as she looks to keep her 2022 unbeaten streak intact. A 1:49.1 winner three back, she looked comfortable throughout in her elimination. PROHIBITION LEGAL looks like she'll be MacDonald's pick over elimination winner in #5, and this one was gaining late to the inside of Treacherous Dragon in her elimination after multiple moves and altering course through the stretch. SILVER LABEL got away neatly in her elimination, was buried but then burst through in the stretch to win; Gingras now listed to pick up the drive. WICKEDLY INNOCENT set it up second over in her elimination, didn't exactly accelerate until late and then was caught as the even money favorite; will offer a much bigger price this time around. LYONS SERENITY went a tough first-over trip in her elimination, her second start of the year. QUEEN OF SUCCESS had room to rally up the inside but not the late punch last week.
Picks: Sea Silk, Treacherous Dragon, Silver Label
RACE 9, $211,000 ARMBRO FLIGHT FINAL
If you watched her most recent from the Meadowlands two weeks ago, it would be difficult to go against BELLA BELLINI. In that open, it looked like she had no business winning at the head of the lane while last, and then Miller simply pointed her for clearance in the straightaway and she flew home with seemingly minimal urging with a :25.4 final quarter to rally by and win by a head. Two back, she was beaten just a couple lengths in that 1:49.1 mile from Ecurie D. ATLANTA was closing right alongside Bella Bellini in that aforementioned race and much of the same could be said for her. She was odds-on in that race and I wonder now if favoritism between her and Bellini will be reversed; tremendous matchup coming. WHEN DOVESCRY finally finds a more reasonable spot after having little chance from bad posts in her prior two; qualified back well. It may have been an oddity but HERCULISA did beat Atlanta a month ago on a sloppy track at the Meadowlands when she tracked down that rival fair and square; the post now presents an obvious problem. NEXT LEVEL STUFF may be as good as ever right now. She beat Bella Bellini two back and did well last out to rally belatedly against a 1-5 winner. WESLYNN QUEST was better positioned last year to compete with these.
Picks: Bella Bellini, Atlanta, Next Level Stuff
RACE 10, $315,000 ROSES ARE RED FINAL
Speaking of tremendous matchups, this race pits last year's Horse of the Year TEST OF FAITH against last year's older pacing mare champion LYONS SENTINEL for the first time. TEST OF FAITH won her elimination last week all wrapped up and has the slight post edge on her primary threat; it will be interesting to see how much of a head start she's able to get. That was a monster brush last week through the stretch from LYONS SENTINEL; she was out of position, and it still didn't seem to matter. I thought FIRE START HANOVER was a little short in her elimination last week but still wasn't far off; top-level connections as always. SO MUCH MORE wasn't bad last out to hang in there for second but was never a match for the winner. KOBES GIGI was game at 20-1 to be passed by a pocket puller only to then come back late to regain second; loses Miller though. GIA'S SURREAL should have been able to at least save second in her elimination and I fear is a longshot now. AMAZING DREAM N was favored against similar just two back in the Betsy Ross and now looms a big longshot; was even through the stretch in her elimination.
Picks: Test of Faith, Fire Start Hanover, Lyons Sentinel
RACE 11, $1 MILLION PEPSI NORTH AMERICA CUP
Background for these horses was documented in last week's column seen here. So, what did we learn since then from last week's eliminations? For starters, all systems looked just fine on PEBBLE BEACH. There were some concerns from his drifting across the stretch in his Somebeachsomewhere win two back, but he was as straight as an arrow in winning his North America Cup elimination. He did so in impressive first-over fashion with a final quarter in :26.2 and the road to the North America Cup XXXIX winner's circle still goes through him; my pick. BEACH GLASS delivered in his elimination was the 4-5 favorite, though Gingras did have to chase after him to hang on by a diminishing margin in the end. Trainer MacGrath indicated in the post-race interview that type of race was something he needed, making only his seventh lifetime start, and that he'd benefit from it. He's one of a few that could potentially win, but I'm not as enthusiastic as I was heading into last week; we'll see. NIGHT HAWK battled to brush to the lead and then immediately faced pressure from PEBBLE BEACH and tried to fight that rival through the lane while slowly raced into defeat. It's not surprising that Dave Miller did end up on NIGHT HAWK over fellow Brian Brown-trainee ARIO HANOVER, but I wonder how much of a decision that was. ARIO HANOVER figures to be somewhat of a trendy pick coming off his elimination that saw him fly home in :26.1; a full second faster than the top two in that race. He had solid late pace at Pocono two back as well and picks up Dexter Dunn; would be aided by some type of pace in the race. MAD MAX HANOVER closed okay late in his elimination but couldn't threaten the winner despite riding his cover. I did love his race two back at Pocono and I am surprised that Tetrick opted here in post 10 over I DID IT MYWAY in post 2; telling? KOLBY TWO STEP closed strongly two back to be second against Pebble Beach and did well last week to make the final; he is not without a chance at a huge price if the race sets up for him.
Picks: Pebble Beach, Kolby Two Step, Night Hawk
FINALLY, MY ALL-STAKES PICK-5 TICKET:
Race 7 4, 7, 9
Race 8 3, 6
Race 9 3, 7
Race 10 2, 3, 6
Race 11 5, 6, 7, 8
cost: $144 (or $28.80 for the $0.20 option)