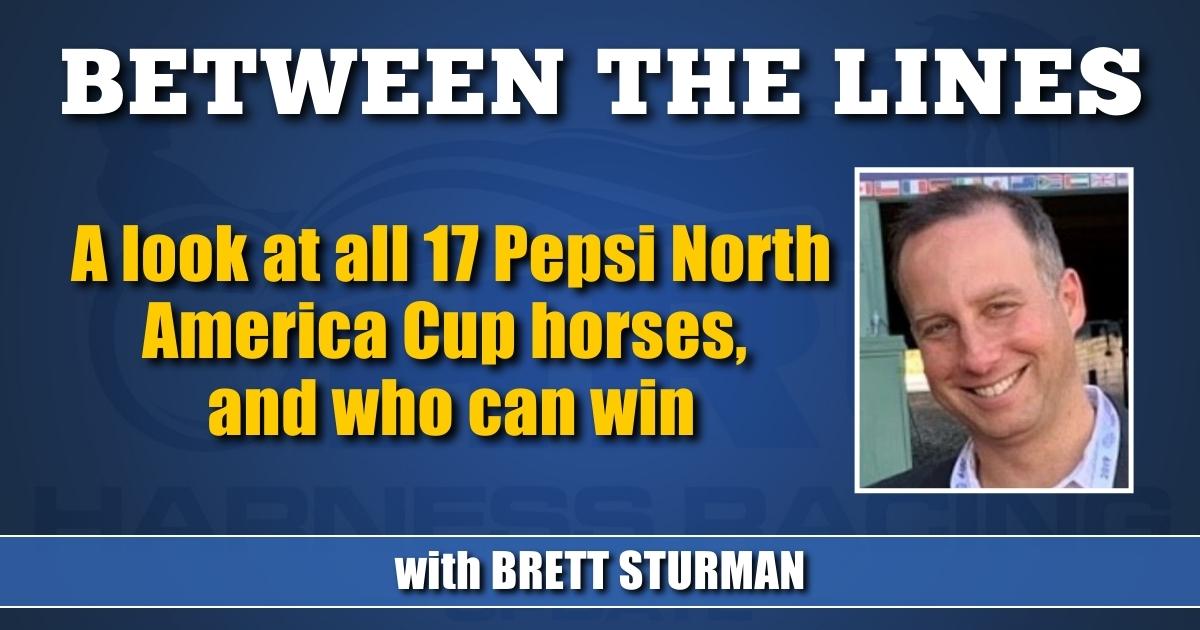 A look at all 17 Pepsi North America Cup horses, and who can win
Eliminations for the $1 million race at Woodbine Mohawk Park will be contested on Saturday.
by Brett Sturman
Following two years of pandemic-related scheduling interruptions, Pepsi North America Cup edition XXXIX at Woodbine Mohawk Park marks the first time since 2019 that the race will resume in its traditional June slot. Having drawn 17 entrants, two eliminations are set for this Saturday (June 11), with the top five finishers in each elimination returning for next week's $1 million final. Here's my assessment for each horse in the event, grouped by likelihood to win.
FAVORITES
Beach Glass: One of the big storylines heading into this year's North America Cup is the unexpected driver change here, going from Paul MacDonell to Yannick Gingras. Given MacDonell's long-standing friendship with trainer Brent MacGrath — as well as his ties to the Schooner Stable ownership group, most notably from their ride together with Somebeachsomewhere, winners of this race in 2008 — the change warrants more attention than normal. From Trot Insider earlier this week, MacDonell said that the mutual decision was made in the best interest of the horse and cited both his own age and not having the intent to travel to race Beach Glass in any U.S. stakes this year.
I spoke with MacGrath on Thursday, and he echoed those sentiments. He said, "One thing led to another, and Paul said, 'If you want to get one of the top guys, you're going to have to offer them the North America Cup, too.' So, that's all it was, that's it. Paul's been a very important part of this team, and he's going to continue to be."
As for Beach Glass, he comes off a half-length defeat where he was second last week in the Somebeachsomewhere, while making his first start of the year. "We had a little sickness when we shipped up from Florida and I went cautious – I would rather have raced him the Somebeachsomewhere short, than in an overnight, sick," said MacGrath. "I took my time with him and gave him the two to three weeks he needed, and he responded well. He's probably going to be one of the greenest horses to ever race in the North America Cup. Even in the Breeders Crown last year, he went into that with just three starts. He had never even had a training mile until June 15 last year. He had some issues all winter that we had to deal with as a 2-year-old, and he got too aggressive at the Meadowlands. So, I fooled around with the bridle all winter and I'm very confident in the horse and I'm very happy with how he raced the other day.
"There were a lot of positives about that race and there may have been drivers that would have pushed him harder, but that's not Paul and that's not me. I don't worry about getting beat, I worry about the horse coming out of his race well and being ready to go. The eye has been on the North America Cup since the Breeders Crown and that's where we're heading. I'm extremely happy with the driver that we've got and I'm happy with the draw, having missed the top two picks at least going in, that we don't have to fight with. I'm very optimistic he fits this group and I like our chances. This horse is ready to race, and we've got a guy on him Saturday night that likes racing and knows his way around the racetrack. He's as good as getting a horse into position as anybody and look forward to a good summer with this colt."
Night Hawk: Enters off a career best mile of 1:48.4 at Pocono and that race went at least two full seconds quicker than the other two Pennsylvania Sires Stakes divisions that went that same day. That win likely came a bit tougher than he was expecting, but he's yet to put in a bad race through six career starts and has proven himself in that short span against many of these. The connections of trainer Brian Brown and driver Dave Miller won this race in 2017 with Fear The Dragon. Miller also won this race in 2016 with his Night Hawk's sire, Betting Line.
Pebble Beach: Interestingly, more than a few people on social media weren't fond of his Somebeachsomewhere win last Saturday. I'm not one of them. Yes, he did drift across through the stretch and his time was slower from a speed-favoring time the race prior at the Meadowlands, but he was the dominant force in this division for much of last year and last week's race didn't do anything to detract from that. Last week's win was never in doubt, and if anything, he should be strong now in his third start of the year.
CONTENDERS
Caviart Camden: Maybe he got a little tired towards the end of last year but has looked strong in his two starts this year. Co-fastest all-time record holder for a 2-year-old of 1:48.3, he paced his back half-mile in that most recent start at Philadelphia in about :54. Appears slated to get a new driver in Andrew McCarthy.
Early Action: I gave him contender status from his freshman resume alone, including a win to close out last season with a win in the Governor's Cup. There's nothing wrong with running third to older horses Allywag Hanover and Chase H Hanover in that recent qualifier, though he did appear a bit short in both qualifiers prior against fellow sophomore's, many of which are in this stake. Let's see how his elimination sets him for the final.
I Did It Myway: Another that enters the North America Cup off a fast win at Philadelphia. That race did set up for him and even with that, he had to push to get by a longshot. With that said, he was successful last year at two and has the look of a potential upper echelon colt.
Mad Max Hanover: That most recent race at Pocono was really impressive. He set an honest pace including a fast third panel and fought on tenaciously against Night Hawk after having been passed in the stretch. If you remember last year, he nearly shocked at 50-1 in the Governor's Cup last fall. He's a legitimate contender.
POSSIBLE WITH SOME LUCK
Ario Hanover: Yet to be worse than second in five starts this year and is the second horse in here for Miller and Brown. He was gapped off a hot panel down the backstretch at Pocono last out before finding his best gear late; maybe is capable of handling another step up.
Magical Arthur: He got the lead in about two steps despite starting from the outside in his Somebeachsomewhere division, then yielded to two favorites – I'd say grudgingly to one of them – before having enough left to rally past both of them late in the stretch. That time of 1:50.3 established a new lifetime best and he's moving in the right direction.
Market Based: Could certainly argue that he deserves contender status, but I feel that he needs to do it outside of Pennsylvania. He's known to be erratic at times and both of those recent PASS wins were earned off perfect pocket trips; trainer Takter has won this race in two of the last three years.
Stonebridge Helios: Ontario-sired star was a little over-bet last out in the Somebeachsomewhere and didn't exactly get an ideal trip after taking back and then brushing from last. His prior two races against Ontario-restricted competition were excellent as were most his races last year; anxious to see how he responds to the recent defeat.
I'D BE SURPRISED
Century Inspector: Seems like a reach for a colt that lost in a maiden race last month but did qualify well enough recently behind another North America Cup entrant.
Fourever Boy: Exits a nice PASS win at Pocono last out, and that was on the heels of a hard-used try against similar two back. He's better than the 2 for 17 record indicates as shown in some of his races from last year; maybe can be heard from.
Frozen Hanover: He comes off an encouraging mile, closing well in the Somebeachsomewhere to not miss by much. That was his first start in a few weeks, and I'd expect this one to be Roy's pick over #1 in his elimination.
Kolby Two Step: Is another that closed noticeably well last week. He came first over from 6th at about the three-eighths marker to pass them all except Pebble Beach. He took a fast time here last year and as I'm writing this, maybe I wouldn't be so surprised after all.
Ron: Qualified willingly but has his work cut out for him against these. On this one I truly would be surprised.
Velocity Chaps: He showed some potential last year including being beaten only a length in an International Stallion Stake in Lexington; those recent Scioto lines may not be as bad as they look. Trainer Evers conditioned last year's 2-year-old divisional winner for the same ownership group, Monte Miki.