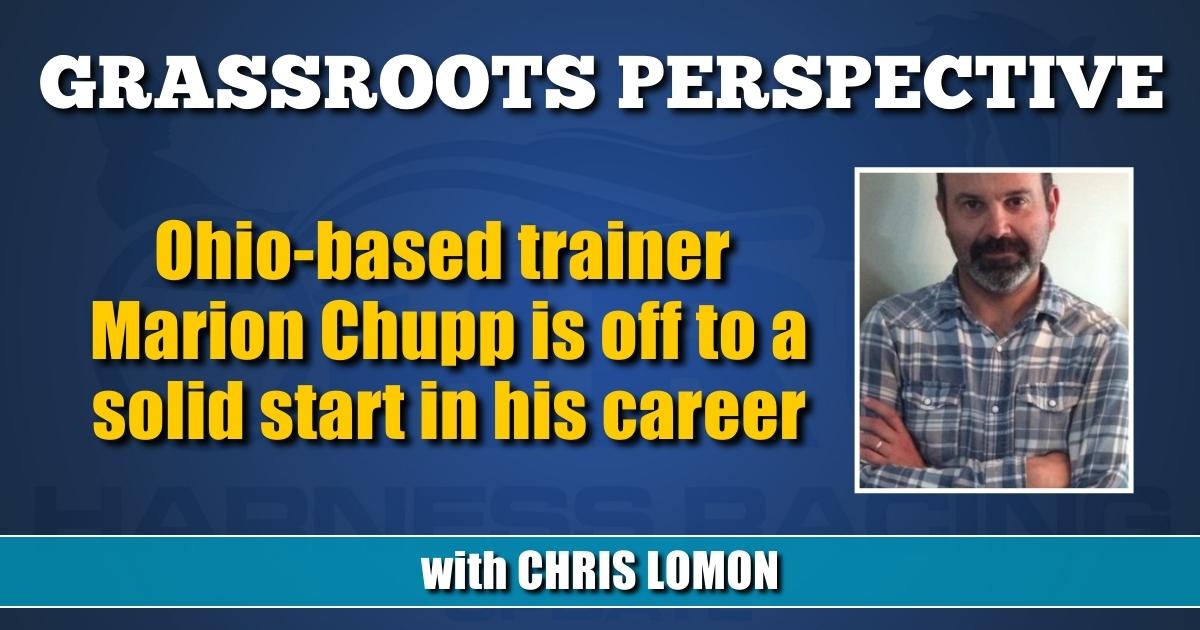 Ohio-based trainer Marion Chupp is off to a solid start in his career
by Chris Lomon
Don't expect Marion Chupp to ever boast about his racing success.
He's posted some impressive stats since he launched his standardbred career four years ago, a rookie season that produced 13 wins, four seconds and nine thirds from 54 starts, accompanied by just over $85,000 in purse earnings.
As for the secret to his early good fortune, the Ohio horseman gave the lion's share of credit to his band of pacers and trotters.
"I had a lot of luck with a lot of horses that first year in 2018 and it just seemed to work," said Chupp. "I'm just being honest. For a while, it seemed like everything I got in took off and worked out really well. You're very grateful for that. When you start, you want to do your best and continue to learn. You know there are going to be ups and downs, but I was fortunate to have had a lot of good luck that first year."
The decision to carve out a life in racing came years earlier when Chupp was in the driver's seat, so to speak.
"I was hauling horses for a lot of trainers and that was the time when I realized I'd like to have my own career in racing. I met a lot of different trainers and got connected. After I hauled the horses, I worked for [owner/breeder/trainer] Herman Hagerman for a few years, and it just kind of went from there."
Under the tutelage of Hagerman, the aspiring conditioner had a front-row seat for a five-star harness education, learning invaluable lessons along the way.
Every day he finished his work at the barn, Chupp felt grateful to have picked up a new skill.
"With Herman, what I was able to learn was what went into taking care of the horses and just the basics. Mostly, it was watching and learning from him, seeing what he did, and picking up all those pointers. I also had a couple of my own horses when I worked there."
Two of those horses, Long Live The King, and Curly's Son, played a pivotal role in Chupp's development as a trainer and driver.
A son of trotter RC Royalty, Curly's Son would be a game changer for the young man looking to make a name for himself in racing.
Bred by Annmari Daley, the black gelding, who has trotted 225 lifetime miles, became an immediate source of education and inspiration for Chupp when they were paired together near the end of 2018.
Curly's son was also money in the bank, literally.
"He really carried me. When I first started, he was a blessing to have because there are always bills and he seemed to pay them. He was a very nice horse and I've had him since he was four. He's 10 now. I was very lucky to have him because I don't know if I'd still be doing this if it wasn't for him."
And then there is Long Live The King.
Now seven, the trotting son of Full Count, bred by Flowing Mineral Farm (OH), would become an accomplished performer for Chupp.
Not that it started out in promising fashion.
"I had Long Live The King when he was three years old. He never panned out and we spent a lot of time with him. He's been with me throughout my racing career. I drove him at fairs and I think he stayed flat at one of those fairs. Now he has the track record at Northfield for 4-year-old geldings, 1:53.1."
In typical fashion, Chupp doesn't take credit for the impressive turnaround.
Instead, he lauds driver Chris Lems for his efforts in working with the once troublesome trotter.
"Chris has helped me a ton. He drove for me. The reason he did was because of Long Live The King. He's a very hot horse and a lot of drivers don't like that. He seemed to get along with him and has driven for him for years. He got along with him and I just put him on everything else. It's all worked out and here we are."
Where that is, now in his fifth season in the training and driving ranks, is a place that has Chupp constantly smiling, despite the ups and downs associated with horse racing.
Still, there is no place else he'd rather be.
"I've been around horses my whole life. I used to buy and sell ponies when I was 12. So, I've always felt a close connection to the horses. Right now, we have 22 at the one barn – we actually have two different places – and we have about 15-17 at the other barn. A lot of the babies and 2-year-olds are at the other barn, and the main one is where we keep the others. We're pretty busy these days, but I have a lot of good help. We have a very good crew and that really does make a difference. My crew and I will go out on a pontoon boat that I bought. We go to a spot that's about 45 minutes from the barn. We go there a lot when we can. I also like to golf too. But it doesn't happen as often as you want it to."
Chupp is unabashedly proud of his team, which includes another relatively new name in the game.
"One guy that started working for me, Eric Miller, he just started driving qualifiers. He's taken an interest in the sport. He's been with me almost since day one and he's been really good to have in the barn. I'm just happy that we have a very dedicated group. This is also the first year that we've started out with close to 10 babies. Last year, we only had two. They both made it to the races but weren't anything special. Hopefully, we have good luck this year."
Despite a 2021 campaign in which he won a career-best 76 races as a trainer, Chupp viewed the season as somewhat of a disappointment.
Grateful for the successes, the drive and strive to be better is what motivates him.
"Last year was a little soft. It wasn't the best year ever, but it was okay. I do have a lot of horses, and just like you would expect, some pan out and some don't. It's just a case of trying to do the best you can with each one, finding their best conditions and giving them the opportunity to do well. Sometimes they work out and sometimes they don't. That's just the business we're in."
None of that uncertainty prevents Chupp from setting objectives.
One of his main goals is to reach the century mark in wins in a year.
Whether it happens in 2022 or not, it won't diminish his enthusiasm and dedication for the horses and horse racing.
"I'd love to win 100 races in one year. It's certainly something I'd like to achieve one day. And I'd love to have a 2-year-old that could compete in the Sires Stakes ranks. Hopefully, we can have a few more babies and some nice overnight horses. Northfield's classes are pretty good for the non-winner types. You can make some good money there."
Whatever happens to be in store for Chupp – big wins, talented horses and eclipsing career-high numbers – none of it will affect the outlook of the man from the Buckeye State.
He's happy to let the horses do the talking while maintaining his team-first philosophy.
"I know I'm very lucky to be in the position I'm in. Working with the horses is always a great feeling. And to know I have a great crew, that just makes it so much better."