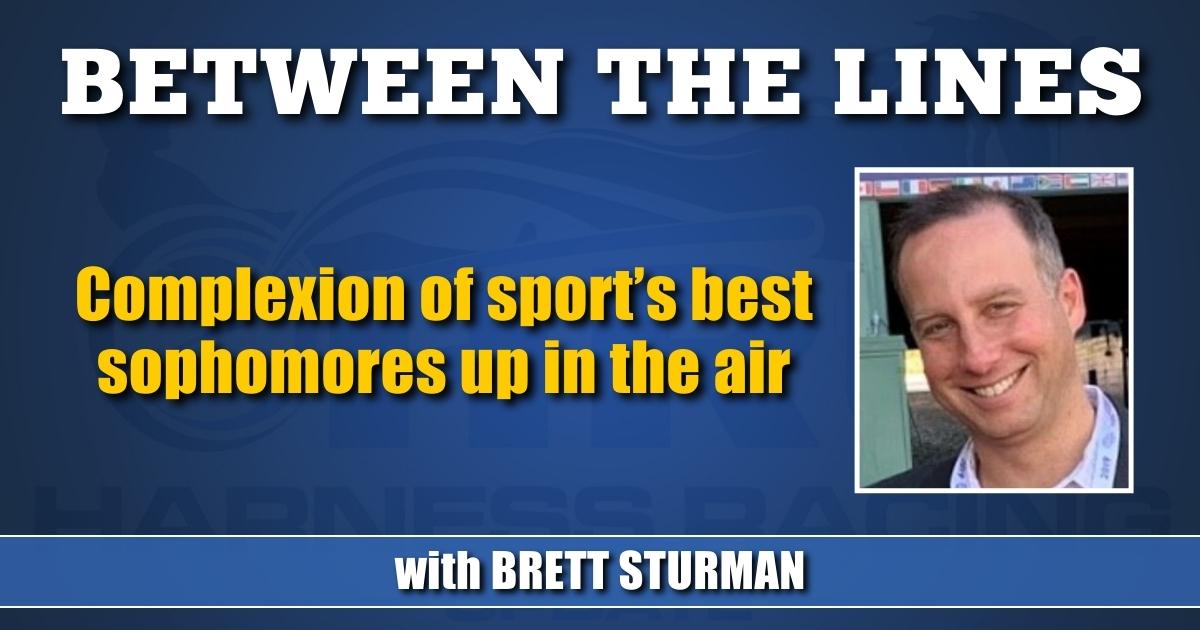 Complexion of sport's best sophomores up in the air
With a number of top 2-year-olds from 2021 already out or yet to return to form, the landscape has already changed for the all-important 3-year-old division.
by Brett Sturman
Top horses from last year are just now returning to the track in qualifiers and in early season races, and already the landscape of many divisions has changed from how it last concluded.
Beginning with the glamour division, the premature retirement from last year's 2-year-old pacing colt divisional champion Monte Miki is highly unfortunate. The Metro and Breeders Crown winner excited towards the end of last year but it was announced a month ago that he had suffered a tendon tear. In his absence, perhaps early-season favorite status defaults back to Pebble Beach. Last year's 1:48.4 winner was in a division Saturday of the Somebeachsomewhere at Woodbine Mohawk (results available elsewhere in this issue), as was another one of the more notable Breeders Crown entrants, Beach Glass. Gulf Shores is another that was raced in an action-packed Saturday in his seasonal debut at Scioto. The Brian Brown trainee just missed by a nose to Monte Miki in the Breeders Crown. The fastest sophomore thus far belongs to Night Hawk. The Meadowlands Pace-eligible colt by betting line took his 1:48.4 mark last week at Pocono by a neck over Mad Max Hanover in a PA sire stake division. Hammering Hank is another top colt from last year that comes to mind; he debuts on Wednesday in a Pennsylvania Sires Stakes division at Harrah's Philadelphia.
From the fillies' side of last year's 2-year-old pacers, it's too early to say for sure but Niki Hill's seasonal debut from last week may prove to be fateful. At the very least, it's another division that has the potential to look dramatically different this year. Never traveling smooth throughout her PASS test at Philly, she broke stride in the latter part of the mile and was then reported as injuring her front right ankle. Trainer Chris Ryder said in that interview that she'll be back, but it seems unlikely that she'll be the same imposing filly that took her to runner-up Horse of the Year consideration last year. It would seem like her absence opens the door for Treacherous Dragon to assume the driver's seat as the stakes season gets into gear. She battled last year with Niki Hill and is off to a fast 3-for-3 start in 2022, the most recent win coming last week in an easy PASS win for Tetrick and Pelling. Sea Silk is another that warrants attention as another top freshman filly and who looked vicious in her seasonal debut a few weeks ago; remains in Ohio for her second start Saturday.
Sticking with the 3-year-old fillies but on the trot side, it's all going to depend on how those horses can progress from 2 to 3. The talk for most of last year was all about Venerable. The young filly that beat colts to win the Mohawk Million looked untouchable for much of the season, but Joviality made a super strong late push in that division in winning the Breeders Crown (from post 10) and then following that up with a win in the Goldsmith Maid. This year, Joviality has continued on that forward path, most recently winning in 1:51.2 at Vernon while Venerable has broken a couple of occasions at least to this point, has regressed somewhat time-wise from last year. It's still very early, but this is another strong division that includes New Jersey Sires Stakes champ Fashion Schooner, Jiggy Jog S, Misswalner Fashion and I'm sure many others that I'm overlooking.
The 3-year-old colts are another division that's totally wide open. King Of The North won this group last year on the strength of his early season performance, but he wasn't as threatening by year end. He was on track to qualify back Saturday for the first time. Horses from this group that have already established fast marks this year include: Pretender, Temporal Hanover and Looks Like Moni. Last year's Breeders Crown champion Rebuff is set to qualify back, and Crown runner-up Branded By Lindy has already come back with a quick 1:52.1 qualifier right out of the gate. Even horses like Jonas K who comes off that record mile at Plainridge could be heard from in this wide-open division.
Where it looks like there is some level of stability is at the top of the open trotting ranks. Ecurie D Dk didn't win a Dan Patch last year, but it wasn't for lack of ability. He overpowered rivals in his only two starts in North America last year, the Allerage and the Breeders Crown. In his lone start thus far in 2022 from the Cutler two weeks ago, he won in 1:49.1. It doesn't seem out of the question that he could beat the all-time trot mark of 1:48.4. Of course, it is a long year and it remains to be seen who might be able to step up and challenge him. Normally, there would have been a high level of anticipation to see how last year's Trotter of the Year, Jujubee, would handle the transition into racing against older horses. But he's another that's been bit by the injury bug and is hopeful to target a later season return.
The older pacing female division is full of intrigue. If Lyon's Sentinel can remain as good again this year as she's been for the past couple, how does she rate against the likes of Test Of Faith? How about other newly-turned 4-year-olds such as Fire Start Hanover and Oakwoodanabella – can they step up against the open mares?
It's a similar story in the free-for-all pacing division. Last year's champ Allywag Hanover is still qualifying back and it'll be interesting to see if any fresh threats can challenge him. Linedrive Hanover who was unknown when last year ended has proven to be a total killer. Bettor's Donttell comes off a 1:47.3 mile at the Meadowlands. Last year's 3-year-old champion Perfect Sting has been retired but his chief rival Charlie May is still going and how will he stack up? There's at least a half-dozen other horses in this category that have shown staying power throughout the year in this division. In the aged trotting females, Manchego is another that's now retired but Atlanta may get a fresh threat in Bella Bellini.
For all the uncertainty that's come with the changing dynamics since last year has ended, it surely sets the stage for what promises to be an exciting 2022 stakes season.