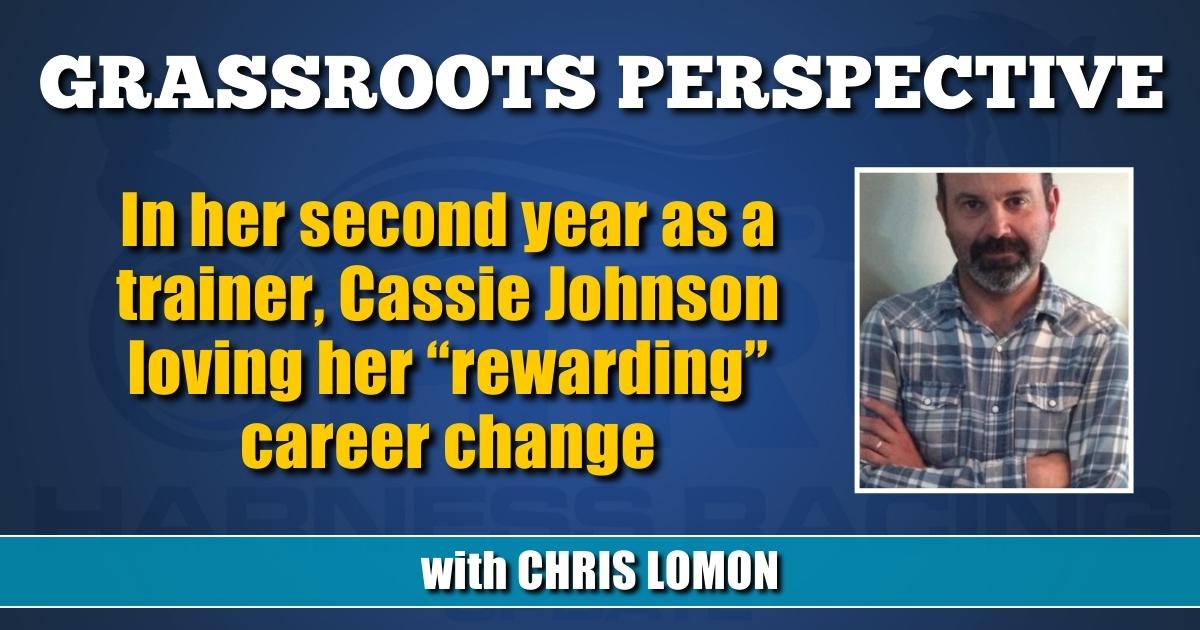 In her second year as a trainer, Cassie Johnson loving her "rewarding" career change
by Chris Lomon
Cassie Johnson is always up for a new challenge.
It was around five years ago when she met a horseman from Ellicottville, NY, a standardbred driver/trainer who had already made a name for himself in the sport.
As it would turn out, Johnson wasn't only smitten by David McNeight III, the man who already had recorded over 1,000 driving wins.
"Within a year, I wanted to quit my office job," she said. "I find being around the horses to be very rewarding. As time went on, I looked into getting my owner's license."
In 2021, she launched her training career.
There were times, early on, when Johnson, admittedly, felt like an outsider.
"It was a little bit intimidating because I've found over the years many of the people racing, it's passed down through generations. The younger horsepeople grew up around the barns, learning all about the horses that way, going to the track and watching the races – that's how they developed their knowledge. For me to come into it starting from scratch and at the age I did, it was a little bit intimidating. I hadn't even bathed a horse at that time. So, it was a different world I was walking into to."
Fortunately for Johnson, she was able to keep pace with her more seasoned contemporaries.
In her rookie season in the conditioner ranks, she went 18-15-14 from 109 starts, along with $130,633 in purse earnings.
"I was really starting from ground zero. I love that each horse has its own personality and that some are trickier to figure out than others. They are always trying to tell us something and it's up to us to read their cues, figure out a way to help them. It could be if your barn is a good fit for them, the racetrack their competing at is a good fit, the different races you have to put them in – some are okay on a larger track, some prefer a half-mile one… it's a constant challenge to figure all of those things out."
Not that Johnson sees any of it in a negative light.
In fact, the more she is able to immerse herself in learning new things, the happier she is.
"That is something I do love about this business and in general. I love learning new things, doing research, finding different classes online to learn about health and new nutrition. I don't consider myself an expert in anything, but I do try and acquire as much knowledge as I can in a lot of different areas. I try to put everything I learn together and do the best I can to have a small stable and, with that, make sure each horse has their own plan and training regimen. It's never one size fits all for me. That's what I love about having a smaller stable to maintain."
Her blueprint for success has panned out well so far.
Highlights include her first training win, a victory that came with veteran pacer Daylight Rush on May 8, 2021, at Buffalo Raceway, a moment when Johnson found it difficult to mask her enthusiasm, so to speak.
"It was during the pandemic, of course. I was supposed to have some people, my friends and family, at the track that night just hoping I could get my first win. It was the first night I was training. The first horse I sent out was my first win and David was driving. That was exciting. I remember getting out there and we still had to wear the mask because of Covid. I was so excited that I almost forgot to pull my mask down when we were getting the picture taken. I did remember, but looking back, you can still see the expression of complete joy."
Johnson sports a similar look any time Daylight Rush's name is mentioned.
Bred by Winbak Farm, the now 9-year-old son of Art Colony—Pass With Caution had a prosperous 2021 campaign, racking up seven wins, four seconds and six thirds in 31 starts.
"He's definitely one of the more memorable ones I've worked with. We claimed him and we were pretty sure he had some injuries. He's a very classy horse, so we decided to take a gamble with him, and he was able to do his rehab work. I was able to take the time to work on him and he came back for us. Two years ago, he was Pacer of the Meet at Buffalo Raceway, which was amazing. Last year, he had even more wins than he did the year before. He's been a fun one to be around. He has a very unique personality. He loves his job and being out on the racetrack. He keeps you on your toes and reminds you that you're not fully in control."
Despite a hectic life – Johnson and McNeight recently welcomed a son, Jackson – on the work and home fronts, the second-year trainer is happy, eager to see what the future holds for her, both personally and professionally.
As for her horse racing career, there are certain goals, now and down the road, she'd like to achieve.
"I love setting goals in life, to grow and look back to see where things started and how they worked out. One of my long-term goals at a certain point was to become a trainer, so that's cool to reminisce about. Short term, I would love to have a smaller stable of five or six classy horses who love to race. Not necessarily upper-class horses, but that would be fine too. I would like to have those ones who love their job and go out and compete each week.
"Long term, I would love to have my own property with a barn set up where I could breed and raise babies, horses that we could go out and travel the Sires Stakes circuit with. That would be great to be able to travel, but to also see a side of racing I haven't experienced yet."
When she isn't at the racetrack, Johnson, an avid hiker, kayaker, snowmobiler, skier and motorcycle rider, is enjoying the family life.
And while taking care of her young son is a top priority, it hasn't kept her away from her love of the horses and horse racing.
"Being a new mom, I really appreciate spending time together as a family. Recently, one of my horses was in an earlier race and I was able to pick my son up and take him over to the clubhouse, so we had the chance to watch a couple of races on the apron. It was his first time doing that. The weather was great, my family was in town, so it was just a wonderful time."
As for whatever the next challenge, career or otherwise, might be, Johnson will face it as she always has, eagerly and optimistically.
"With racing, you always get to experience new things and you always have the opportunity to learn something new. That's what so great about it and that's what I always look forward to."