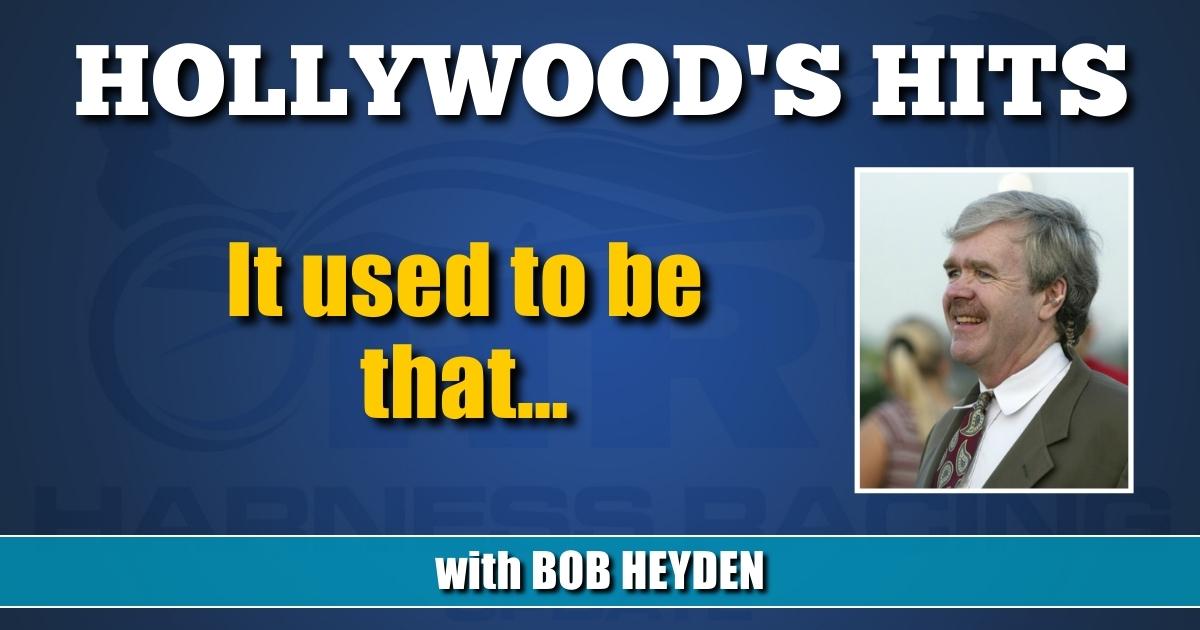 by Bob Heyden
This is meant as a cautionary — perhaps educational — tale to the standardbred industry about where we are today. It is not an article that will offer the same old tired "solutions" or suggestions.
Today is time for us to be honest about the industry's current status and stop dreaming about what could or should be.
This is also pointed to the 30-45-year-old who likely doesn't have a full appreciation — or maybe none at all — about what the sport used to look like.
IT USED TO BE THAT:
Famous people used to attend regularly at the track. Not just on Derby Day or when a horse is going for a Triple Crown — harness and thoroughbred alike. Owned horses, too. Wilt Chamberlain, Arnold Palmer, Mickey Mantle, Jack Klugman, Mickey Rooney, Annette Funicello. Joe Namath, too.
Every track had a tote board. Today, not so sure. Every race card had an outrider and somebody holding the horse in the winner's circle. Now? Never quite sure.
Gift shops were a staple at any track. Now they look like the 1975 stationery store in your town that closed and has not been touched since.
Entertainment — big time — often played at the track. Kris Kristoferson, Chubby Checker, Jay And The Americans. Boxing matches were also staged at racetracks.
Tote bags were on occasion handed out . Tote delays is about all you get today. Tote delays are the racing fans busy signal he gets when asking, "How did my horse do?"
There was once a time when restrooms were actually attended at racetracks. Now, you hope they are operating at about 2/3rds capacity.
Never did you see on a screen then what you do today — a dark, dank simulcast feed of a few tracks looking more like the opening to a Film Noir Festival than an invitation to wager.
If you singled a horse in a multi-wager play first leg and it was scratched, you got your $16 or whatever the wager was in total back. In 2022, the racetracks cannot fathom the thought of returning a single dollar to anyone willing to wager one. So, you get the favorite in your race with a single after the scratch and your bet stays. So, in review, the horse you singled is scratched and it is possible the very horse you bet against may now be the one you have to root for. In some cases, you have to wait until after the race to see who the favorite even was.
Nonsensical giveaways to "card" holders — bonuses, incentives, etc. Well, in reality, they are very, very small and insulting. Scrunched up swag stuff. At one major track in standardbred racing, you get one penny for every $3 spent. Think of that for a second. A friend comes to the track for the first time today. He signs up for and gets his player card. He bets $1,500 on the thoroughbred races. That's $5 in rewards. The total is not enough for him to buy the program the very next day ($6.50 simulcast book).
There was a time when horses were celebrities — Cardigan Bay made it to $1 million in September 1968 and was immediately on the coast to coast Ed Sullivan Show. Rambling Willie in Times Square signing "autographs." But that was also a time of full-time public relations people aiming to please and appeal to a broader base.
"I love the horses, but hate the business." How many times have you heard that? There's a much bigger gap today from the bottom level workers to the top level — so to speak. People are in a business much more so today than a sport.
Today's 2-year-old stars have a schedule at 3 that all look alike. But how much fun was it when we saw a horse such as Hot Lead in 1996 racing in the winter series and graduating to the Meadowlands Pace winner's circle? Gallo Blue Chip battling in NW3 a few times, not even hitting the board, and then settling down to capture both million-dollar events in 2000 at age 3? There's a certain randomness that is missing nowadays. The chance of a Rambling Willie staying with the same barn not as likely today as it was 30, 40, 50 years back.
Minutes to post in 1970, 1980, 1990 were actual minutes to post. Yes, it really once was the norm.
Mutuel clerks were abundant, self-serve machines unheard of. Of course, this is more a progress type of thing. But I have seen machine-only sections with customers looking for help on many occasions.
Buffets? Gone. A little too fan-friendly and not bottom line-friendly. Restaurants? Now they only open at primo hours and aren't embarrassed at charging New York City prices.
Cordoned off areas. Yes, as the business gets smaller, the wide open areas become storage spaces — or are done over for another purpose altogether. Not a good look.
Concession stands are appointment only? It seems like that. Select few are open, the lines are longer and the service a crap shoot.
Periodicals available at the racetrack? Okay, I get it, magazines and such are not what they used to be. Everything is online. But, boy oh boy, what a way to get youngsters more interested. You know, the ones who do not go to sales, who don't know what a tack shop is. But they might like it if they did know. Back in the day, they served the novice as a great intro to the sport/business but seemed to gone the way of bell-bottoms.
T-shirts were on occasion handed out with your admission. You didn't have to elbow someone out of the way when they were shot out of a bazooka.
Two nights in advance programs were usually on sale, although they weren't official.
Elevators had operators. Restrooms had attendants.
You paid to park. Admission, too. Oh yes. Hey, in 1965 at Roosevelt Raceway they had 1,024 betting windows. And season parking passes were like gold.
Friendships were formed on the long betting lines — or even the one next to you. A 10-15 minute wait was the norm.
Information booths actually existed. Hey, isn't everyone a track first-timer once?
Potholes in the parking lot were non-existent. Now? They are everywhere. It's almost like management is saying, "Hey, potholes or no potholes, you are coming in either way… right?"
The current fan/attendee/bettor at the racetrack is not considered anyone special by management. They expect you to continue doing what you do… just don't die.
But what about the racing people who do care? There are a bunch of us, but we aren't collectively able to move the bulldozer that is slots/casino/apathy.
Racing is necessary (for casinos to be there) but not cherished. Even an annoyance of sorts. Casinos undergo huge renovations and harness racing fans are looking to where they can get a coffee on a Wednesday afternoon. The collective voices of those of us who want better is no longer drowning out those who are comping the casino regular. If it ever was.
Sometimes the smallest of stories can be the most telling. Let me take you back to 2001 on Meadowlands Pace Night. I was downstairs talking to some friends at the program area and some people I had met within the past couple of years were making their rare trip to the races. When asked who I liked, I told them to bet Real Desire to win the Meadowlands Pace. Good seeing them there.
We go our separate ways. Real Desires edges Bettors Delight and pays $6. I don't think about it again. A year goes by and I am again downstairs on Pace night. You guessed it, the same couple comes in. But they just tried to cash their ticket from last year and it was too late. Six months I guess was the limit. $30 south. They didn't even ask who I liked that night. They got their program and were on their way. Never saw them again. Did we lose two customers who innocently didn't realize they had to cash in their ticket in a specified time? Nobody is at fault here, but any way you look at it, it is not customer friendly. I wish I had done something in retrospect now. Did the sport lose two customers — however light they bet — that night?
Finally, harness racing finds itself to in 2022 as the 450-pound man. The one who desperately wants to get back to 180 pounds. But at least the man has a plan and, in theory anyway, a path there. If he follows this and that and sticks to it, it's at least a possibility.
Harness racing seems at the point of exasperation, hands in the air, white towel headed to the ring. The sport exists mostly today because they had the deeds to the land. We were here first, type of mentality. An adversarial, not brotherly, relationship exists between the casinos and racing. We can't attract the sharp, energetic, insightful 18-25-year-old anymore because there is so little for them down the road. Really good people have rerouted. The world goes on around us and it seems there are fewer and fewer of us trying to fend off the tsunami.
How long we can all hang on to the same rope remains to be seen.