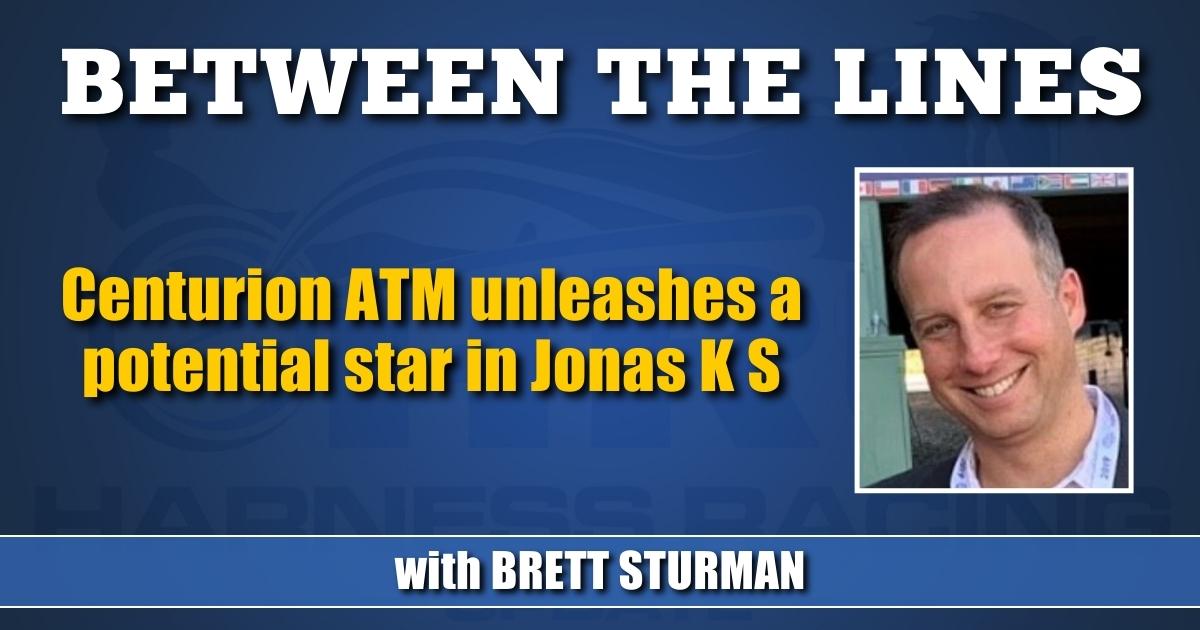 Centurion ATM unleashes a potential star in Jonas K S
The sophomore trotting colt dominated the inaugural Battle of Bunker Hill Trot at Plainridge Park with a 1:53 track record.
by Brett Sturman
What began as a typical, seemingly quiet Monday afternoon at Plainridge Park earlier this week, ended with the potential to have a material impact in the sport's 3-year-old trotting colts division this year. That's because in the inaugural Battle of Bunker Hill Trot for $100,000, Jonas K S (Centurion ATM) left competition far in his wake en route to a 12-and-a-half length win in a new track record time for 3-year-old colt trotters of 1:53.
An unknown at the time to practically everyone, Jonas K S was making just his second lifetime start in the Battle of Bunker Hill. Following up his win in his debut at Pocono on April 25 in a time of 1:57.4, Jonas K S took control from the start in the race at Plainridge. He rebuffed an early brush attempt by the heavily backed 1-9 favorite S I P and continued rolling right along through testing fractions of :27.1, :55.1, and 1:23.3. By the final quarter mile of the race, last year's $260,000 earner S I P could do no more and broke from second when it appeared he had already seen enough, clearing the way for the double digit and track record win in the end for Jonas K S.
Bred by Tristan Sjoberg's Knutsson Trotting Ab, as well as owned by Knutsson Trotting along with Little E LLC and Stall Kalmar Inc, the performance from Jonas K S was no fluke.
"He showed a lot of promise as a 2-year-old, and he just towards the end of his training to qualify last May-June, but he just wasn't quite mature enough. He was going through a growth phase all of the time," said Sjoberg. "But (trainer) Ake (Svanstedt) was always very keen on him. He said that we're going to have a very good horse as a 3-year-old, and so we stuck by him and stuck by the decision to not race at 2.
"To be perfectly honest with you, he was training back very normally at first. And then, until the middle of March, Ake called me and said that Jonas was really showing some talent and that we've got a really nice horse here, that he's been doing really well and really stepped up. So, we qualified him in April at the Meadowlands, and he had that blistering last quarter (:26.4), though I didn't want to get my hopes up. But Ake told me that we are talking about a horse that is extremely similar to his sire, Centurion. He doesn't really do a lot on the training ground – he does what he's supposed to do and never really makes a mistake but doesn't really shine either. And when Ake qualified him in April, he said it just dawned on him that Jonas hadn't actually ever trained behind a mobile starting gate, and that he hadn't been on a racetrack – ever. As it turned out, Jonas couldn't have cared less. He was so cool, calm, collected and did what he was supposed to do, and that's what he did Monday as well. Nothing really phases him, he just does it. He has a very nice technique, and that's what Centurion had. They are amazing technique horses, and you could see it at Plainridge in that last quarter, the other horses just couldn't keep up with him."
On Twitter following the Battle of Bunker Hill win, Sjoberg noted, perhaps tongue-in-cheek, that he had staked the wrong horse to this year's Hambletonian.
"I had two 3-year-old colts and the one I staked to the Hambletonian was Jaqen h'ghar (Walner). I kept Jonas out of it and obviously now it looks like I made the wrong decision. It should have been the other way around, but that happens sometimes," Sjoberg said.
Despite not being staked to the Hambletonian (which is a race that does not allow supplements), Sjoberg noted that Jonas K S is still well-staked. Engagements to larger stakes include the Earl Beal, Yonkers Trot, Bluegrass Stakes and Matron.
Jonas K S has the potential to greatly impact the direction of his sire who stands currently at Kentuckiana Farm for a fee of $2,500. Centurion ATM is a world champion and Peter Haughton champion at age 2. He is a full brother to fellow world champion Triumphant Caviar, both of whom earned over $700,000. They are both half-sibs to another $700,000 earner, Prayer Session (Like A Prayer).
"I have a lot of faith in Centurion as a stallion," said Sjoberg. You look at Centurion's pedigree and it's all black type. You look at Triumphant Caviar (SJ's Caviar) and how well he's done as a sire over many years in Ohio. That (ENS Tag Session) maternal line is extremely strong, and Centurion is one of the most amazing, nicest animals I've ever been around. I think he has fantastic potential to be an excellent sire if the breeders will give him the opportunity.
"Centurion has already sired winners in four countries. He's been standing in Australia for two seasons and he's already sired winners there. He had a 2-year-old winner last year in Sweden, and he had a winner in Holland three weeks ago. Even though he's had small crops, he's sired winners in four countries. And with the Kentucky bonus that you have now, I think that him standing at $2,500 compared to some of the other stallions that are there – I think that he offers tremendous value for people that want to be part of the Kentucky Sire Stakes program and get that stallion bonus."
The plan was for Sjoberg to first showcase Centurion ATM beginning in 2020 when he shipped two of his yearlings to Kentuckiana to get the summer there prior to sale later that year in Lexington. But those two yearlings, Jonas K S ($15,000) and Jessica K S ($12,000), were bought back by Sjoberg and neither of them raced as 2-year-olds.
However, Sjoberg's vision may now be coming to fruition.
"Monday you obviously had Jonas racing a great mile and then Tuesday morning at Harrah's Philadelphia Jessica K, the other horse that I shipped over, won her qualifier there with Julie Miller. They are extremely positive about her, very. She's staked for a lot of races also, particularly towards the end of the season. And I'm very hopeful about both of them."