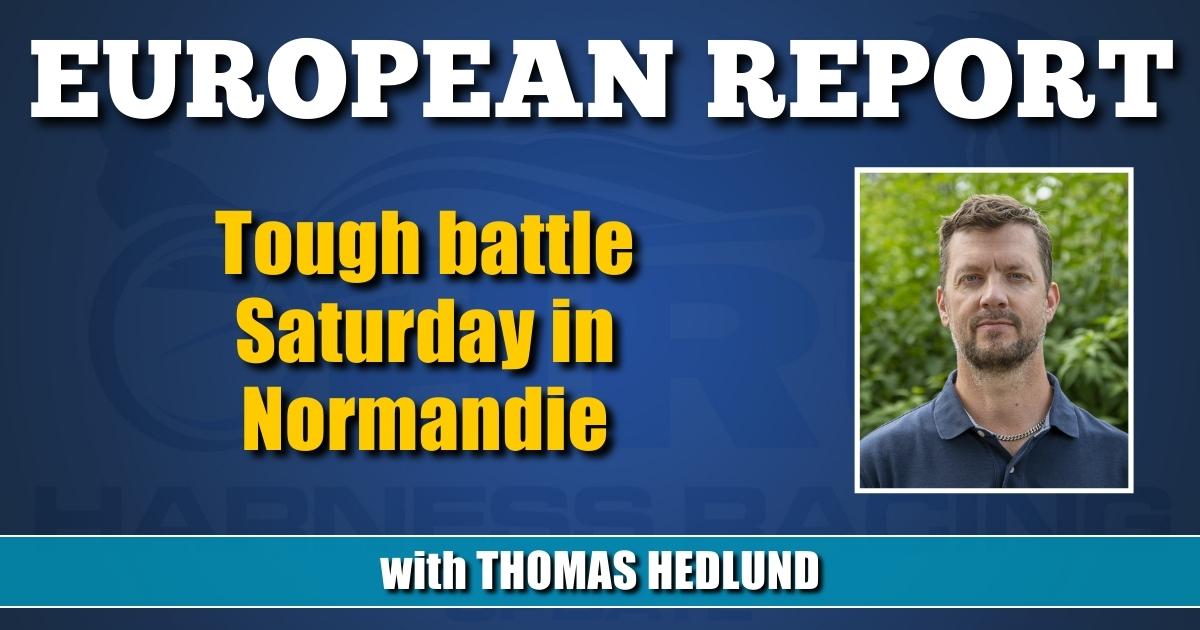 Tough battle Saturday in Normandie
by Thomas Hedlund
Top trotters gather in Caen in Normandie, France on Saturday (May 14) to contest the $157,500 Prix des Ducs de Normandie over 2,450 meters.
Elitloppet contender and Criterium de Vitesse winner Etonnant (Timoko) will try to defend his title from last year, when he won in strong stakes record 1:53.2 (mile rate).
But there are several horses that can ruin the repeat and Jean-Michel Bazire's talented gelding Cleangame is surely one of Etonnant's toughest opponents.
Ampia Mede Sm has been very successful in Paris during the winter and she can be a serious threat when it comes to challenging for the victory.
PRIX DES DUCS DE NORMANDIE 2022
2,450 meters
Horse – Driver
Hildalgo des Noes – Gabrile Gelormini
Darshan – Clément Thomain
Deby du Dollar – Lylian Bullier
Dollar Soyer – Eric Raffin
Digne Et Droit – Pierre Alain Rynwalt-Boular
Gangster du Wallon – Alexis Collette
Ampia Mede Sm – Franck Nivard
Cash du Rib – Jean-Loic Claude Dersoir
Elvis du Vallon – David Thoman
Rebella Matters – Christophe Martens
Fakir du Lorault – Francois Lecanu
Gu d'Herpre – Jean-Philippe Monclin
Etonnant – Anthony Barrier
Cleangame – Jean-Michel Bazire
FESTIVAL IN COPENHAGEN?
Charlottenlund racetrack in Copenhagen plays host to the $105,000 Copenhagen Cup over 2,011 meters this Sunday (May 15) and 10 horses are in the race.
The dignity of Copenhagen Cup has dropped over the years and its status has declined from Group 1 to Group 2, which is sad for Danish harness racing. Charlottenlund is a jolly arena for horse racing and the atmosphere is usually good around the track.
Whether the Copenhagen Cup winner gets a start in Elitloppet will depend on how the race goes. A spectacular performance will surely catch Solvalla's Anders Malmrot's eyes, but it's getting tight for the last spots in the Elitloppet.
Home trainer Steen Juul will try against older trotters with his 5-year-old Derby winner Festival Of Speed (Cantab Hall DE), who has 14 wins in 15 starts so far in his career and the duo got post 1 behind the gate.
COPENHAGEN CUP 2022
Horse – Driver
Festival Of Speed – Steen Juul
Four Guys Dream – Stefan Persson
Milligan's School – Ulf Eriksson
Vitruvio – Örjan Kihlström
Mister F.Daag – Robin Bakker
Calle Crown – Erik Adielsson
Usain Töll – Christoffer Eriksson
Floer Dust – Bent Svendsen
Alcoy – Christophe Martens
Stoletheshow – Björn Goop
SNOWSTORM HANOVER TO ELITLOPPET
The $20,000 Meadow Road's Race over 1,640 meters was held at Solvalla on Wednesday (May 11) night and a ticket to Elitloppet was at stake.
Stefan Melander trained Click Bait opened quickly for the lead, but a fired up Inti Boko flew to the front position in the first turn and driver Örjan Kihlström couldn't get the Timo Nurmos horse calm once they reached the lead.
Already Elitloppet-qualified trotter Vernissage Grif took position as first over with a lap to go and in second over, Snowstorm Hanover (Muscle Massive) followed in the hands of Magnus Djuse.
Snowstorm Hanover was bought by Melander after the horse's 3-year-old season and after years of competing in his own stable, Melander took a chance and asked Daniel Redén if he wanted to try the talented trotter for a while. And the results have really been great lately. Snowstorm Hanover came to Meadow Road's race after a big wire to wire performance in 1:52.2 and when he crossed the finish line as winner on Wednesday night, he also got the pink ticket that says that he is eligible for Elitloppet 2022.
The mile rate on the sloppy track of Solvalla was 1:54.
Horses qualified for the 2022 Elitloppet, so far:
Horse – Country
Don Fanucci Zet – Sweden
Etonnant – France
Vivid Wise As – Italy
Back Of The Neck – USA
Extreme – Denmark
Perfetto – Canada
Vernissage Grif – Italy
Önas Prince – Sweden
Cokstile – Italy
Admiral As – Sweden
Snowstorm Hanover – Sweden