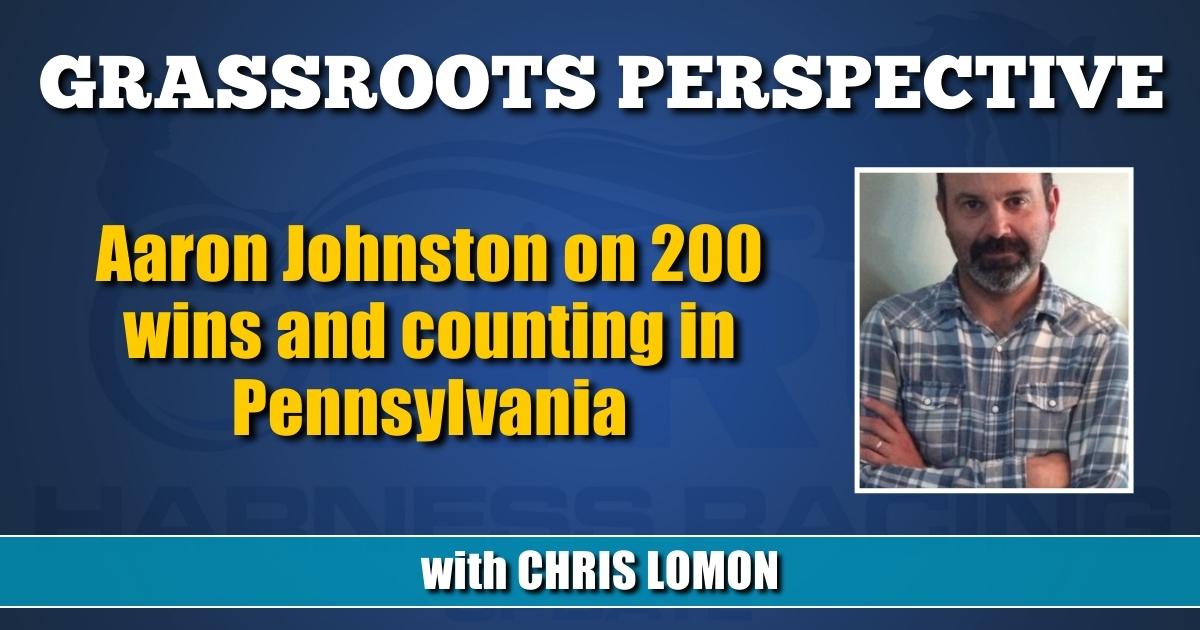 Aaron Johnston on 200 wins and counting in Pennsylvania
by Chris Lomon
Aaron Johnston recently had 200 reasons to celebrate, even if he didn't know anything about it.
It was about as perfect a win a horseman could ask for, the one that came in race 11 the evening of April 29 at The Meadows when Bigly, a 3-year-old trotting son of Cantab Hall, crossed the wire four lengths on top in 1:55.4.
Aside from being an authoritative, career-best speed badge for the brown gelding, the victory happened to mark the 200th driving win for Johnston.
Add in that Johnston also trains the horse and his wife, Jennifer, co-owns the four-time winner from 12 starts, and it was certainly one of the most memorable evenings in the race bike for the native of Evans City, PA.
It's just too bad the 31-year-old was unaware it was a milestone result.
"Honestly, I didn't know that," Johnston said with a laugh. "I didn't look at any stats, so I guess that just passed me by."
One thing that hasn't passed the driver/trainer by is the work ethic he learned early on his career, something that is still very much a hallmark of the stable he runs.
He learned the value of hard work from his father, longtime Pennsylvania horseman Gary Johnston, who started jogging horses at age 11, and began his own racing career when his father and two uncles bought a racehorse. His sisters, Debbie Schoeffel and Tracy Chropek, and, Kelly Rader, are also involved in the sport.
"I think for me patience and making sure you put in an honest day's work are what got me to that [200 training wins]. There are lot of long hours and I do a lot of racing at the fairs, so I'm sure a vast number of wins came through Pennsylvania. Staying at it, that's the key. If you get your butt beaten, you have to dust yourself off and then work even harder."
Johnston, whose brother Shawn, is also a harness trainer, earned his trainer and driver licenses in 2007 when he was 18 and made his first driving start on July 30 at the Clearfield County Fair, piloting Satisfied Customer, a pacing daughter of Shady Character, to a third-place finish. He recorded his first win in his third career drive in on the same card when he partnered Rama's Pretty K to victory for trainer Chris Oluvic.
"It was a great moment, winning that first one. It's what you always dream about and what you hope for. I was fortunate that it came so early in my career."
A career that is still going strong, 15 years after that treasured triumph.
Johnston is grateful for the journey that's taken him to the winner's circle nearly 500 times, driving and training combined.
"The biggest thing for me is to not dwell on a loss or a tough night. When I was younger, boy, it was tough not to let it eat away at me. I took it to heart if something bad happened or things didn't go well. Even now, I kind of catch myself when those situations come up. If it was a drive I was unhappy about, I would think about it what almost seemed like forever. Summertime, it's not as bad. I can go drive in a fair and you can get it out of your mind faster than usual. I've grown up a lot since those days of pouting and getting upset. But it's still there… I can pout with the best of them."
Fortunately, Johnston has plenty to smile about. And just as much to be proud of.
Some of his most notable highlights came courtesy the mare Dream of Winning. At 3, she won five of 10 dashes and missed the board just once. The daughter of Yankee Cruiser laid claim to victories in a PA Stallion Series and Sire Stakes leg and took the PA Sire Stakes Consolation at Pocono. The daughter of Yankee Cruiser also won "The Historic," a Grand Circuit stakes event contested at Tioga Downs.
Outside of his recent milestone, Johnston also eclipsed the $2 million mark in career training earnings, and has something to look forward to, specifically, a stable featuring some possible future stars.
Working with young pacers and trotters continues to be a source of enjoyment for Johnston, who along with his wife Jennifer, recently bought a farm just outside of Pittsburgh.
"When you are around the young horses, helping to shape them and bring out their best, I really enjoy that whole process. You find out what makes each one tick, how you can work with them to make them better – it's such a great part of being a trainer. I have a couple right now that might be able to make it to the Sires Stakes ranks, which would be an incredible opportunity. But these horses, they have given so much to me and I'm very grateful for that."
Currently, Johnston has 10 horses in the barn. He's hoping to add more stock soon.
"As far as the future, I'd like to expand a little more every year. I'd love to be able to train a bunch of babies, to get to the point where we can buy somewhere between seven and 10 babies and see what we can do. Mostly, I've done the work myself over the past five or six years. I have a kid, a local kid named Steven Fedokovitz, who just started helping me. With having someone in the barn like that, someone who wants to learn, I'm happy to teach him, and then we can expand how many horses we have."
One thing that won't change, more horses or not, is Johnston's commitment to racing and his craft, including plenty of hours spent behind the wheel, taking his show on the road, so to speak, throughout Pennsylvania.
When he does drive, he's dialed-in, but not on his phone.
"If it's late at night, I'll usually jam to whatever is on SiriusXM. I listen to everything. I go from channel five or six, all the way to 60, looking for something I like. I also like podcasts, like the Pat McAfee show. I love hockey, so I enjoy the Spittin' Chiclets podcast. So, for me, it's random sports stuff or podcasts."
When he's in the barn or at the racetrack, Johnston maintains a singular focus.
"In racing, you have to be 100 per cent committed in everything you do. That's the way I'll always approach it."