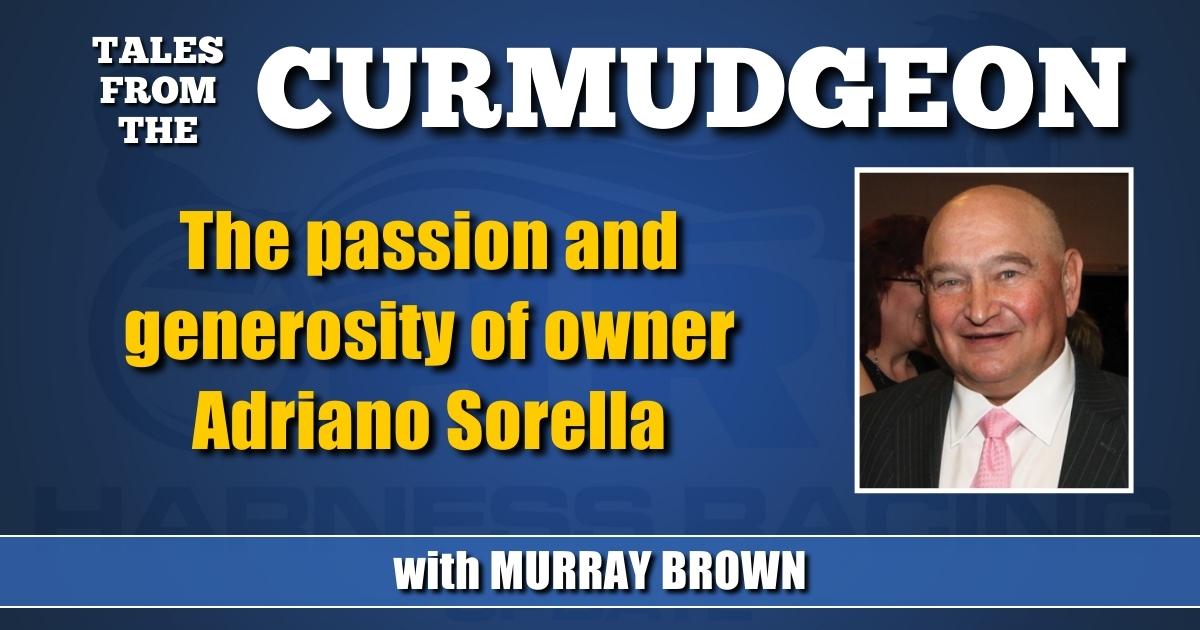 The passion and generosity of owner Adriano Sorella
by Murray Brown
Adriano Sorella is one of Canada's leading standardbred owners. Perhaps his numbers might not bear this out completely. But in terms of his views and devotion for the sport of harness racing, there are very few, if any, that surpass him. His equine holdings at present number somewhere in the order of 25. This number is comprised of racehorses, broodmares, yearlings and foals of 2022, those already here and those still expected. The "favored son" of his horse holdings is obviously the promising young stallion and racehorse Jimmy Freight.
Adriano is the youngest of four boys born to Italian immigrants Pasquale and Tilde Sorella in Toronto.
"I suppose my family might be considered to have been lower middle class," said Sorella. "My education was limited to being a high school graduate. Along the way to my present vocation in advertising and my sub-vocation of harness racing as it were, are stints of several years as a butcher and as an apprentice plumber. I was making good money in both."
Q: What led you to harness racing?
"I started out with thoroughbreds. My brothers and I were regular attendees at Woodbine. We all went there and developed a love for betting on the horses and a love for the horses themselves. I was introduced to a thoroughbred trainer named Bill Marko. He was very well known as the trainer of such champion horses as Deputy Minister and Frost King. He won Sovereign Awards as Canada's top trainer in 1982 and 1983. When I first met him he invited me to the backstretch to learn about the inner workings of what went on back there. He said that if I was looking to invest in horses to look him up. I was doing well with a decent amount of disposable cash. One day I decided that I was going to buy a horse. I went to Bill's stable with $10,000 cash in my pocket. My goal was to have Bill get me a horse. 'That's not the way it's done,' Markos said. Instead he took the $10,000 and put me in ownership groups in buying some horses which raced as claimers and in the lower classes. I liked being involved, but I soon became bored. Far differently from our horses, these would generally race as infrequently as once a month. I needed more action. I got out.
"At about the same time the SBOA was sponsoring a New Owners seminar meant to attract new owners to harness racing. The idea was that 10 fledgling owners were each to put up $4,500. The Ontario SBOA would contribute $15,000. The grand total was $60,000 per group. The idea was to buy two yearlings for the group. The trainers were to be Casie Coleman and John Kopas. At the time Casie's stable was just getting started with younger horses. That year she had Sportswriter and was doing very well. I approached her with a view to getting involved to a greater extent with yearlings. She was filled up. She recommended Blake Macintosh. I got a few claimers with Blake. I discovered that I really liked these harness horses. They would race as often as every week instead of once a month. I went to Casie and told her I wanted to go big time. I wanted a top horse — like her Sportswriter. I wanted to get one like him. She agreed to let me in if there was a vacancy in her stable."
Q: So here we are, you are sitting on the sidelines, waiting for your chance to get into the game.
"Casie went to Lexington. She had a group of her small number of long time owners lined up. They were focused on Hip No 5, a Bettors Delight colt named Vegas Vacation. They expected him to bring more money than they were accustomed to spending on yearlings. As I recall they expected him to bring well north of $60,000. Instead he fetched only $32,000. Steve Calhoun was supposed to be in for half. He thought there must have been something wrong with him for him to bring only $32,000. He asked Casie to find someone else to take that half if she were able. That someone was me. I am somewhat superstitious. I loved the name Vegas Vacation. I love Las Vegas. I considered his name to be a good omen for future success. I bought the half. Casie was in for the other half. She let her assistant trainer Anthony Beaton in for five per cent and her bookkeeper April Campbell for another five per cent. The rest is history. As you know, he turned out to be a wonderful horse. Among his notable triumphs was a victory in the 2013 Little Brown Jug. This yearling game is easy, I thought to myself. Little did I know."
Q: Since then you've bought into many more yearlings. You haven't come close to having the success that you attained with Vegas Vacation. Instead, your greatest success and the horse with which you are most associated was the then 2-year-old Jimmy Freight. How did this come about?
"Through the years I've done a lot of business with the horse agent Marc Reynolds. Marc had a horse that he thought was what I was looking for. It was for sale for $150,000. I was ready to buy it. Then as sometimes happens, the owners decided that they had changed their minds. They had decided not to sell it.. A few days later Marc called back. He had found a very promising 2-year-old in Iowa of all places. I didn't even know where Iowa was. He had won five races in a row. He was by Sportswriter and was eligible to the Ontario Sires Stakes. The Ontario races were the only stakes to which he was eligible. But if I bought him I would have him in my own backyard as it were. I was interested.
"I told Marc I would look him up. It was true he was undefeated and had won five in a row. But he was going in 2:12. But even with five wins, all he had earned was only $6,000. Marc said he was a lot better horse than he looked on paper. He had just raced in 1:58 on a Iowa fair track. They wanted $150,000 for him. I thought that was too much. I told Marc to see if he could get him bought for less, much less. I was thinking in terms of $100,000 or thereabouts. They wouldn't budge. Furthermore, they said that he now wasn't for sale.
"Tony Alagna was training my horses then. Tony got involved. He said that he would try to get the horse bought. He did and the price was $115,000. He was first shipped to Tony in New Jersey. Then he went to Ontario that same week for his first race with me as his owner. He won an Ontario Gold race in 1.52.3. I was ecstatic. I thought to myself, 'It looks like we really got a good one.' We finished the year with earnings of $180,00 and a second place finish in the OSS finals. Then came his 3-year-old season. I really messed up and still kick myself for not staking him more than I did. I didn't even put him in Canada's biggest race the North America Cup. We ended up supplementing him to some other races. He finished the season with earnings of $900,000. I have only myself to blame. Looking back, I cannot give you a good reason why I didn't stake him more than I did."
Q: What you did with Jimmy at 3 and 4 was unique in that for all intents and purposes he was raced out of two stables – one in Canada and one in the States.
"It just made sense to me. In Canada I had him in Richard Moreau's stable and in the States, he raced for Andrew Harris. Of course, in order to do this you would need to have both of your trainers invested in the policy. Richard was cool with it, perhaps mostly because he only races in Canada. He has his stable here. He is here and his help is here. Andrew was just fine with it as well. He was going to have a high quality horse in his stable that he otherwise wouldn't have. It was a win-win situation for everybody concerned — Richard, Andrew, myself and most of all Jimmy."
Q: Then came his 4-year-old season. You decided to bring him back to race instead of taking him to stud.
"I don't regret doing that at all. Perhaps I could have got a better deal in the States if I had retired him at 3, but I love racing so much, especially watching Jimmy race. To some degree that's why I brought him back to race this year at 6. He is doing very well in both racing and breeding. I wonder why more people haven't done this. It might not be the panacea for all horses, but it certainly has been rewarding for me and Jimmy. If he continues to race as well as he has thus far this year, he should surpass his sire in lifetime earnings and has a good chance of getting over the $2 million mark."
Q: You brought him to Canada to stand when there was the opportunity to stand him in the States. Any reason?
"Perhaps mostly because I'm a Canadian. I feel that the Sires Stakes program here in Ontario is one of the best, if not the very best in all of North America. From an owner's perspective, I believe it definitely is so. The stakes payments are very low. The shipping costs as well as the ease of transport are so much easier than those to be found in most American programs. I love going to the track to see my horses race. I also like the opportunity to see Jimmy in person whenever I have the urge to do so. Its so much easier to do it here than it is in places like Pennsylvania and New York where thew tracks can be significantly far away from each other. I was somewhat influenced by my good friend Dan Fisher of Standardbred Canada. I don't regret doing it at all."
Q: You are a big devotee of social media. On there you frequently make your views known. Not all of them are positive relative to the way we do things in our sport.
"I think that we are living in our own little world. We are not receptive to new ideas and outlooks. We speak mostly to ourselves when we should be speaking outside of our own little boxes. Most of the outside world has no idea that we even exist, let alone having any desire to be involved in the sport. We are losing owners every year without replacing them. Jeff Gural is right when he says that he worries that the young people in the sport have no future. Yet our so called leaders think that all is well in the sport, instead of addressing the problems that we have. Just check what the president and chairman of USTA had to say about the status of the sport at the recent annual meeting of the association. We are fiddling while Rome burns."
Q: You are well known for your generosity both in and out of the business.
"I suppose I got that from my father. He was an extremely generous person. When the ice cream truck would come by in our neighborhood, he would not only buy ice cream for all the kids, he also bought for the older people as well. He wasn't near being a wealthy person, but he derived a great deal of pleasure in sharing any bounty that he possessed. I suppose that maybe I've raised the bar a notch. Many religions tell us we should derive more pleasure from giving rather than taking. Even when I didn't have the wealth that I now have, I got a lot of pleasure from tipping well and picking up checks. That also applied to having functions where I can sit down with friends and raise a glass or two. One thing I have come to realize is that sometimes people you expect to be loyal in a world with very little loyalty."
Q: You said that you sometimes are not recognized today by people who have not seen you for quite some time.
"I guess that's because I've lost well in excess of 150 pounds in about two years. Before they ask me, one of the first things I tell these folks is that I am not suffering from any sort of terminal disease. To the contrary, I am now more healthy than I have been at any time in my adult life."
Q: How did you accomplish this?
"During the pandemic I became somewhat depressed. I suppose that many people did. With me, it was the combination of a breakup with a lady with whom I had a relationship for quite some time and the general malaise that was and still is so prevalent during this period of time of great suffering. There is no magic bullet or diet. Simply put, I began walking. I started walking in downtown Guelph. At the start, in May 2020 I walked 6,500 steps a day. I gradually increased it to doing it twice a day — every day. I noticed that I was losing weight. It wasn't because I was dieting. I was still eating as much and for the most part the same foods that I had been. At the time, I weighed 365 pounds. I kept increasing the number of steps twice a day — to 16,000. I kept losing weight. I got up to 24,000 steps. I set a goal of 260 pounds. When I reached that plateau, I then set what I thought was an unattainable mark of 200 pounds. I had never been at that weight at any time in my adult life. I did adjust my diet somewhat. When at home I ate fairly healthy. When I eat out, I eat and drink as I always have. I now weigh 180 pounds. I have never felt as good as I do now. I've lost over 150 pounds. I'm about to reach what I believe to be a significant goal. The circumference of the Earth is 24,901 miles. If my figuring is correct, I should reach that number sometimes this May. People ask me when will enough be enough? The truth is I don't really know."
Have a question or comment for
The Curmudgeon? Reach him by email
at: hofmurray@aol.com