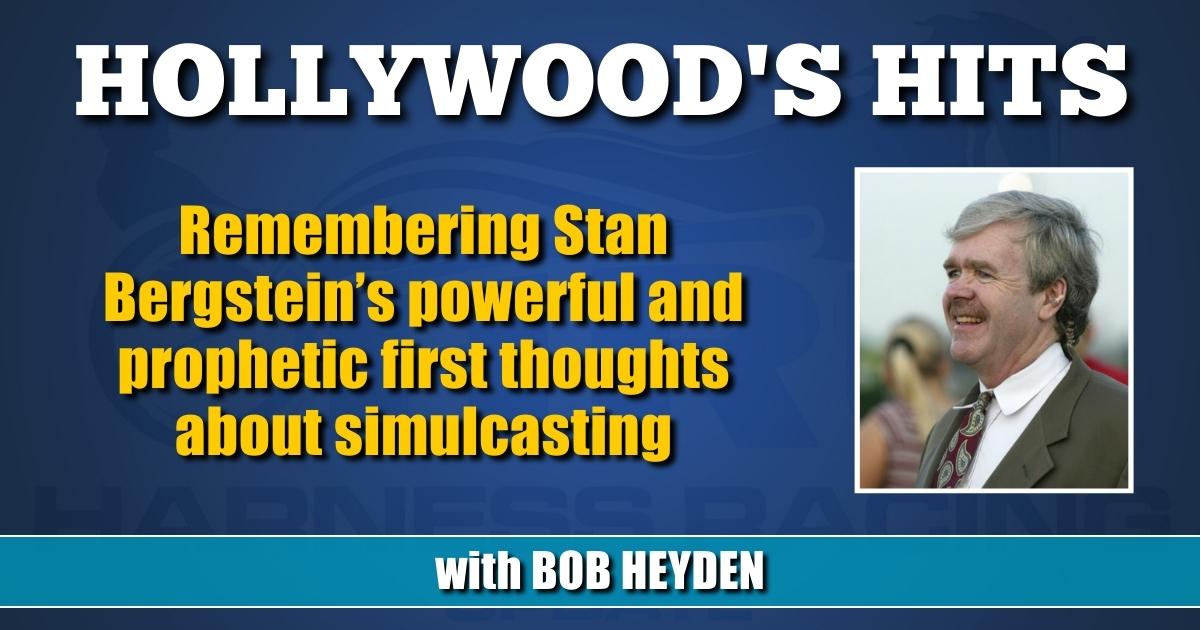 Remembering Stan Bergstein's powerful and prophetic first thoughts about simulcasting
by Bob Heyden
It was about 40 years ago, sometime around 1981, when multi-Hall of Famer Stan Bergstein uttered the word simulcasting for the very first time. At least through my rather informal check.
This is what he had to say then about it:
"Last Thursday hundreds of horse players converged on two locations — just as the VIPs and the media had done the night before in a dry-run, for the introduction of the betting phenomenon known as simulcasting. Grant City Mall on Hylan Boulevard and 2795 Richmond Avenue in New Springfield — both on Staten Island."
Stan then wondered about the effect this would have on racetracks.
"If people can gather in their own neighborhoods at well-lighted, pleasant, policed surroundings with full amenities, how many of them will do so — and how many of them will go back to the track? The ones that do gather, will they be the same ones who formerly went to the track, or will they be new fans? If they are new fans, how many will be there and will that make up for those no longer going to the track? And most important of all: how much of the money that they wager will go back to the track, and thus to the horsemen who race their horses there?"
OH, WHAT COULD HAVE BEEN
What could have been if all these horses had lived longer.
All were either stars or big race winners lost way too early:
Legend Hanover. The 1979 Hambletonian winner, a son of Super Bowl, died at age 6 in 1982 of intestinal issue.
Windsongs Legacy. The 2004 Triple Crown winner died at age 7. He sired Chapter Seven so that is his legacy, but what if he had lived on?
Armbro Elvis. The early-season star of 1985 died at 2.
Whamo.He was favored over Niatross twice — in the Woodrow Wilson elimination and final in 1979 —but was ill-fated for Charlie Clark.
Armbro Fling. The Breeders Crown winner lived just four short years from 1984-1988.
Panty Raid. The 1981 Trotter of the Year only made it to age six for Stanley Dancer.
Western Shooter. The Breeders Crown and Governor's Cup winner in 2000 was a track record setter at the Meadowlands in 1:50 flat, the first freshman to ever do that. He did not make it back in 2001 for Bob McIntosh and John Campbell and may have been the one with the most potential to do further damage on this list.
WILL THIS EVER HAPPEN AGAIN?
Three trotting females who either were or would be Horse of the Year raced in 1996. C R Kay Suzie was the defending HOY and she made it to the races twice, winning the Breeders Crown against the boys to go out in style. Continentalvictory was that year's HOY, her dominance on display in her two-heat world record Hambletonian versus the boys and an open length Yonkers Trot win. And, Moni Maker, who was also 3-, dominating the Oaks and winning 19 in a row until bumping into Personal Banner in the Breeders Crown. She was the 1998-1999 HOY to be.
THANKS FOR THE MEMORIES SWEET KAREN
The Harness Horse Youth Foundation lost Sweet Karen this past week at age 25. She had been at Diamond Creek Farm the past few years and received great care and attention there after her HHYF touring days came to a close.
Karen was born to be the center of attention. She was, with her flowing mane and a touch of diva on display 24/7. She was also plucky. One look at her and the other "Miss Photogenic" ladies decided grazing was a better option.
Sweet Karen had her own Facebook page. It's not easy for a Trottingbred to be both a matriarch and a den mother. She managed to pull off that daily double. Yes, the years were
adding up.
Thanks, from the kids especially, for the quarter century you gave us. You truly were born to your eventual fate.
TOP DAVES
Let's look at some numbers of note for the two Daves — Miller and Palone. The all-time active money-leading driver and the all-time leading dash winner. Miller has earnings of $261 million and Palone has 19,924 wins.
They both got their start winning for the first time in 1981-1982. But who were the top two Daves when Miller and Palone were just getting started?
The 1981 leaders were Dave Magee at $1,632,765 (15th in the nation and 280 wins good for 16th). Dave Wall was second with $698,486 and Dave Rankin next at $682,447.
On the all-time list going into the 1982 season was Dave Pinkney at #37 with 2,290 wins followed by David Howard at 2,069. Magee was 67th all time as the leading Dave earner with $5,892,057 with Dave Wall another dozen spots back at $4,426,895.
PALONE VS. RUSSELL BAZE
Speaking of Palone, he is at 77,056 starts, 19,924 wins with $151.8 million in earnings in his 40-year career. Now 60. Palone is fourth all time in starts behind Cat Manzi (95,690), Tony Morgan (84,899) and Herve Filion (82,336). That means Palone is going to reach 20,000 wins before 80,000 career drives — he has clicked at more than 25 per cent.
Compare Palone to jockey Russell Baze, who was the kingpin at Golden Gate
Baze retired in 2016 with a career slate of 53,578,, 12,842 wins 9600 seconds and 7,855 thirds and earnings of $199,334,219. He won over 25 per cent in his final season too 449 118-104-67 $1,809,778 in 2016. He had ridden 43 years.
ALL-TIME DRIVERS' START LIST
The top 10 drivers by career starts:
Cat Manzi —95,690
Tony Morgan — 84,899
Herve Filion — 82,336
Dave Palone — 77,028
Aaron Merriman — 73,624
Dave Magee — 70,919
Dave Miller — 69,236
George Brennan — 67,772
Mike Lachance — 67,247
Ron Pierce — 67,034
Other driving notes: Bruce Ranger is 310 wins shy of 10,000, Andy Miller 180 away from that same milestone.
As of this writing, Morgan was on the doorstep, just one win away from 17,000 career victories.
TWO JOHNS — CAMPBELL AND VELAZQUEZ
John Campbell retired in 2017 at $299.6 million — easily #1 all time.
Jockey John Velazquez is still active and just topped $450 million in his career — far out in front. He's at 35,223 rides, 6,399 wins 5,151 seconds and 4,632 thirds with an astounding $12,804 per ride lifetime and a win rate of 18 per cent.
TRACK CLOSINGS
Pompano Park — 2022
Garden State Park — 2000
Brandywine — 1989
Roosevelt Raceway — 1988
Liberty Bell — 1985