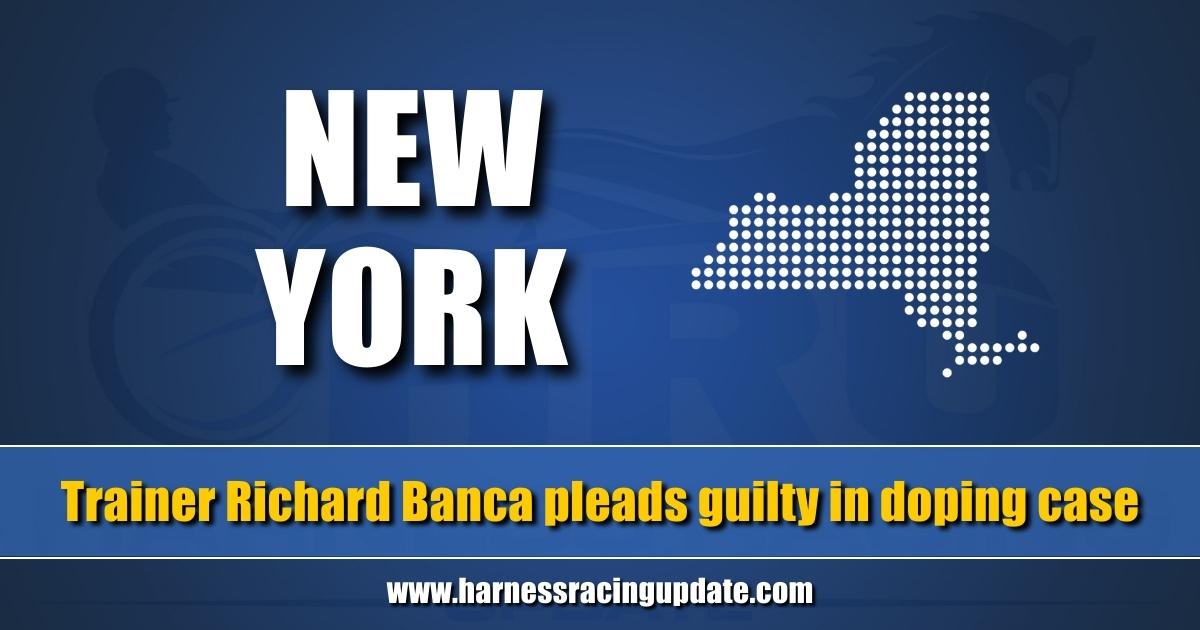 Trainer Richard Banca pleads guilty in doping case
by Bill Finley
Trainer Richard Banca, one of several harness horsemen involved in the widespread doping case that involved numerous indictments back in 2020, entered a guilty plea on Tuesday (April 19). He was charged with one count of drug alteration and misbranding, which is a felony.
Banca will be sentenced Sept 6. Others who have pled guilty to similar charges have been hit with sentences in the neighborhood of three years.
According to court documents released in conjunction with Banca's guilty plea, in or about 2015 through at least January 2020, Banca adulterated and misbranded drugs with "the intent to defraud and mislead, in interstate commerce, and caused the adulteration and misbranding of drugs in interstate commerce…" It was also charged that Banca, "misled and deceived state and federal regulators with respect to the distribution, purchase and receipt of various misbranded and adulterated performance enhancing drugs, and the use of such misbranded and adulterated drugs to improve the performance of racehorses under Banca's and others' custody and care."
It was in 2015 that Banca's win rate took off. After winning 55 races in 2014, he won 174 races in 2015 and 200 in 2016. He won at least 153 races over each of the next three years.
Banca has also been ordered to pay a forfeiture in the amount of $120,975, which represents that value of the drugs involved in his case.
He was arrested in March of 2020 and released after posting a $200,000 personal recognizance bond. The court documents released at the time Banca was arrested include a deposition from FBI agent Bruce Turpin, who testified that during a March 9, 2020 search of Banca's property in Middletown, NY agents found a number of illegal substances and handwritten notes with instructions on how to administer those drugs. Turpin said that Banca worked with Conor Flynn and Louis Grasso in a joint effort to administer illegal drugs to horses and to deliver drugs to others for the purpose of doping their horses. Flynn was Banca's assistant at the time.
According to a Feb. 13, 2022 report in the Albany Times Union, agents found inside Banca's office a handwritten ledger with a list of horse's names, a syringe and a note offering instructions on how to administer a custom drug concoction through a tube inserted down a horse's nose and throat. The paper also reported that agents found a substance labeled "bleeder" and a second bottle containing adrenaline.
In 2011, Banca was sanctioned by the New York Racing and Wagering Board for Oxymetazoline violations and given a 90-day suspension and a $1,000 fine.
Prior to his pleading guilty, Banca's case was scheduled to go to trial June 27. That remains the trial date for several others involved in the harness industry who have been arrested on doping charges. The list consists of Grasso, Flynn, Donato Poliseno, Thomas Guido and Rene Allard. At the time of his arrest, Banca was the leading trainer on the year at Yonkers with 42 wins, one more than Allard.