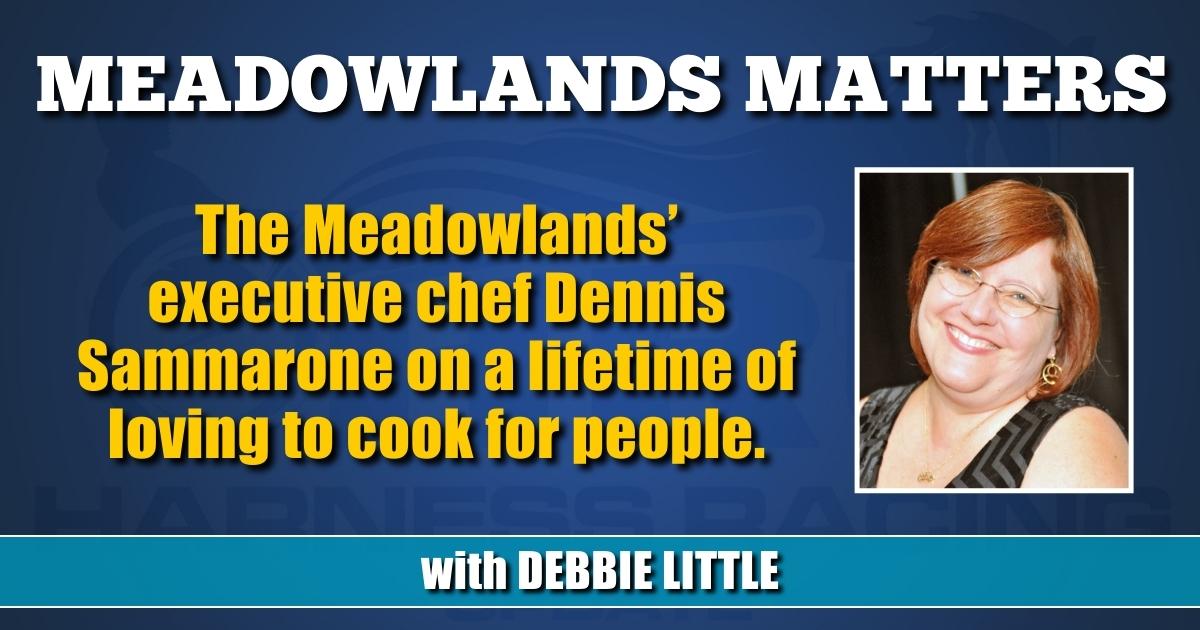 The Meadowlands' executive chef Dennis Sammarone on a lifetime of loving to cook for people.
by Debbie Little
Thanks to executive chef Dennis Sammarone, The Meadowlands provides a feast for all of your senses, both on and off the track.
"People want to be happy when they're eating," said Sammarone. "The most important thing is you've got to get to their stomach. You have to make them understand: This is great food."
Sammarone came to The Meadowlands in 2015 and wants to keep the quality and experience the same as if you were dining at a top restaurant in nearby Manhattan.
"Jeff [Gural] is just swell. So is [his wife] Paula. Jason [Settlemoir] is great, too," said Sammarone. "I love working for the Gurals and Jason because they treat me very well and I couldn't be happier. If they didn't treat me well, I wouldn't be there.
"It's challenging to give the quality out and to keep the price in mind and make money. At the racetrack, we want to give quality to our guests. A lot of the meats we use at the racetrack you'd get at the best restaurants in New York City. I want the customer to understand you're getting your money's worth, if you come to our buffet, because it's giving you quality food. We take pride in what we serve because we are The Meadowlands and we're there to do the best job we can."
Sammarone is quick to point out that it's a team effort and that those who work for him are top notch.
"I'm proud of them," Sammarone said. "I think we have a great team. And I'm proud of what we have to offer."
Settlemoir said he appreciates Sammarone's mastery of different styles of food and the fact the chef is a leader.
"Dennis is great with service," said Settlemoir. "You see him out on the floor interacting with the people in the dining room, checking to make sure everything is good and that they're happy. We want to stand out for the food as well at The Meadowlands."
Cooking for Sammarone, 67, is a passion and something you could say is literally in his blood.
As a chef, Sammarone follows in the footsteps of his father, both grandfathers and both uncles.
"I'm proud to say I'm a child of immigrants and I'm first generation born here," said Sammarone. "My mother and father were both born in Italy."
The area of central Italy where Sammarone's family is from is known for producing talented chefs.
As a young boy, Sammarone loved cooking alongside his father, but in first or second grade, when he was asked what his dad did, he wasn't sure what to say.
In the late 1950s, women were the ones wearing the apron and cooking, while men wore uniforms.
"I said he was a 'chief' and the teacher said, 'No, your dad is a chef'," said Sammarone. "He's a great chef. And I smiled and I never was embarrassed again to tell them that my dad was a chef. I was very proud to follow in my father's footsteps and I was very lucky to work with him."
Sammarone's first job out of high school was at Ponte's Steak House, the lower Manhattan staple, known for its famous and allegedly infamous clientele.
He worked there for three years with his dad and uncles before moving on to Giordano Ristorante, where his cooking got
him noticed.
One night a couple walked into the kitchen wanting to know who made the lobster fra diavolo.
"And I didn't know who they were, but she gave me her card and said, 'I live on Park Avenue,'" said Sammarone. "She said, 'Would you like to come and teach my chefs at my hotels how to make this dish? It's just great.'"
That couple was real estate billionaire Harry Helmsley and his wife, Leona, aka the "Queen of Mean".
Sammarone said despite her reputation, "she was tough but never mean" to him and he went on to be their corporate executive chef for several years.
In 1985, Sammarone finally opened his own place, Serafino's Ristorante, named for his father.
It was a popular place in Englewood, NJ with a well-known clientele.
"Dizzy Gillespie was one of the hundreds of people that used to come to my restaurant," said Sammarone. "He got sick and his last week in Englewood Hospital, I cooked for him three times before he died. I made him chicken scarpariello, that he loved the most, because it reminded him of southern cooking."
Sammarone eventually sold his place to spend more time at home with his wife, Gina, and three children, Danielle, Christina and Michael. He now also has two grandchildren with a third on the way and a golden lab named Toby.
Sammarone first went to The Meadowlands as a teenager and loved the excitement. He was even given the opportunity to work there for the New Jersey Sports and Exposition Authority in 1995, but chose instead to be the executive chef and food columnist for the New York Daily News.
During his seven years at the tabloid, he believes he must have penned about 300 recipes in print.
During his time at The Meadowlands, Sammarone worked hard to make their buffet popular and was succeeding prior to the start of the pandemic.
Now that people are finally starting to feel comfortable about going out to dinner again on a regular basis, things are starting to pick up.
Sammarone has come up with varying menus from week to week, including some theme nights. Upcoming menus can be found on their website at www.playmeadowlands.com
Unfortunately, to keep up with the soaring price of food these days, The Big M was forced to raise their prices. But anyone who's ever watched Restaurant: Impossible on Food Network, can tell you that for a restaurant to be profitable, food costs must be around 31 per cent of revenue.
Sammarone believes even with the slight increase in price,
The Big M buffet is worth it.
"I'll put it up against any buffet around," said Sammarone. "I believe when people cook from the heart and from the soul, it gives you love. When you put love into something, no matter what you're cooking, it's going to be great."