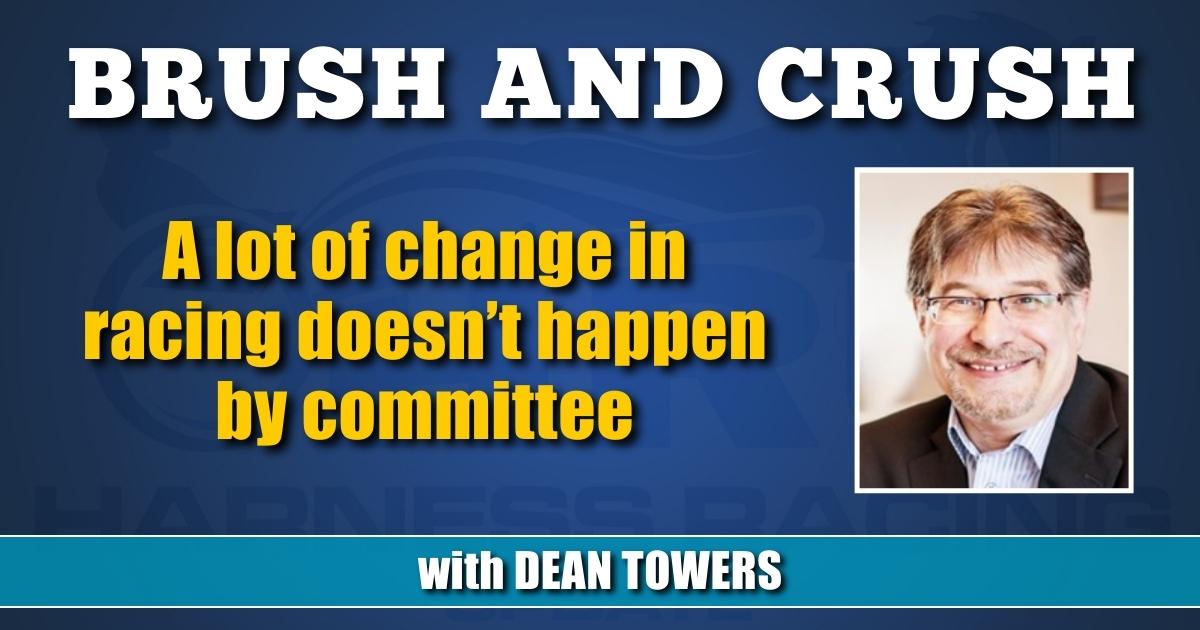 A lot of change in racing doesn't happen by committee
"A committee is a group of people who individually can do nothing, but who, as a group, can meet and decide that nothing can be done."
by Dean Towers
When many of us think of harness racing and change, these words from late comic Fred Allen may come to mind. We tend to talk a lot, but it seems nothing much gets done. Harness racing, as we know it, just trudges along.
I got to thinking, though. This sport has answered complaints or moved forward from time to time over the previous decade on several items. But did it happen by committee?
Four or five years ago, on these pages, on Twitter, or at racetracks like the Meadowlands, a hot topic was "kicking." The apologists were in full-force telling anyone who'd listen it was part of the game and change was not needed; those who wanted to eliminate it were adamant it had to go.
One man who did take it seriously was Jeff Gural. Around this time, Jeff announced to the drivers at the Meadowlands that if they dropped their feet they could drop them at another racetrack. Virtually overnight the problem at the Big M was rectified.
What tends to happen in these situations is when one leader does something, others follow.
Canada did. Up at Mohawk there were one or two drivers who kicked almost every race, and did so with impunity. Then one day fines were issued, and lo and behold, the feet stayed in the stirrups.
I watch 50 or more races a week and don't even notice a dropped boot anymore. It's almost been eliminated from the sport. Leadership got the job done.
Today, the word "carryover" rolls across your screen like scratches and changes do. It's a staple of the sport, and helps drive handle and eyeballs to your track, and others.
Not that long ago the word barely existed outside horseplayer circles. There were arguments about it being "a life changing score" versus what it is – a takeout reduction — and lower takeout drives money.
A committee didn't create a carryover, happenstance did. And tracks began to embrace the concept.
Northfield Park implemented a new betting menu with $1 minimums to drive carryovers. The Big M's pick 6 has carryovers almost every second weekend, which does not only increase handle on the wager itself, it encourages customers to look at the overlapping Pick 4 (which has reached huge betting numbers). Just this week, Western Fair's new Pick 5 betting menu had not one but two carryovers in the same evening, and it drove a nightly handle of almost $600,000.
Carryovers are everywhere, and it didn't happen in a board room.
Last up, the venerable Gabe Prewitt disproved something committees have been telling us for decades – that you can't have a good handle unless your track has top-of-the-line horses.
Gabe at Pompano Park helped take a betting signal everyone ignored to one that bettors rarely want to miss. The Florida oval, with low-level horses, drivers whose weight figures (ahem) might not be perfectly accurate, a starting car that breaks down half the time, a grainy feed and regular power outages, drives handle worthy of yesteryear.
Gabe helped teach the business a simple lesson: If you have low takeout wagers, sprinkle in some carryovers, put a few decent betting races together with your customer in mind, and have a little bit of fun, you can drive handle and interest.
Gabe at Pompano, like Jeff Gural with rule enforcement or disparate tracks harnessing the power of a carryover aren't a committee; aren't a conference or faceless declaration from an alphabet. These important advances took leadership, elbow grease and a desire to make a difference. And they were all accomplished by individuals.