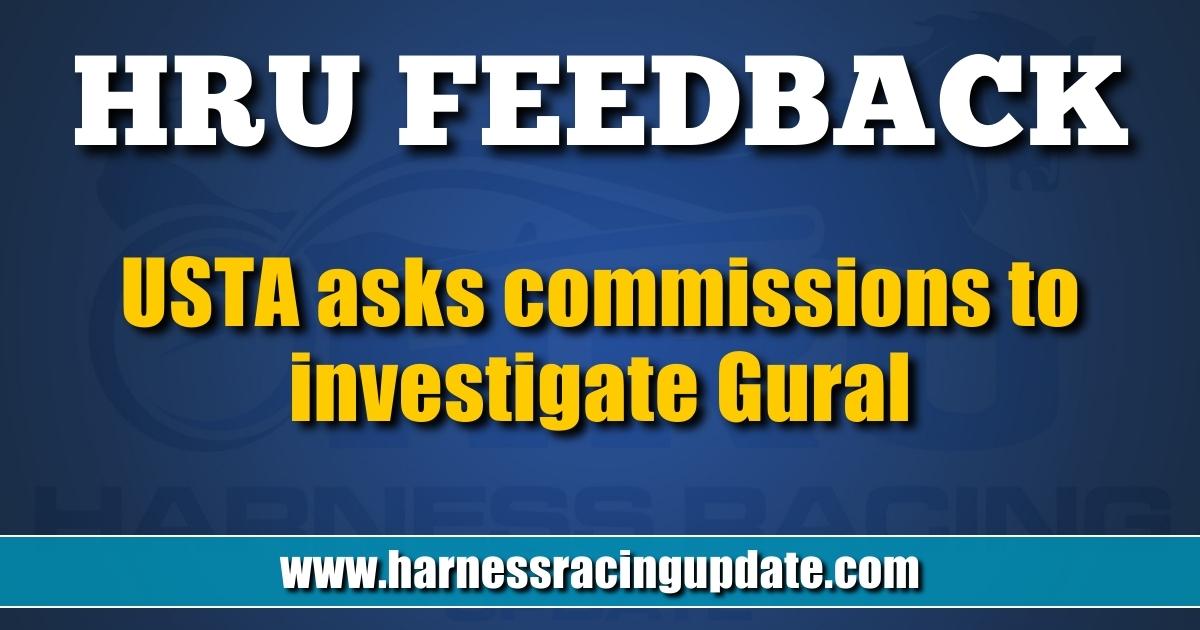 HRU Feedback (2022-02-27)
USTA requests New York, New Jersey and Pennsylvania commissions investigate Gural
(Editor's note: The following letter has been sent to officials at the New York State Gaming Commission, New Jersey Racing Commission and Pennsylvania State Horse Racing Commission and shared with HRU for publication)
An official investigation by one or more state regulators is needed for the following reasons.
Jeffrey Gural, chief executive of tracks licensed in New York and New Jersey, conducts a private enforcement program that includes drug testing carried out at a laboratory in Hong Kong and other testing facilities, as well as other investigative activities. In 2014 and 2015, the United States Trotting Association helped pay for this program, then withdrew support because of a lack of transparency in the program. At the USTA Executive Committee meeting held 16 April 2016 concerns were raised about the lack of due process for horsemen, possible selective enforcement, and our conviction that all test results should be turned over to the appropriate racing commissions.
More recently, as one result of its investigation of Seth Fishman, the FBI contacted Adrienne Hall, a Standardbred trainer and one of Fishman's customers. Later, pursuant to a written nonprosecution agreement, Hall testified at Fishman's January 2022 criminal trial. In her testimony Hall admitted under oath to doping her horses in violation of state laws and regulations, among other admissions. Since then, Gural has taken the position that Hall's doping activities should be overlooked, therefore she should resume her equine-related occupations in good standing.
Some industry participants are of the opinion that Gural's private enforcement program has yielded drug positives that he has not disclosed. Gural's protective relationship with Hall, which involves substituting his own judgment for the judgment of racing commissions concerning her eligibility to be licensed, has renewed our concern about the possibility of a private empire operating independently inside the boundaries of public authority. This concern is central to the integrity and viability of racing and deserves the attention of the racing commissions.
Those who have paid into stakes at Gural's tracks are entitled to know that they are not competing against others known to have had unrevealed positives or to have engaged in any other improper behavior.
The entire industry is entitled to know that licensed tracks are being operated according to the highest standards of integrity.
The state racing regulators are entitled to know that their licensee tracks and individuals are disclosing all information that is legally required to be disclosed, such as drug positives, and that there is no steering, shielding, or exertion of undue influence within the operation of any private enforcement program.
Finally, the state racing regulators are entitled to credible assurances that no licensees are competing with them as self-appointed regulators.
If there are no undisclosed positives, and all is as it should be, we shall be glad to be among the first to acknowledge it. A thorough investigation, therefore, can only benefit racing.
A thorough investigation should not prove to be unduly burdensome, expensive, or time consuming. A review of all test reports for all years in question, submitted by the Hong Kong laboratory and any other testing facility directly to the commissions, should dispose of the question whether any undisclosed positives exist. Investigators and any other relevant parties the commissions deemed necessary could participate in interviews. The USTA will be available to provide any possible information and assistance.
Please contact Mike Tanner at the USTA if any questions remain.
Respectfully,
Russell C. Williams / president United States Trotting Association
Kudos to Sturman
I rather enjoyed reading Brett Sturman's article on post-time drag (full story here).
As a small breeder and race owner I understand the reason for the drag.
However, what is irritating is when you are stuck in the paddock and your race, a later one, goes off 45 minutes to an hour late.
We all know Northfield Park, a place I enjoy going to, and our horse do very well there, is the worst.
I also don't know why they have to list post time in the program, when they can't even start race one on time.
Can they just be real and show a time between races be longer instead of dragging them out?
As I gambler I'm not going to miss a bet, if I really want to make it I will be few hour before the first race anyway.
Thanks Brett, keep up the fine writing.
Jim Borowski / Ashville, OH