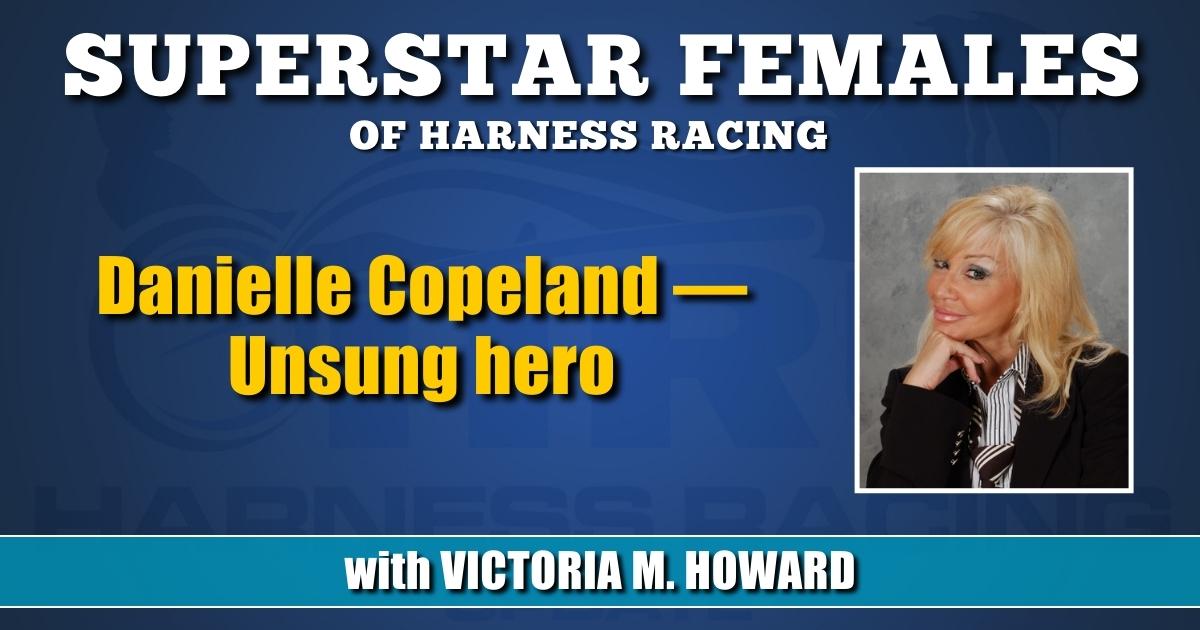 Danielle Copeland — Unsung hero
by Victoria Howard
My favorite subject to write about is the unsung heroes in our sport — the grooms.
The dedicated, loving, and committed people who care for the horses and spend more time with them than owners, drivers and, most of the time, the trainers.
A groom / aka caretaker is like an au pair for they step into the role of a parent, while the parent cannot be there.
Caretaker Danielle (Dani) Copeland works at the Melanie/Pete Wrenn Stable.
Born and raised in Michigan, Copeland, a fourth generation horsewoman — on her dad's side — started going to the barn at an early age.
"I got my first license to groom in Michigan when I was 14, but attended the fairs and paddocked before then," she said. "I've worked for my parents, Vinny and Teri Copeland; trainers Jeff Cullipher and Trent Stohler, and for the past few years I've worked for Pete and Melanie Wrenn.
"I've been very lucky to have taken care of several champion horses, such as Chin Chin Hall (at age 2), Guinevere Hall and Swingforthefences.
"Among the major highlights is when Chin Chin made it to the Breeders Crown. He was the first horse I had cared for that made the Grand Circuit. He didn't finish top three, but I was so proud of him.
"I've loved them all, but I guess you could say my favorite is Guinevere Hall or Swingforthefences. Guinevere was a monster: winning eight-for-eight, an Ohio Triple Crown winner, and she established a new world record (on a half-mile track) of 1:53 in the Ohio Sires Stakes at Northfield Park.
"Swingforthefences won the Super Final for 3-year-old trotting colts and geldings at Hoosier Park in 1:53.1; my first horse to go over half-a-million in earnings in a year, and was named Trotter of the Year at Hoosier.
"All of these horses were unbelievable and I couldn't have been prouder if I had owned them myself.
"When they leave the barn, for they either are sold, claimed or being bred, I am sad for I get very attached. It's hard not to when you are with them every day. I try to keep track of where they go or keep in touch with whoever is taking care of them at the time and try to see them when it's possible.
"In fact, I recently went to visit Guinevere at Hunterton Farm where she is living her new career as a mama. She is due with her first foal in the spring and when I saw her she was as big as a house.
"As much of a bitch as she could be in the barn, with me, we had a deep bond. When I went to Hunterton I called her name and she came running to me.
"There is nothing more gratifying and heart-warming than this."
Copeland has worked with trotters and pacers, but prefers trotters.
"I prefer trotters who seem to be a little more difficult to get along with, for I usually have more luck with them. I like the ones who have their own unique personality or require a little more attention.
"As far as mares or geldings, I really don't have a preference. Currently, I'm caring for three studs/geldings and three mares — only one being a pacer.
"The only thing about trotters is, of course, they make me more nervous to watch.
"The scariest time I had with one of mine is when a horse I was taking care of went down with driver Jason Dillander at Hoosier Park. The horse in front jumped over something on the track and she fell, and my horse went over top of her. I hate when things like that happen and most people don't realize that at any moment an accident can occur for these animals are going extremely fast."
A usual day in the life of a groom is pretty much the same for all, although some trainers prefer to do things different.
"I usually get to the barn a little before seven a.m. and begin getting my horses ready – depending on the schedule (if it's a training or jogging day.)
"When they train I always watch them, and I'm usually done by noon.
"And of course I have some scars to show, as I've been kicked like most grooms, but my worst time was with a horse named Twointhebucket. He kicked me in the knee and I had to get stitches, but otherwise, I've been pretty lucky."
Copeland personally owns one horse – a retired racehorse named Itchy who she's owned his entire life.
"He's more of a pasture puff than anything, but he was a good racehorse in his day."
A groom is pretty much married to the business and to the horse, of course, which is why many grooms are single. It is so hard to maintain a healthy relationship with someone with two legs, for you spend most of the day (and night) with your four-legged companion, but Copeland seems to balance it out with her boyfriend, driver, Matt Krueger.
"Matt and I met at Hoosier Park six years ago. I first saw him during qualifiers, but I'm not sure exactly the day we met. We've been together five years now and so far so good.
"I think the way we make it work is he's a horseman and knows that longs hours is part of the deal."