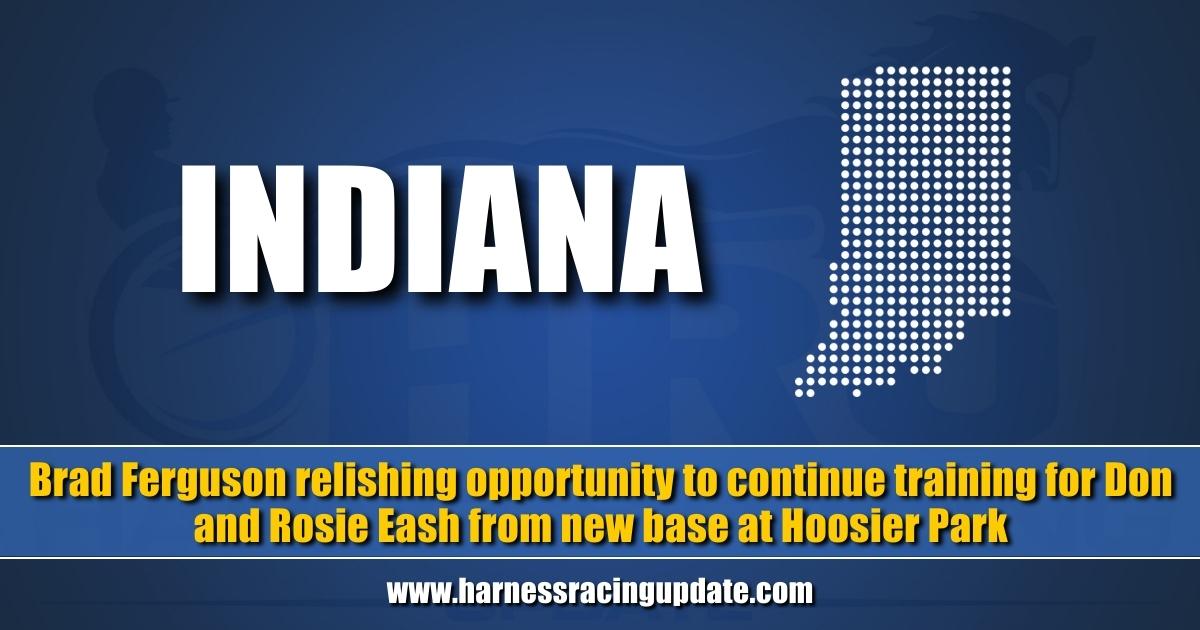 Brad Ferguson relishing opportunity to continue training for Don and Rosie Eash from new base at Hoosier Park
by James Platz
Last winter, Brad Ferguson regularly shipped to Miami Valley Raceway from Don and Rosie Eash's Greenfield, IN farm. Circumstances have changed, as Eash and his wife sold their property and moved to Gilcrest Training Center in Bell, FL. Now Ferguson is stabled at Harrah's Hoosier Park, managing a string of five racehorses and a 3-year-old in training for Eash Racing Stable. The 36-year-old is relishing the opportunity before him.
"It's a lot of work. It really is. But I'm not afraid to work, so that's okay," Ferguson said recently. "I'm just glad that Don has given me the opportunity and has enough trust in me to run the operation. We're doing well and the horses are doing well. It's a lot some days, trying to get everything done and get them shipped over and race, but it seems to be paying off."
Ferguson was first introduced to racing at the age of 18 when family friends invited him to come and work with a few horses. He began cleaning stalls, and that early experience led to a job grooming five horses for trainer Roger Cullipher. Ferguson has worked for several Indiana-based stables, but caught on with Eash Racing Stable six or seven years ago.
"I really enjoy working for Don and Rosie. Don has given me plenty of opportunities to grow in this business. He gives me opportunities to drive and train a lot and be around a lot of horses and learn quite a bit," he said.
Case in point is the arrangement this winter. With Eash and his wife transitioning to their new home at Gilcrest, and with Hoosier Park offering winter training for the first time, Ferguson remained in the Hoosier State to continue racing. Eash enters the horses while Ferguson schedules the training and racing from his home base at Hoosier Park.
"He left me with five racehorses and a 3-year-old filly that I'm getting ready. They took the rest of the 3-year-olds and babies to Gilcrest to focus on getting them ready," said Ferguson. "It's just a little different operation this year."
So far, the arrangement has worked well. Pacing mare Rose Run Vision has proven the standout for the stable, winning four of six seasonal starts. In back-to-back weeks the Time To Roll—A And Gs Finest 5-year-old has captured the $30,000 filly and mare open at Miami Valley. She wired the field to win by a length-and-a-half on Feb. 15, tripping the timer in 1:53.1. In her most recent start (Feb. 22), Rose Run Vision and Trevor Smith scored by a length in 1:51.1 after receiving every call.
"She's a pleasure to be around. She really likes her job, you know. Just a nice mare. She does everything you ask her to do. She's gotten really sharp here this winter," the conditioner said.
Rose Run Vision began her career on the Indiana fair circuit as a freshman. Four of her five wins that season came at the fairs. At 3, the filly captured seven of 22 attempts, and as a 4-year-old she blossomed. Starting 35 times in Indiana and Ohio, the pacer collected seven wins and hit the board 22 times in total. Bred by Rose Run Farm, she took a mark of 1:50 and banked $128,720 in 2021. This year, she has amassed $65,000 in six trips behind the starting gate, and her career earnings are now $254,792.
"Over time it seems like she's really come into herself and developed to be a nice mare. I think it took her a little time to grow and figure it all out," Ferguson said. "She takes care of herself really well. When you jog her and train her, she never picks up the lines. She just does everything with ease."
Rose Run Vision is on an impressive streak, but she is not Ferguson's favorite in the barn. That honor goes to trotter ER Kim. The Encore Encore mare is a homebred that turned 6 in January. In four seasonal starts, ER Kim has picked up a win and two runner-up performances in the Buckeye State.
"I've had her since she was a yearling. She was kind of tough. She was tough to get along with, but she's developed into a very, very nice trotting mare," Ferguson explained. "I get to drive her every week. Don lets me drive her. I've always been the one to train her and groom her. I've always been around her, and she's just grown on me."
Ferguson steered ER Kim to two of her six victories last season, and he was again in the bike Jan. 12 when she collected her 15th career trip to the winner's circle. The mare is closing in on $200,000 in career earnings.
"Once I went to work for Don, he gave me the opportunity to drive and I get to sit behind a lot of different horses and get a feel for it," the horseman added.
Someday Ferguson would like to operate a stable of his own. Today, however, he is content to work for Don and Rosie Eash and make the most of the opportunities he is given.
"They're just great people to work for. Easy to get along with. They trust you and let you do your job," he said. "Don gives you opportunities to grow. I've just grown into this business; it's something I've come to love."