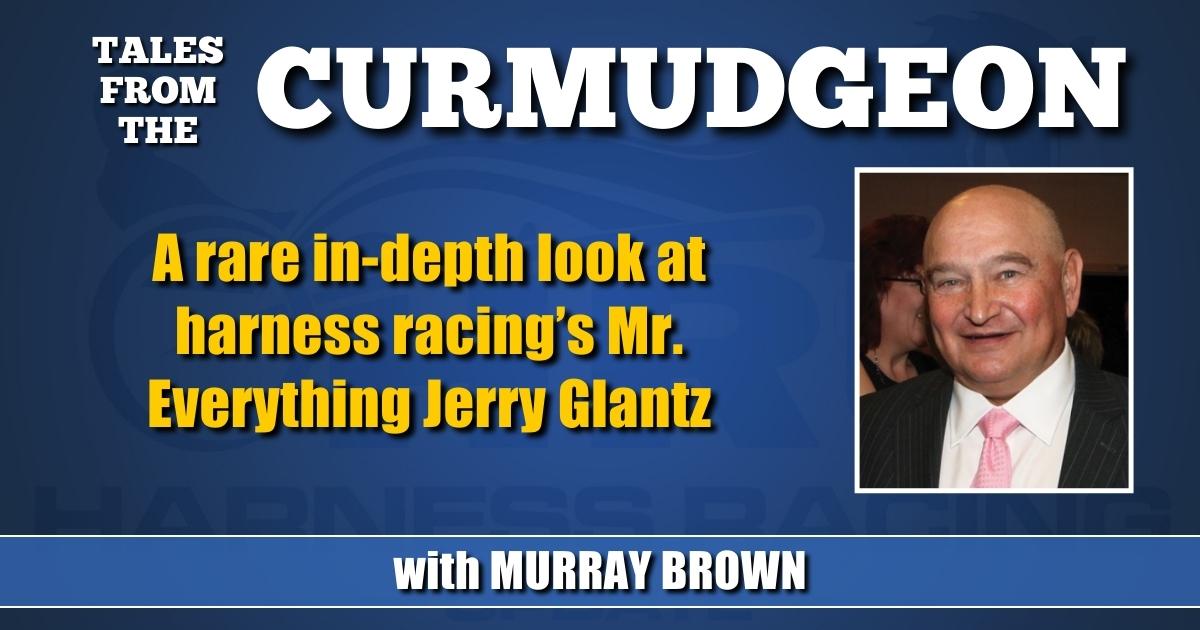 A rare in-depth look at harness racing's Mr. Everything Jerry Glantz
by Murray Brown
I have been after my friend Jerry Glantz for well over a year trying to get him to agree to let me profile him. It took until a time when he was almost at death's door before he agreed.
"Jer," I would plead without success, "You've done just about everything there is to do in the sport other than training and driving the horses themselves. You began as a fan — however not just an ordinary fan, but a fan possessing the greatest enthusiasm. You've also been a race secretary, a handicapper, an announcer, an owner, a breeder, a horse agent, a racing manager, the head of an USHWA Chapter, involved with a horseman's group and likely other capacities that do not immediately come to mind. You are part of the history of the sport, especially where it concerns the greater New York area, inclusive in addition to Monticello and Florida."
The answer that I always received were words to the effect, that he has always been a private guy, one who was adverse to the spotlight.
Imagine the surprise to this scribe when he received an unsolicited email from his friend saying that he was now ready to talk about the career that has consumed his entire working life.
Little did I know then that my friend was facing open heart surgery with an uncertain outlook regarding his future on the planet.
Of course, I said yes.
It has now been a few weeks since the surgery and Jerry is well on his way to a full recovery.
You are a true lifer in the sport. Where, how and when did it begin for you?
"I was seven years old. My dad was in the car business. He also loved the horse business. He wasn't much of a gambler. But he loved to bet on the horses. His standard bet was four, four — four dollars to win and four dollars to place. He would take me to Yonkers Raceway to watch the horses train in the morning. Mornings were the only times I could go, because at that time kids were not allowed to go to the racetrack at night. It was literally love at first sight. I loved everything about it, especially the horses. My earliest recollection of being involved was when my dad took me with him to this place called Goshen, New York. He was going to buy a horse in partnership with a man by the name of Joe Potash. Mr. Potash was a fairly prominent owner at the time and a real character. His greatest claim to fame was as the owner of a true junior free-for-aller in the Billy Haughton stable by the name of Grand R. Volo. Together with Potash, dad bought half of a horse by the name of Harry M for the grand price of $500. Harry M did pretty well. As I recall, he won five of the 16 races that he raced in for them.
"From that time forward, dad always owned small parts of mostly nondescript horses. The last person I remember training for him was Buddy Kummer.
"I became more involved. My dad fancied himself a decent handicapper and he was. However, within a short period of time, I became a better one. Dad put out a tip sheet at Yonkers, but I did the handicapping for it. He'd regularly take me to Monticello where he was friends with Phil Tully. Phil would hide me out in the program department where I could follow the races.
"I was always a pretty big kid. By the age of 13, I could pass for 18 and became a regular attendee at Yonkers and Roosevelt. Most people would find it hard to believe knowing how big a guy I am now, but I had a picture of Del Insko driving Henry T Adios with me sitting on Del's lap.
"As I previously mentioned, my dad was in the car business and sold cars to many of the horsemen. I soon became acquainted with many of them."
You have great love and respect for Adios Butler. How did that come about?
"Probably because Paige West who owned half of him would buy his cars from my father. Anybody who saw Adios Butler race in his heyday would realize that he was thought of and performed in the same mode as horses like Albatross, Niatross, Nihilator and Somebeachsomewhere are thought of today. He was beyond special. Not only did I follow him fervently throughout his racing career, I followed just about every foal he ever sired and often their foals as well. He is maybe the only horse from that era who I think for a given distance might have possessed the incredible speed that some of our best today have."
Were you in school while all this was going on?
"At the age of 16 I was attending the Brooklyn campus of Long Island University. I managed to get along there. But I wasn't interested in school. I wanted to become involved in harness racing as a full-time vocation. In 1973 or '74, I wrote just about every racing secretary in North America looking for a job in a race office. I received only one response. That came from Ralph Swalsky, then the secretary at Monticello. He interviewed me. He wanted me to continue my schooling, but he instructed me to report for work on the first Monday after the school year was over. I was to be paid $90 a week. I lived in a bungalow colony near the racetrack. In addition to working in the race office, I wanted to soak up everything about the racetrack I could possibly absorb. Max Brewer was the race caller and I hung round him and tried to learn all about his craft. Max also ran a harness racing school where the basics of horsemanship were taught. I enrolled in it and learned all that I could about the physical contact with a horse. How they were rigged, shod, equipped, just about everything that I could possibly absorb. Even though as a child I needed speech therapy, I wanted to become a race announcer. I patterned myself after Max who I considered to be the best I'd ever heard. I still look upon Max as being one of the best race announcers ever."
So you completed a season in the race office at Monticello. What came next?
"Swalsky was in a difficult position. Leon Greenberg, who was in charge of Monticello, was the worst excuse for a decent human being that I've encountered in all my time on this earth. On second thought, he might have been 1A with David Brooks who I had the misfortune to work for, for a very short period of time later on in my career. It seems that Greenberg thought that Ralph should be able to do all the race office work by himself and save the $90 a week that they were paying me. Although Ralph didn't actually fire me, he strongly suggested that I look for something else to do. I found myself without work.
"Shortly thereafter, I received a call offering me the job as the race announcer at Monticello. 'What happened to Max Brewer?' I asked. 'He died,' I was told. Max Brewer, my idol, had passed away at the terribly young age of 39 from a heart attack.
"On the one hand, I was heartbroken and terribly sad to lose my mentor. On the other, I was being offered the job of my dreams. Of course I took the job.
"I worked as the race caller at Monticello Raceway for the season of 1975.
"During my tenure there, Allen Finkleson — if not the finest human being ever, was certainly one in the ranking, and one of the greatest PR people in the history of our sport — had enough working for Leon Greenberg and was offered a better position in just about every possible respect to become the public relations director at Pompano Park. He accepted the post. Greenberg told him if he left Monticello, he would get even with Allen. How would he get even with Finkleson? He knew that Allen and I were very close. Allen had taken me under his wing and become somewhat of a father figure to me. Because Greenberg knew, it would hurt Allen, he fired me. He not only fired me, but he also told me that was the reason why. I know it sounds crazy, but that is exactly what happened."
Then what happened?
"I struggled. I brokered some horse deals and made enough money to just get by. Four months later, I got a phone call from Allen. He said, 'Get your sorry ass down here right now! Roger Huston (then the race caller at Pompano) is going to work at The Meadows. I want you down here to audition for his job.' I don't know how long it took me to get there, but it was quick. I got to Pompano. They put me in a room above the track kitchen. I guess I auditioned for the job, but I really don't remember doing so. The job was mine. I was in heaven. I'd spend my mornings watching all the great stables — Haughton, Dancer, Miller, Sholty, Castleton — pretty much every major Grand Circuit Stable and a raft of Hall of Famers, humans and equines. I could not have been happier, nor could I be living a happier existence.
"I was their race caller for seven years. I had the great thrill of calling Niatross' last race there. We had 19,000 people to see it. Two of my best friends, Jimmy Rankin and Nick Salvi, had horses in the race to go against him. In the off season, Pompano had a quarter horse meet whose races I called until they gave up on quarter horses. In the fall, I became the Time Trial Director at the Red Mile. I was also the president of the Florida Chapter of USHWA for one of the years I was in Pompano."
Then?
"Ed Gorman was leaving The Meadowlands. I was invited to audition for the job. I was told it came down to Tom Durkin and me. Tom deservedly got the job. I was once again unemployed. They say the more things change, the more, they remain the same. Lew Krongold had been the announcer at Monticello. He quit. Leon Greenberg was gone. Leo Doobin was now the general manager. Thanks to Allen Finkleson, I was offered the job. I was back where I started. I was calling races and selling horses in whatever spare time I had. I was there from 1978 through 1984 with no increase in salary. I went to Doobin and in effect asked for a raise. I was told that was the salary for that job. The wage was not flexible. There would be no raises forthcoming. Since there was no foreseeable future, I left Monticello and started buying and selling horses full time to keep me going. I had pretty good success. I bought Bo Scot's Blue Chip who at the time was a C3 pacer for big money from Jimmy Rankin. Jimmy had told me that he thought he had the makings of a very good horse. I liked what I saw and bought him for a client. He became a top horse. I did well with a few others.
"In 1985, I got a call from Barry Lefkowitz. He told me the Roosevelt Raceway announcer's job was available. Did I want it? Do dreams come true? Of course I wanted it. I interviewed with Barry Goldstein and Bill Hopkins. To my everlasting regret, my father passed away shortly before I became the race caller at Roosevelt Raceway. I was still brokering horses and decided to set up an agency just adjacent to Roosevelt Raceway. I invested pretty much all the money I had in setting it up. No sooner was I open for business than without any notice given Roosevelt Raceway was shut down. There was no notice given, nor were any of the employees given any compensation. I had to begin anew.
"I was broke. Tony Mannino, a friend, had a wealthy client who bought a beautiful farm in Ocala. We went into business together. Tony had bonded with Nick Sodano who was a very hot trainer at the time. Tony prepared all of Nick's babies until they were ready to begin racing. We bought relatively cheap horses and developed them. We did that for several years and did well enough. Among them was Haifalator who I bought for Fred Schwartz. He won the Niatross and we sold him to Frank Popfinger for a lot of money.
"I made a few bucks, invested my funds wisely, took up golf and continued to buy and sell horses.
"Eventually, the horse bug bit me again. Tom Audley offered me a great-looking Florida bred who I fell in love with and bought for $5,000. His name is Keemosabe. He made me a lot of money, but more than that, the thrills I had with him were beyond description. I absolutely love that horse. He has a forever home in Maine now. I still keep regular tabs on him.
"I'm a regular attendee in the mornings at Sunshine Meadows. A few years ago, my long-time friend Myron Bell had an Artspeak homebred named Themysteryisover that I bought a piece of. He turned out okay, but just okay. The following year, his dam Mystery Game had a Captaintreacherous half-sister that Myron said was a beauty. He offered me 10 per cent and I bought in, sight unseen. When she got down to Florida, I saw her and fell in love. I asked Myron if I could buy another 10 per cent. He generously acquiesced. Her name is Don't Fence Me in. She may not have been the best 2-year-old pacing filly last year, but she was undoubtedly the best horse I have ever owned. She took a record of 1.50.2 and earned slightly shy of $350,000 last year. She was worth too much for an average guy like me to own, so I sold her for what I thought was a good price. I wish her new owner every possible success with her."
Let's get to the homestretch. Who are the five best horsemen you've known?
"1. Billy Haughton. 2. Steve Elliott. 3. Stanley Dancer. 4. Delvin Miller. 5. Tony Alagna."
Your five favorite pacers?
"1. Adios Butler. 2. Keemosabe. 3. Tropic Song. 4. Bo Scots Blue Chip. 5. Don't Fence Me In."
Your five favorite trotters?
"1. Ulysses Mac. 2. Duke Rodney. 3. Air Record. 4. Darn Safe. 5. Tie Silk."
Your five best race callers?
"1. Tom Durkin. 2. Sam McKee. 3. Max Brewer. 4. Marty Glickman. 5. Frank Salive."
Have a question or comment for The Curmudgeon?
Reach him by email at: hofmurray@aol.com.