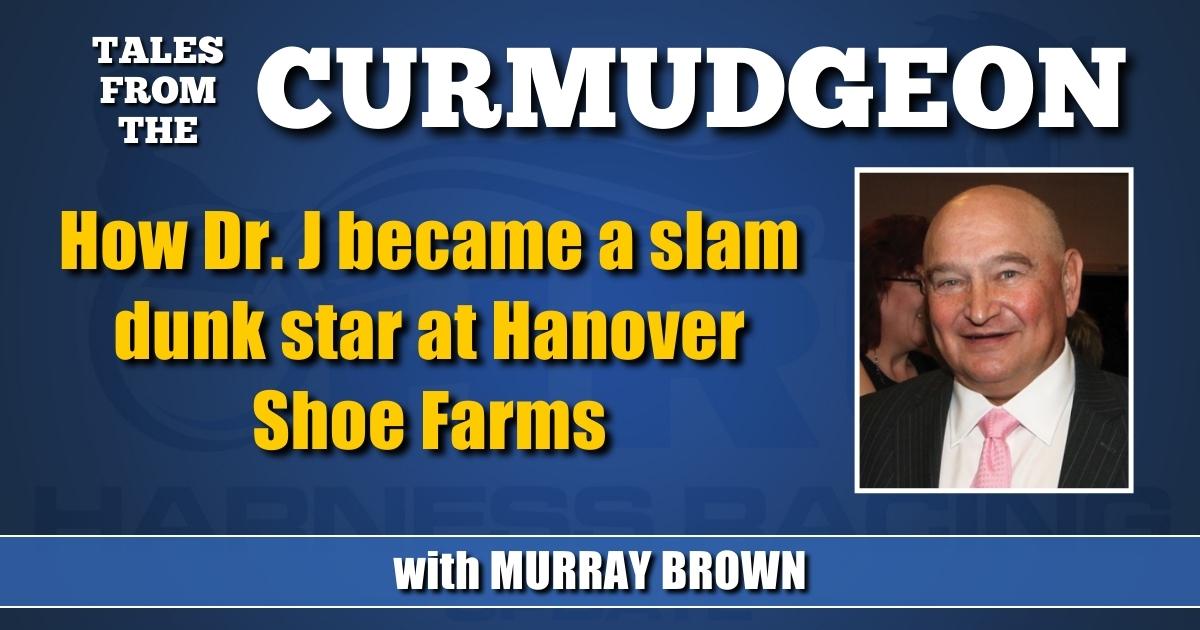 How Dr. J became a slam dunk star at Hanover Shoe Farms
by Murray Brown
When I first arrived at Hanover Shoe Farms in April of 1967, the physical structure was pretty much the same as it is today, but the makeup of its personnel was vastly different.
There were no females among those working directly with the horses. Not only that, but women were explicitly banned from the breeding shed, because it was thought unbecoming for them to be found there.
Was this unique to Hanover at the time? I doubt it. That was then. Today's world is quite different.
Women are now a prominent force in virtually all areas of horsedom.
Dr. Bridgette Jablonsky (Dr. J) is now the executive vice president of Hanover Shoe Farms. It would be safe and accurate to say that all horse-related matters flow through her. In addition, the farm manager is Patti Murphy and the resident veterinarian is Dr. Megan Moschgot.
I've often wondered what Lawrence Sheppard, one of the Farms' founders and John Simpson, Sr., its leader for many years, would think about how the transition has gone.
Bridgette Jablonsky was born and raised in Syosset, NY on Long Island.
Her family had a small farm where turnouts from nearby Roosevelt Raceway were sent for R and R. It was a family thing from the beginning. Dr. J believes that her uncle Joe Barbera, her mother's brother, was the first to get the horse bug. This was in the mid-to-late '70s. He had a horse by the name of Lakewood Joe D that he had with Lucien Fontaine.
Soon uncle Joe's siblings, his brother Vinnie and Bridgette's mom Cathy became involved. They mostly raced claimers and bought and sold a few horses.
Bridgette recalls first going to the races at Roosevelt with her grandfather when she was younger than 10 years old.
She became enthralled by horses, most specifically harness horses and harness racing. She decided at a very young age that she was going to become an equine veterinarian. However, initially, and throughout her schooling years, she thought that she was probably destined to become a racetrack vet, working with racehorses.
A turning point in Dr. J's career with horses was when the family acquired a broodmare by the name of Dragon Lady, who produced a foal by the name of Dragon Sam, which they raised and entrusted to Del Insko to train and race. Dragon Sam was very promising and showed a great deal of ability. They were offered very good money for him but turned it down. Sadly, the horse died from colitis shortly after.
Bridgette had become a student of the game, not only following the horses, but working with the ones turned out at the family farm. She followed their careers and was becoming well acquainted with standardbred bloodlines.
Two of the horses she remembers from those days were two chestnut Strike Out pacing brothers, Melvin's Strike and Sans Strike, who she describes as very good horses, but very difficult to work with.
You said that early on you decided that you were going to be an equine veterinarian. How did that transition go?
"I was a pretty good student all of my life. I didn't think my grades would be a deterrent. I had also shown horses and worked with them. I looked at most of the vet schools that had a good equine program. I decided that the University of Pennsylvania suited my needs best. I applied there and was accepted. During my years at Penn, I became enamored with reproduction, but I still had not dismissed becoming a track vet from my mind.
"In my senior year, I saw an ad from Hanover Shoe Farms looking for a resident vet. I applied, was interviewed and began working there on July 1, 1996. I've been here ever since.
"I, together with my younger sister Madeline, moved to Hanover where we initially lived together on the Farms. I to work at the Farms (while) she secured a job managing a nearby veterinary clinic. Madeline is the best sister a person could ever have. Not only is she a great person and sister, but she and her husband Jonathan have been a great help in helping me raise my son Nicholas."
Only three years later, you became the farm manager of the largest and most successful standardbred breeding farm in the world.
"Dr Peter Boyce, then the farm manager and my superior, decided to step down. I suppose that I had done a good enough job as his assistant. Jim Simpson, then the president, asked me if I felt I was up to the requirements of the position. I assured him that I felt I was. I have never been lacking in confidence. Those who know me, know that I put my heart and soul into everything I do. I am a very detail oriented person. Nothing that goes on at Hanover, whether with the horses, the people working here and what is done on a daily basis is too small for me. I like to be on top of everything. I've been called a control freak. I suppose that to some degree I am. It's not something that I'm at all ashamed of."
What are the chief responsibilities in running the world's most prominent breeding establishment?
"There is a lot on my plate. I'm lucky enough to have a great staff that helps get the job done.
"The number one priority, of course, are the horses. That involves the whole gamut. It covers booking, breeding, foaling, raising, managing and acquiring and selling horses.
"It's very seasonal. The breeding and foaling season is upon us now. I'm still quite involved with reproduction, checking mares, collecting stallions and being involved with all the foals from the time they arrive until they find new homes as yearlings at the sales.
"To put things in simplistic terms, right now the ultimate goal is to get every mare in foal and make sure that every foal arrives healthy. Of course, that never really happens. But our goal is to get as close to that success rate as possible.
"During the course of the breeding and foaling season, I also do continuous evaluations of that year's yearling crop. I use these as an aid to determine which horses will go to which sales and to some degree their placement in the sale in which they are entered. I also follow racing and try to keep in constant communication with our customers. I'm very receptive to speaking with our clients and discussing any of our horses or also some of theirs which might be resident here. We also generally receive offers on mares that might be for sale. I look at all of them. In recent years, we have become more picky on which ones might interest us. We have transitioned, putting more of a focus on quality rather than quantity."
Let's talk about sales. You are presently back at Lexington with a relatively small, but very select group, with the "meat" of the consignment still selling at Harrisburg.
"I am a strong believer in exposure — both of the brand and the product. Having a presence at the sport's two most important sales helps to enable us to accomplish that goal."
You've been involved in raising and selling literally thousands of horses. From all of those do you have a favorite?
"That's a very difficult question. My favorite yearling was probably Elver Hanover, who we took to the Ohio Sale. He was a lovely yearling in every respect. He had a great aura and personality about him. I loved him so much, that I literally begged Mark Weaver to let me buy a piece of him. They were fully subscribed in their buyers' group, but they managed to find a small piece for me. Then, to have him become a world champion and turn into the wonderful horse that he became is the stuff they write novels about.
"Interestingly enough, that yearling crop had perhaps the four pacing bred yearlings that I liked the most in all my years at Hanover. The other three were Captain Midnight, Captain Nemo and Papi Rob Hanover. Those four represented what I thought was a grand slam of yearling power.
"Dave McDuffee was the underbidder on Captain Nemo and was disconsolate at not getting him. He asked me if we had another one that I thought was in his class. I told him that I liked Papi Rob Hanover at least as much. He bought him. The rest is history.
"When speaking of favorites. Somebeachsomewhere has to be right there. What a horse. I believe him to have been the greatest racehorse and sire ever. I've never really got over losing him at such a young age. There was a time after he died that coming to the Farm was a struggle for me emotionally. It took me many months before I could walk into the stable he lived in and see his empty stall without completely breaking down. He was my pride and joy.
"The more I am around Papi Rob, the more he reminds me of Somebeachsomewhere. He looks like him. He acts like him. They have mannerisms in common. Now, all he has to do is became the great sire that he was. No pressure Papi."
You are presently standing eight stallions. As you mentioned there are only two of them, Bar Hopping and Captaintreacherous, that have had foals old enough to race as of now. Let's talk about them.
"Captaintreacherous is the greatest of all the active pacing stallions.
"As for Bar Hopping, it's my belief that considering the small number of foals he has had and the fact that few of them have been from the highest quality mares, he ranks among the leading trotting sires in North America.
"He was the leading trotting stallion by average earnings of 3-year-olds in 2021 and finished second to only Chapter Seven in total earnings, while having significantly fewer foals.
"We sold the first crops by International Moni and Stay Hungry last year.
"The early reports on the now 2-year-olds by each of them are very encouraging.
"Stay Hungry has all the qualifications of following the success that just about all the sons of Somebeachsomewhere have enjoyed. They were beautiful yearlings and were well received. The people that bought them seem to love them.
"International Moni was a bit of a harder sell, but those folks that bought them think highly of them. They are willing, light on their feet and cover ground well.
"I'm really excited about the first Greenshoe yearlings. If looks are the number one requirement of a top stallion, then Greenshoe is going to hit the ball out of the park. As a lot of people know, I'm a huge fan of Greenshoe. The speed, gait and athleticism he displayed was freakish. The Greenshoe yearling colt out of Hannelore Hanover is one of the nicest trotting colts we've ever raised.
"One of the greatest rivalries among modern pacing colts involved Tall Dark Stranger and Papi Rob Hanover. We hit the jackpot and got both of them to stand at Hanover. They each have had full books of truly extraordinary mares in their first two seasons at stud. I can't wait to see their foals. They are both beautiful horses. I'm certain that they will transmit that to their foals.
"Our youngest stallion is Captain Corey. He was the easiest horse to fill up and syndicate in all my years at Hanover. We were over subscribed to him almost immediately. There were many who wanted to buy into him and breed to him who were disappointed. He was a great colt with amazing speed at both 2 and 3. I expect great things from him. If he hits as I expect him to, he will open all sorts of doors to breeding availability with trotters."
I understand your 16 year old son Nicholas Croghan is a pretty accomplished stud colt as well.
"Yes, but he has very little interest in harness racing. His field of accomplishment is in competitive swimming. He has received lots of interest from colleges who want him in their swimming programs and a few who might want to give him a full scholarship to join them. He has recently received his driver's license. That concerns me a little. Nick likes speed. It's okay when it comes to swimming, but maybe not so okay when it comes to driving a car."
Here is almost always my final question: How have you and the folks at Hanover Shoe Farms responded to COVID-19?
"It has been somewhat of a challenge, but we have managed to get through it without too many problems. We had to close the Farms to visitors, something that I believe had never been done previously. I and all of farm management are big believers in vaccinations. I've had all three shots as have many of our employees. We have also offered incentives to those that got vaccinated. We instituted a mask policy early in the pandemic. I think it helps that the majority of our workforce works outdoors. Even if we have a sporadic case, it doesn't seem to spread quickly. I, like most, am looking forward to when this pandemic becomes endemic."
Have a question or comment for The Curmudgeon?
Reach him by email at: hofmurray@aol.com.