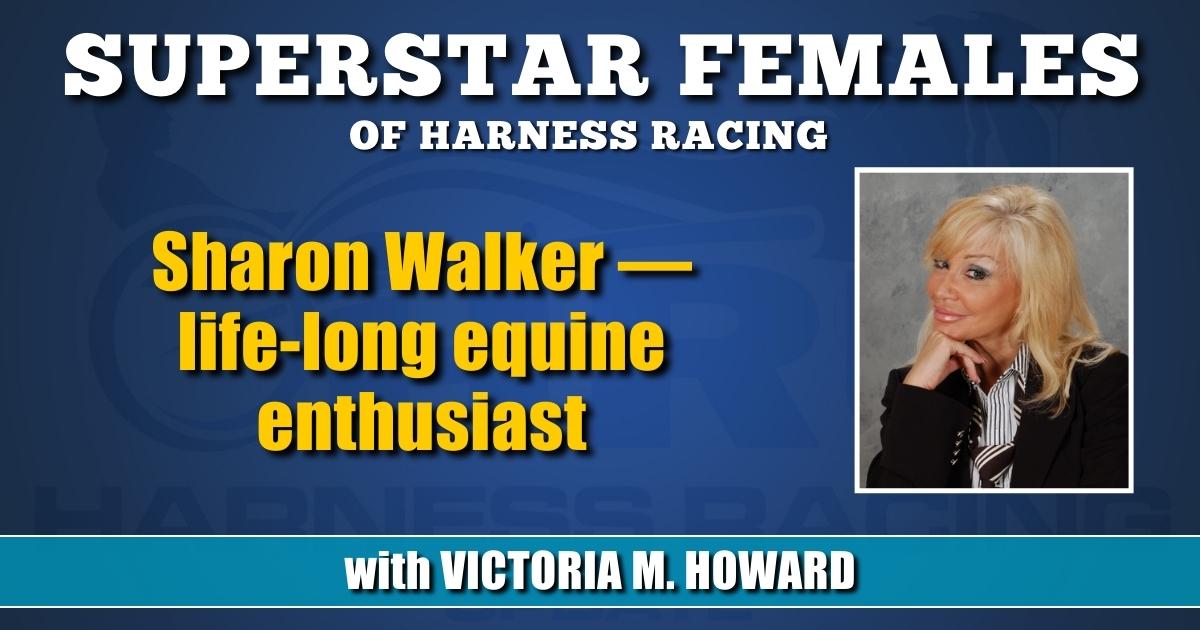 Sharon Walker — life-long equine enthusiast
by Victoria Howard
From the time Sharon Walker was an 8-year-old girl in pigtails to the present, there have been two things that sum up her love for horses.
The first is the fact didn't like playing with Barbie dolls as a little girl. Instead, she collected a stable of Breyer horses.
"When I was 8 years old, my dad bought me a mini bike but I told him, 'It's the wrong kind of horse power, daddy.' Nonetheless, to make him happy I rode the bike, but pretended it was a horse.
"And recently my husband, Kelly, bought me a decorative couch pillow that says, 'LIFE WITHOUT HORSES?' NOPE! I don't think so! So that pretty much sums up my life and undying love I have for horses."
Sharon was born in Dearborn Heights, MI. Although her family wasn't involved in harness racing, her passion for horses steered her into riding and showing.
"I've been involved with riding and showing horses for more than half of my life. I've had Morgans and Saddlebreds and have shown everything from 4-H Gymkhana classes, training level dressage tests, halter classes, all the way to showing on the green shavings at The Saddlebred World's Championship.
"It wasn't until I met Kelly 21 years ago that I became interested in harness horses, and that was it. I fell in love with Kelly and the horses. Maybe not in that order," Sharon said, laughing.
"I was hooked and it's my entire life for I am not only married to Kelly, but I'm married to the business.
"At that time, a girlfriend of mine who I showed horses with was married to trainer Terry Tomlin of Fowlerville, Michigan, and also Kelly's trainer.
"Every time I went to the barn she kept showing me Kelly's horses, but I now know she had an ulterior motive.
"One night I attended the races at the Saginaw County Fairgrounds and I was introduced to Kelly. That night we ended up bathing one of his horses together, a horse named Perfect Patty and it was perfect, and the rest is history.
"At that time I thought standardbreds were, to put it politely, not as pretty as my show horses. I mean, I could barely see the horse through all the equipment he wore, but I have since learned to appreciate the beauty of a racehorse.
"When I first got involved with Morgan riding horses, I did all my own training. Being a stay at home mom gave me the time to devote to horses. We had a riding instructor come to the house and give my daughter and I lessons. When I switched over to Saddlebreds I also started working as a licensed veterinary technician and went with a professional to do the training. That works so much better when you have a 9 to 5 job."
Although the Walkers run a smaller stable than most, they are some of the hardest working people in the business. They are totally dedicated to the sport and their 'four-legged kids.'
Kelly is also involved with running the family business — a greenhouse and farming business. In recent years, Kelly took a 20-year sabbatical from the sport — due to the loss of his father — and ran the greenhouse and farm. When he returned to harness racing, he became a licensed driver who has represented the USA three times in International Amateur Competition — twice in New Zealand and once in Italy.
He was the USHWA Amateur Driver of the Year in 2011, several times the winner of the Delvin Miller Gold Cup final, the CKG Billings Final, and was both the Michigan and Florida Amateur Driver of the Year.
"Kelly got his first owner's license in 1977 and his first driver's license in 2004. He hasn't been as active in the driving clubs for several years now and has focused on driving mostly at Pompano Park when we are in Florida during the winter."
Today, the Walkers have eight horses in Florida, and two in Pennsylvania.
"We just sold our last broodmare, but still have, as of January 1, a yearling colt and a 2-year-old filly in Pennsylvania.
As far as the Walkers' best horse, Sharon said it was their third homebred, Andheezperfect, an Andover Hall out of Perfect Patty who trotted to his lifetime mark of 1:52.3 when he was 6 and amassed earnings of $859,513.
"When 'Andy started to slow down we opted not to put him in a claiming race and sent him to New Vocations where they found him his forever home, living out his years in a pasture with a donkey and pony."
In the winter, you can find Sharon at Sunshine Meadows helping her husband jog and train their horses every day.
"I used to ride my racehorses but didn't have the desire to sit behind them at that time. I was used to sitting on top of a horse and feeling the horse under me. The Saddlebreds show with a double bridle. Two thin reins in each hand and two bits in their mouths. I like the super sensitive feeling of reins between my fingers — just a tweak of your wrist gets a response. Well, I found out even though the lines are bigger, it's almost the same thing when you're jogging a racehorse. Now, I look forward to jogging them and especially training day, for I love the speed. I still smile when I hit my quarters exactly on time."
Sharon also drives in a race now and then and has graced the winner's circle at Pompano Park six times in 2021 — all in the months of November and December.
"I've learned to adapt to many different ways to enjoy horses. Earlier this year in Michigan, we raced at the Fowlerville Fairground — the place my kids and I learned to show horses in the early '90s. Well, 29 years later, here I am warming up a standardbred racehorse for my husband. I never would have believed that 29 years later that is how I would be enjoying my life. Life is good."