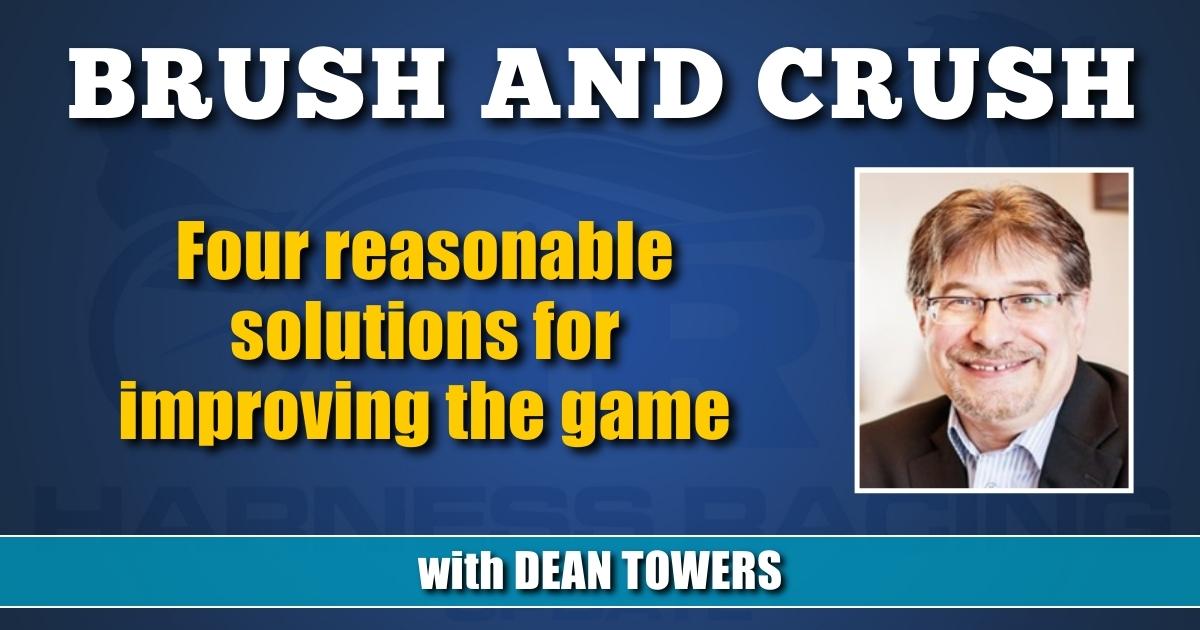 Four wishes for harness racing in 2022
Some reasonable solutions for improving the game.
by Dean Towers
A new year is upon us and I have rubbed my magic genie bottle to make my four wishes for harness racing. Please allow me to share them with you.
The Big Three, The Grand Slam, ah, call it whatever you'd like…
Did you hear the news? Fox Sports signed an 8 year deal (worth a reported $5 million per year) to broadcast the Belmont Stakes, which includes the entire Belmont Festival of Racing week. There's a gambling component, too: Fox and NYRA Bets are building a wagering brand together.
Thoroughbred racing's Triple Crown is a gift that keeps on giving. Not only does it drive revenue, it's a conduit for new fans. In addition, as the Fox Sports news proves, it helps sell gambling platforms to these new potential bettors. In the sports gambling space, linking to a brand is like butter on toast.
No, this is not another tired yearn for a harness racing Triple Crown, because smart people tell me creating a new one is some sort of unsolvable finger puzzle. But it is a wish; a wish for the sport to get together and create a series. It can be any set of races that the sport can, if successful over the next decade, market. This should not be that hard, right?
Waiting for the Pylon to fall
Let's play harness racing Final Jeopardy.
The answer is, "This confuses everyone." The question that all of us get correct is, "What is the pylon rule?"
Did the horse go inside two or more pylons without gaining an advantage, or was it three or more? Was it on the straight or on the turn? Was there a full moon? All of these questions have to be answered, usually accompanied with a 10-minute inquiry of tape winding and rewinding as a bewildered fan base looks on, wondering what the rule is in the first place.
In every sport in the Universe leaving the field of play is a bad thing. If a receiver in football steps out of bounds he's out of bounds. It doesn't matter if he was trying to avoid a photographer, wanted to grab a snow cone, or was sent there by space aliens. If a ball lands foul we don't ask if the ball meant to, or if it was pulled there by some sort of Newtonian force we didn't understand in high school physics. It's just foul. Fans accept this and the rule works as well as any rule can work.
For this sport I'd love to see the same thing. Unless someone is avoiding an accident, or is pushed inside pylons, the horse and driver are disqualified if they leave the field of play. Let's make everyone's lives less miserable.
Wednesday night stakes racing
God of Racing Niatross (that's my God, yours can be Greyhound or Rambling Willie, or whomever), who made it a rule that stakes cards have to be raced only on Friday or Saturday nights? I get the Big M or Woodbine Mohawk Park wants a weekend event, but for smaller tracks with their signature cards, why bother racing against these bearcats?
I'd love to see at least one of these stakes days raced on a Tuesday or Wednesday. We'd all be focused on them, and we'd get to see big name horses, drivers and trainers ply their trade. On a dead night, the races would be on TVG, no doubt, as well. Let's spread the word about harness racing when people need something to watch.
Don't let your eyes glaze over – Lower the juice!
This is the way the harness handle world usually works. A track with no on-track handle sells its signal to the bet takers for a 3 per cent or 4 per cent fee, but they charge 25 per cent takeout. So, we have the bet taker earning 22 per cent and the track receiving 3 per cent. And then the tracks complain about it.
Why not just lower the takeout? With 95 per cent of handle coming from off-track, what is there to lose?
If you're a smaller or slots track, charge 10 per cent across the board, the bet taker still takes the signal – they don't care much, your handle is not $10 million a day anyway – and you have a chance to attract some new dollars to your pools. You at least give yourself a shot to grow.
Charging huge takeout when the vast majority goes to someone else is truly one of harness racing's great mysteries.
Those are my four wishes for 2022. Perhaps I will be asking for the same four things in 2023, but, hey, I gave it a go. Happy New Year everyone.