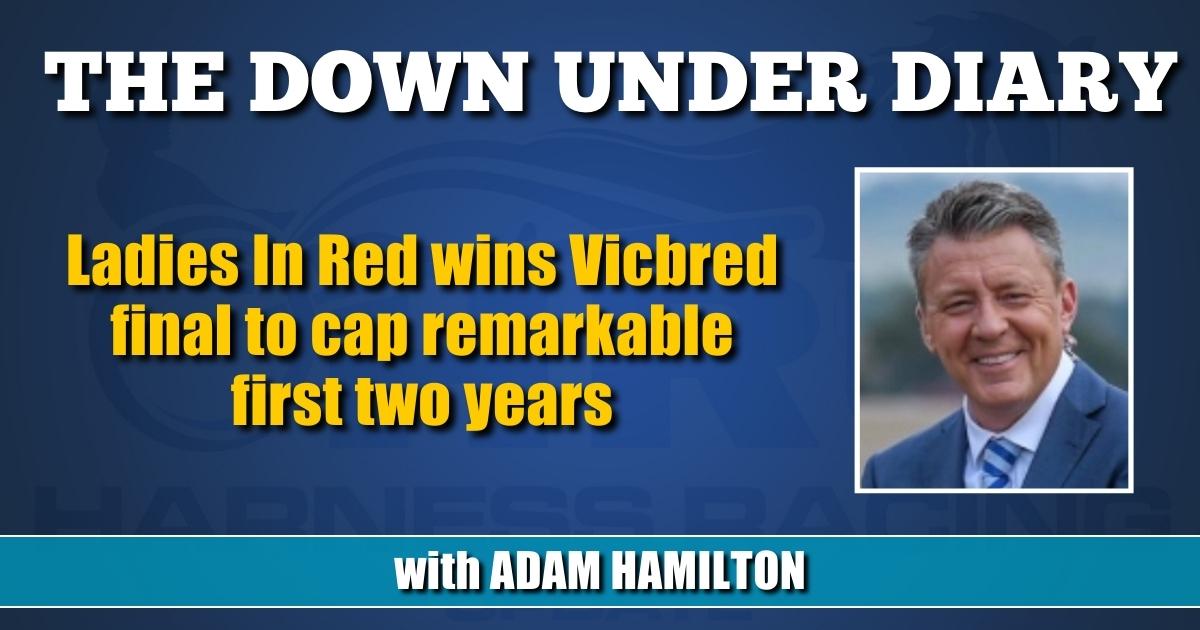 Ladies In Red wins Vicbred final to cap remarkable first two years
by Adam Hamilton
On a night of stars and remarkable performances, it was fitting champion filly Ladies In Red again stole the show.
On the last night of 2021, Ladies In Red iced the most remarkable first two years of racing and stirred the debate as to whether she's as good a 3-year-old filly as we've ever seen Down Under.
I'll leave that debate to others, but she certainly ticks every box you need to be a champion… and more.
Just as she's done in all the big ones this season, Ladies In Red overcame a bad draw and tough run to win her Vicbred final on Friday (Dec. 31) Tabcorp Park, while also smashing the clock.
This time she made an early move from a back row draw to sit parked and driver David Moran crushed the leader, stablemate and main danger Joanna with a :56.2 split from the 1200-400m. She then held-off another star stablemate, Rogue Wave, to win by 1.5m with a 26.8sec closing split and 1:54.8 mile rate for 2,240m.
Ladies In Red has that strong U.S. connection being by Mach Three out of former U.S. race mare Kabbalah Karen B.
Owner/breeders Bill and Anne Anderson, along with trainers Emma Stewart and Clayton Tonkin, gave her a long spell and sacrificed the first half of this season with a view to dominating the back half.
That she did, winning the big three: Victoria Oaks, Breeders Crown and Vicbred finals. She's won 17 of her 20 starts.
Her driver, David Moran, captured the moment (and season) superbly. "It's a privilege to drive her. I don't think you quite understand it or respect it enough early in horses' careers. It's when they start to get on and do more and more amazing things you realise you've been a part of a very special time in a very special horse's career," he told TrotsVision on the night.
"She never seems to disappoint in the finals. She's just an amazing horse, the things she does and how she does it. She's one of a kind, that's for sure."
Bill Anderson added a lovely insight into how popular the filly is.
"People ask us all the time, can I have a photo taken with her – people really want to be included. We need a profile horse in this industry and I think, hopefully, she's the one to do it," he said. "When you breed them, and she was around the farm for probably 13 or 14 months – personality plus – it's a great reward."
We won't have to wait long to see if Ladies In Red's juvenile dominance can translate into open-class success.
"We're freshening her up now to have a go at either the Ladyship Mile or Chariots Of Fire in Sydney next month," Bill Anderson said.
Success in either race would get her a ticket into the big dance, Australia's premier speed test, the $A1 million Miracle Mile at Menangle on March 5.
The Andersons may have two Miracle Mile runners with their lightly raced but electrifyingly brilliant 4-year-old Honolua Bay also aiming for the sprint.
The son of Somebeachsomewhere made it five wins from as many starts back from a breathing operation (and 14 from 21 lifetime) when he didn't plenty of work and kept finding to win his Vicbred final by 2.5m in a 1:53.7 mile rate for 2,240m.
"We've had the Miracle Mile in mind for a while if he kept stepping-up," Bill Anderson said. "He'll have a freshen-up now and we'll head in that direction."
Somebeachsomewhere also sired another of the star performers of the night in blossoming colt Bondi Lockdown, who overcame early trouble to sit parked and crush his rivals in a blistering 1:53.4 mile rate for 2,240m.
He's trained and driven by Aaron Dunn, who only has 10 in work and qualified five of them for Vicbred finals.
"I've got some nice horses and had a really good one in Dee Dees Dream in the past. He won my first Group 1, but I've thought from day one this guy could be better… and he is," Dunn said.
"He's got his quirks and he's taken some time to work through them. They'll always be there, but he copes better with them now. I thought he'd gone to a new level going into the final and that's how he raced."
Bondi Lockdown is yet another Vicbred star being set for a New South Wales (NSW) raid. His target being next month's Group 1 Chariots Of Fire, Australasia's premiers 4YO feature.
You can also add Vicbred 2YO Fillies' winner Amore Vita, a daughter of Art Major, to the team of NSW raiders.
She's trained by Nathan Purdon, son of New Zealand Hall of Famer Mark Purdon, and he's got his sights set on the NSW Oaks.
It capped a mighty first 12 months for Purdon since he shocked many by leaving NZ to make Victoria (Australia) home.
"It's certainly exceeded expectations, but I did set the bar high. When you leave friends and family and go to another country, you need to be really successful to make it worthwhile," he said.
Purdon's headline act, champion mare Amazing Dream, could also be part of the NSW carnival next month, despite her U.S. owners longing for her to head to North America to continue her racing career.
"She'll race next in the Ballarat Cup (Jan. 22) and then Hunter Cup (Feb. 5). The Ladyship and Miracle Mile are getting closer and she's not locked into a flight (to the U.S.) yet, so I'm keeping everything crossed she stays. She'd be so well suited up there," Purdon said.
Some of the other highlights of Vicbred finals night included:
Champion driver Kerryn Manning snaring two finals on 2YO trotting Plymouth Chubb (who dug deep to make it 14 wins on end) and visiting NSW mare Fancy in the 4YO trotting mares' final
Former Swedish stable hand Sofia Arvidsson snaring Group 1 glory with one of the best drives of the night aboard Heza Son Of Agun in the 2YO colts and geldings pacing final. It gave her partner, Matty Craven, a training double after he won the 4YO trotting mares' final with Queen Of Crime
Dominant training force Emma Stewart and Clayton Tonkin winning three finals with Ladies In Red, Honolua Bay and Maajida. The latter doing the remarkable and completing a clean sweep of the 2-, 3- and 4-year-old finals courtesy of a stunning Greg Sugars drive.