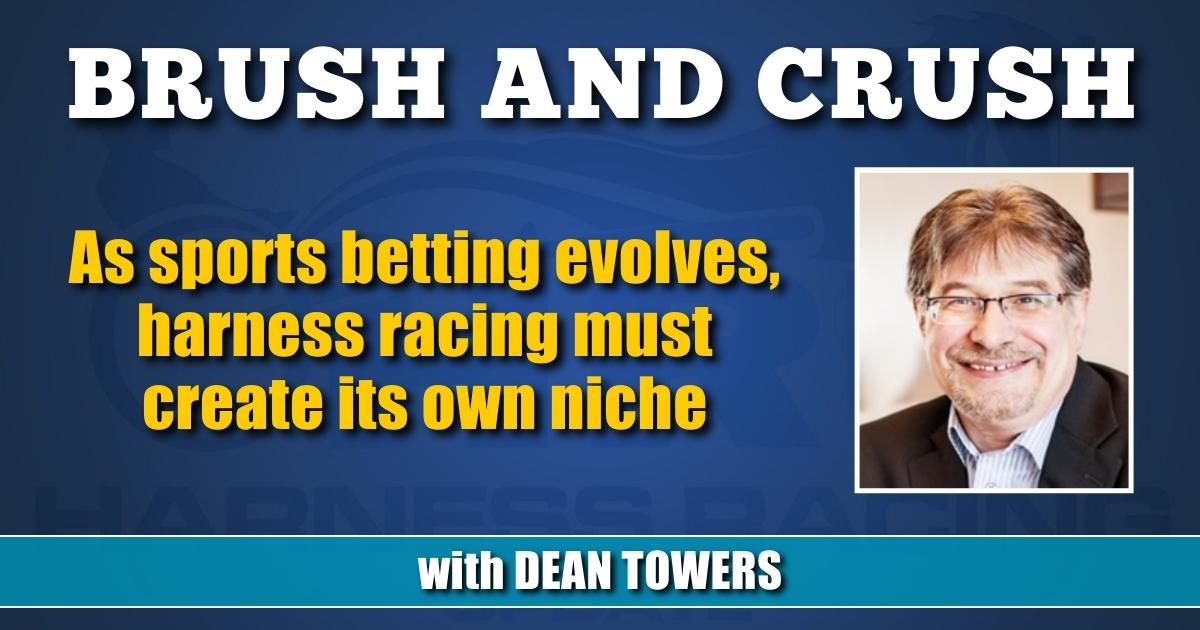 As sports betting evolves, harness racing must create its own niche
Thoroughbred racing supports itself with marquee events and TV coverage, but where does harness racing fit in as sports betting's rapid growth continues.
by Dean Towers
Industry heavy hitters met in Arizona at the annual Racetrack Industry Program's Global Symposium on Racing this week. The hottest topic involved the current sports betting landscape and racing's place in it.
Unfortunately, the top-line numbers for horse racing are not very encouraging.
"FanDuel Sportsbook had more customers in November than TVG has had in 22 years," noted Andrew Moore, FanDuel's vice president of racing, during a sports betting and racing panel.
The demographics are equally troubling. The top funnel under 40 years of age sports bettor represents 73 per cent of their sportsbook customers. Meanwhile, 69 per cent of their racing arm's customer base is 40 or over.
Sports betting's growth is not the least bit surprising. It has only recently been legalized in many states (with more to come), so it has a newness and possesses a ready-made market filled with customers who've been eager for legal, safe sports betting platforms.
In addition, the sports betting companies are spending mind-boggling amounts of marketing cash on customer acquisition. Year over year advertising was up over 80 per cent this spring and that has only grown for the football season this fall. According to industry journalists, sports betting companies are expected to spend up to $1 billion on football ads before the season ends in January.
Although it's daunting that advertising spend in 2021 for sports betting may end up rivalling what horse racing delivers in purses (including from slots), there are some potential positives. FanDuel/TVG, among others, believe that many of these newly acquired customers have never been exposed to horse racing and plan to bring the sport directly to them through something called a "shared wallet."
Shared wallets – used for decades in Europe and Australia – allow for sports bettors to seamlessly transition between, for example, betting the Steelers minus 4, and the 5th at Belmont.
"What we have seen is that sports betting customers are extremely willing to bet on horse racing. What we also see is they don't really hang around, because they have different sports betting accounts with separate logins. They're not inclined to deposit and play at two different places on the one day," said Moore.
"We will have our ADW integrated into our sportsbook next year," Moore said.
As well, online sportsbooks have been pushing a racing partnership for fixed odds wagering. This type of wagering has been popular in other parts of the world for many years.
Although perhaps a tad overconfident, I don't believe the industry bullhorn on shared wallets is the usual wishful thinking. The more money an entity has on account from people with a proclivity to gamble, the better it is for tangential sports like horse racing to generate revenue. From a pure business case perspective, you and I see this each day when we log into our bank accounts. Banks spend copious amounts of marketing money on customer acquisition because the lifetime value of each of us linking lines of credit, credit cards, mortgages or stock trading accounts outstrips the cost.
Fixed odds wagering, although great for page real estate and marketing, is probably less of a good thing and will perhaps end up little more than a novelty. But it too provides racing with exposure it did not have before.
The way I see it, however, while this business plan on the surface looks positive for horse racing as a whole, it presents real issues for harness racing.
Thoroughbred racing can take advantage of fixed odds and shared wallets because their broadcast and popularity is huge. When an event is high funnel it's much easier to entice someone new because it does not have to be introduced.
Millions of people gather for the Triple Crown races; less of a number — but still a formidable amount — does the same for the Breeders' Cup. It's not difficult for many sports bettors to recognize the event, get information they need, flip on their television and partake in the gambling game of racing via their shared wallet. It's not hard to imagine that this could generate millions in new handle for say next spring's Kentucky Derby.
For harness racing, it's just not the same.
This sport has a tiny footprint and broadcast. Your average FanDuel sports bettor is not already introduced to harness racing events. They're not going to – on a whim – get a subscription to TrackMaster for racing programs so they can make a wager on the third at Western Fair. The shared wallet provides the sport with little edge.
As a gambling sport, harness racing has always been the poorer cousin; the afterthought; the go along to get along. It's the sport that takes 3 per cent for its signal at national ADWs to get exposure, with the bulk of the juice going to the ADW or thoroughbred track. It's a sport that might have a Triple Crown, but when one of the legs is cancelled no one even notices. It's the sport that has rarely thought about investing in its exposure or creating its own gambling identity.
The sport is not going to change this overnight; it's simply smaller and has less money to invest when compared to the thoroughbreds. But in my view, it must plan for the new shared wallet, fixed odds, sports betting world and there are realistic strategies this sport can implement to reach that goal.
I'll examine a few of them in Part 2 next week.