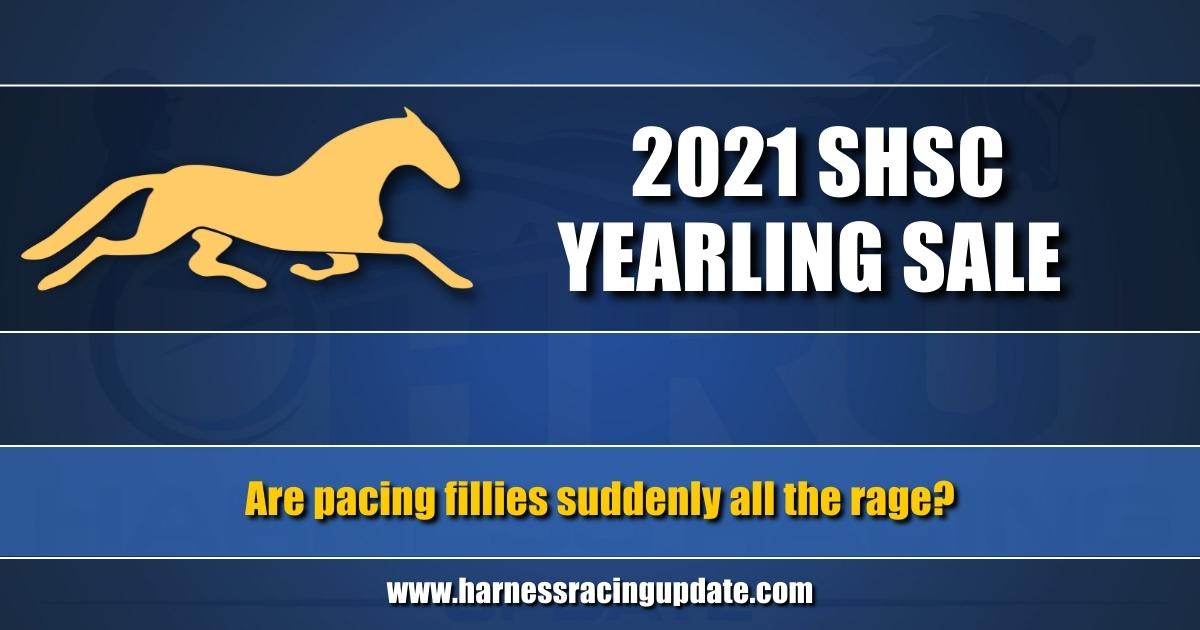 Are pacing fillies suddenly all the rage?
Once the least valuable of four yearling segments, pacing fillies are suddenly popular with buyers.
by Dave Briggs
One of the interesting developments in this year's record-breaking Lexington Selected Yearling Sale was the relative strength of the pacing filly market. Frequently the lowest of the four main categories, pacing fillies out-grossed pacing colts — thanks, in part, to 15 more pacing fillies being sold — and posted a higher average ($62,690) and median ($42,000) than the trotting colts ($61,648 average / $40,000 median). Trotting fillies led all categories by a wide margin and averaged over $74,000. Are pacing fillies following that trend?
Many industry experts believe there is something of a sea change in the works with buyers having a greater desire to acquire pacing fillies because the Return on Investment (ROI) for those with strong pedigrees can be higher than it is for colts. While colts often race for more, after their racing career is over, they have much less value in the breeding shed, unless they hit a home run and become viable stallions. Even if a pacing filly doesn't race, she still has value as a broodmare.
"Go through the mixed sale and you'll see mares that didn't do much on the track, certainly didn't light it up, then sell in the mixed sale or broodmare sale or OnGait for not a lot different than they cost as a yearling. So, really, you got a racehorse for free," said Blue Chip Farms owner Tom Grossman.
"I've always said the cheapest place to buy a really nice broodmare is as a yearling. I think that's never been more so than today. Even though the yearling prices have picked up, the broodmare values are up. So, when I look at fillies, I certainly always say, 'Okay, if this horse went out and broke a coffin bone or whatever, what's she worth to me as a broodmare?' So, then it's what I'm paying for the racehorse part of it. I think you'll find that the racehorse part of it for fillies is very cheap still."
All American's Rob Tribbett agrees with Grossman.
"If you want to buy a really nice broodmare, probably the way to do it is to buy her as a yearling," Tribbett said.
The downside, he said, is it makes it harder for him to buy future broodmare prospects.
Preferred Equine's David Reid said he doesn't think more people are changing their focus to acquire pacing fillies. He believed there are just more people "playing in that space… The cream always rises to the top and I'd probably attribute it to that more than anybody changing their strategies," Reid said.
"I always think, the best quality you can afford, the best residual you're going to have – as a general rule. I think it goes hand-in-hand, statistically. Better-bred horses have a better chance of succeeding… Good horses can come from anywhere, but I would say from the filly side the residual value is the result of the strength of the breeding industry and the breeding industry is the result of the yearling sales, so it's kind of cyclical. When one thing is rolling, then the other thing is rolling. As soon as you start to see a fall-off in one, then it'll fall off in the other."
Hanover Shoe Farms' executive vice-president Dr. Bridgette Jablonsky said she thinks the fact pacing fillies sold better than expected in Lexington was likely more a function of the individuals than a change in focus from buyers.
"From what I gather, the pacing fillies that sold exceptionally well were gorgeous fillies. I think part of it was there was such a selection of them," she said. "I can see the trotting fillies' value being at an all-time high right now because, to me, in the modern-day era there's never been so many great trotting stallions to breed them to and sell high-priced trotting yearlings for. You have horses that if you breed the right mare to them, you're playing in that $500,000 range. So, trotting fillies, as a future broodmare, is a great investment – if you buy the right family and the right individual.
"I guess people are thinking the same way with the pacing fillies. In this business, everything feeds on one another. You know, when you get good stallions, even though the stud fees are high, that drives the yearling market because these fillies have residual value because there are really good stallions. The yearlings sell well and then that turns around and puts money in breeders' pockets and they are going to go and buy your race fillies for more money to breed. When one faction does well, everyone does well.
"There are very interesting pacing stallions standing at stud and the pacing yearling market has increased and people feel like pacing fillies are keeping their value more as broodmares. I guess those are all the reasons, but it was really nice to see. It was really nice to see people having a renewed interest in pacing fillies."
Grossman said it all makes sense if you follow market logic.
"The filly is an asset and asset prices are going up. So, the residual broodmare value of a race filly you buy is an asset and assets are inflated. For colts, about 10 per year are an asset, but the rest are not assets, but income potential. It makes sense to me, absolutely, in economic terms, that fillies would have narrowed the margin to the colt average. The market is being rational in my opinion."