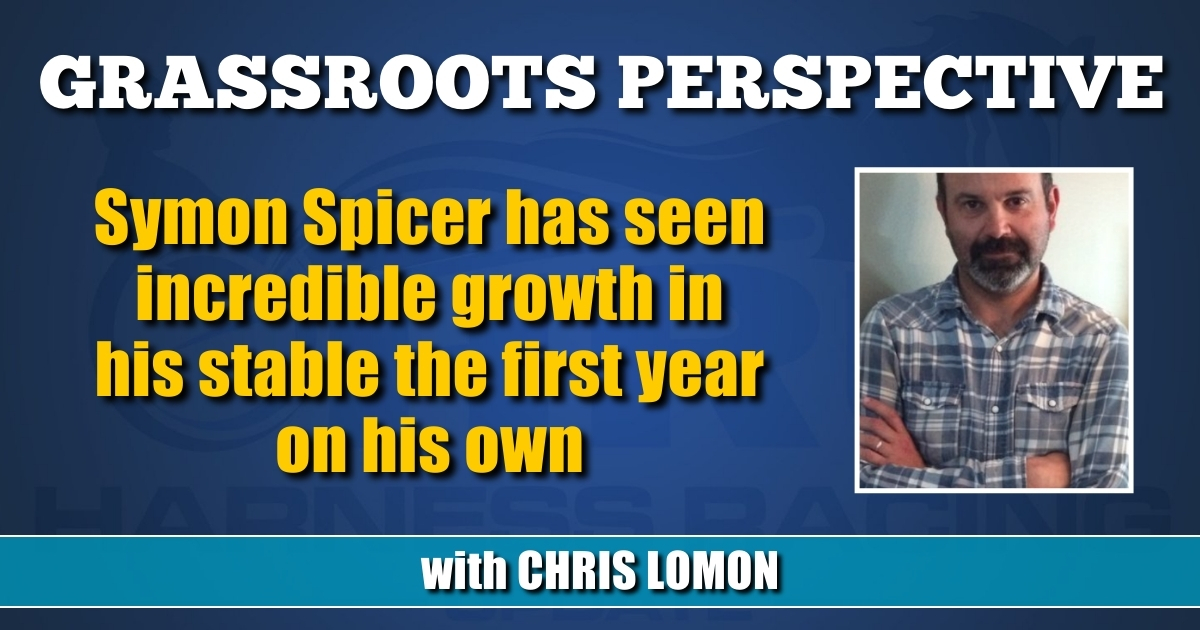 Symon Spicer has seen incredible growth in his stable the first year on his own
by Chris Lomon
If Symon Spicer had any question marks about how successful he'd be going out on his own, his answer has come in the form of an exclamation point.
Born and raised in New Zealand, Spicer, whose father owned a few standardbred horses over the years, came to North America, specifically, New Jersey, in 2002, and soon found work in the barn of standardbred trainer Linda Toscano.
After working with the successful conditioner for 12 years, he moved on to the stable of Ron Burke, one of the sport's most successful and decorated horsepeople.
Spicer's time with both operations provided a treasure trove of harness education, skills he studied every minute he was in the barn or at the races.
While he had no target date in mind as to when he would launch his own stable, he began to give the thought more consideration in 2020.
Despite the obstacles the industry faced throughout a COVID-19-impacted 2020, Spicer maintained an optimistic outlook, both for himself and for the sport.
After giving Burke notice of his intentions to forge his own training career, Spicer, who had trained a small number of his own horses over the past four years, opened up shop this April.
He recalled one particular piece of advice that Burke shared with him more than a few times over their years together.
"Ron always told me that classification is the key to success. If you're not racing them in the right spot, you might as well go home. He's a big believer in putting them where they belong," Spicer said.
Admittedly not a goal-setting type, the 46-year-old likely never could have anticipated what his rookie campaign would yield to date.
"I was working for Ron and in March of this year, I had a few hobby horses of my own, and ended up getting a few more," said Spicer. "I ended up having too much to do, so I told him I was going to head out on my own. Pretty soon after that, things really took off. I started out with four and now that's turned into 21. I had a few owners who are friends of mine who claimed some horses for me to train and I've basically gone from there."
Where Spicer has gone is really rather quite impressive.
As of Oct.24, he has 35 wins and over $440,000 in purse earnings.
The star of the stable, at least so far, is a 2-year-old gelding by the name of Kosher Mahoney.
Bred by Robert Krivelin and owned by Eli Beiler, the trotting son of Explosive Matter has enjoyed a strong rookie campaign.
A $7,500 purchase as Hip #72 at the 2020 Goshen Yearling Sale, Kosher Mahoney posted two wins, two seconds and a third from six starts.
He broke his maiden in style at Harrah's Philadelphia on July 8, cruising to a 6 ½-length score in a time of 1:58-flat.
"Eli gave him to me," said Spicer. "He won a Pennsylvania Sires Stakes division and was fourth in the final… He was a little unlucky in the final. He might have won it if he had some luck on his side. He's probably my best one. He's turned out for the rest of the year, so we'll give him some well-deserved rest and look forward to him hopefully having a great 3-year-old season. My other horses are claimers and cheaper condition horses."
In terms of his objectives, both current and in the long term, Spicer has a very simple formula for what he'd like to achieve.
"I just want to keep training horses, make money for my owners and support my family. But I would like to reach $500,000 in earnings and have 50 winners by the end of the year. I don't set goals. I just like to win. As long as they win and the owners are happy, then I'm happy."
One of the biggest reasons behind his success story is a 'who,' not a 'what.'
"I have 21 horses and my wife, Veronica, is the groom of every one of them. We have two small children, and she takes care of them when I'm at the racetrack, so what she does is amazing and invaluable. It wouldn't be any good without her. She deserves most of the credit. She works from sun-up until sundown. I also have another person, Jimmy Foley, who has been a big boost to me as well. He just started out on his driving career, and we've had four or five winners together already."
When he does have the opportunity to relax away from the demands of standardbred racing, Spicer can usually be found on the golf course or watching his favorite sports teams.
"I really like to golf. I shoot in the low 80s. I try to get out once a week, just to enjoy myself and work on my game a bit. I like to watch the New York Giants play and I also follow the All Blacks (the New Zealand men's national rugby union team). That's about all I have time for when it comes to myself. Other than that, it's spending time together as a family."
As for the latest chapter in his racing life, don't anticipate Spicer giving any thought to what he's achieved so far in 2021.
"Whatever you do, you have to move on, whether that's the next race or the next day. You always want to get better, learn more, and push yourself to chase success."