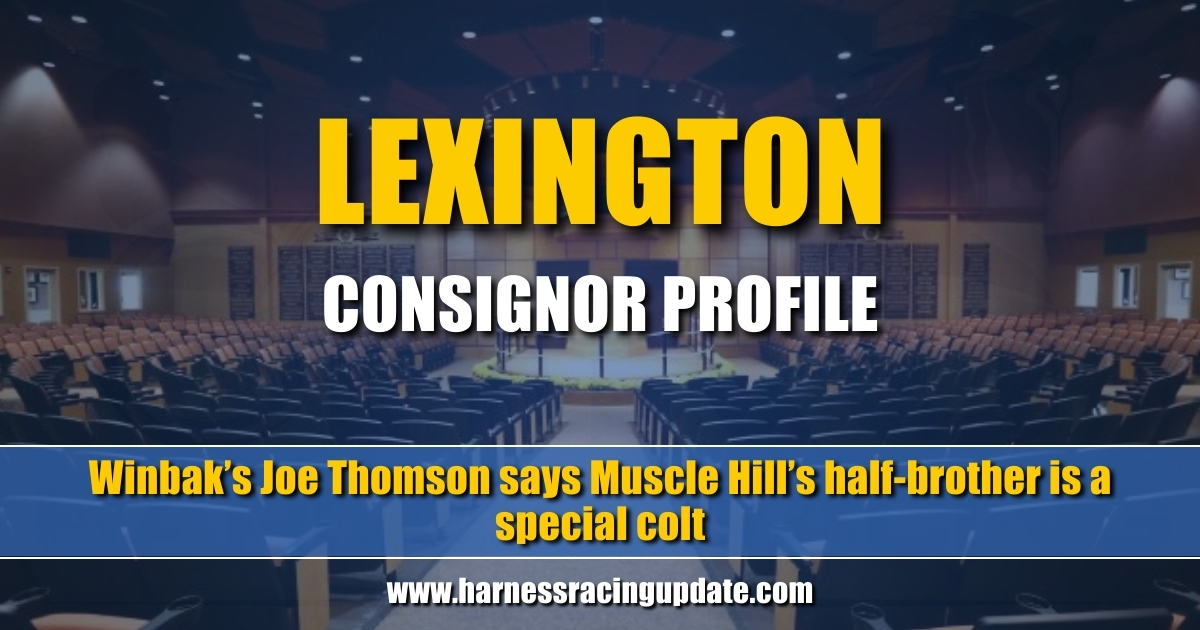 Winbak's Joe Thomson says Muscle Hill's half-brother is a special colt
by Dave Briggs
Winbak, the farm that bred the great Muscle Hill, is hoping his half-brother will make a splash at Lexington Select Yearling Sale.
Farm owner Joe Thomson said Hip 469 All Star Yankee, a My MVP colt out of Muscle Hill's dam, Yankee Blondie, selling on day three, "is special… He should be fun to sell, looks the part and I think the reception that we had last week in Canada for My MVPs (at the Ontario Select Yearling Sale) was really pretty
good."
My MVP stands at Winbak's Canadian farm, site of the Ontario Select Yearling Sale (https://harnessracingupdate.com/2021/09/29/buoyant-atmosphere-at-ontario-select-yearling-sale-as-numbers-were-on-par-with-2020/).
"The other thing is that we have a lot of Canadian horses, which I think they should do well… Shadow Play is having a terrific year. Archangel and Bettors Delights, those Bettors Delights generally sell pretty well to everybody."
Winbak, the leading breeder in the Ontario Sires Stakes (OSS) program, bred this year's $1 million (Cdn) Pepsi North America Cup winner, Desperate Man, a $20,000 yearling Winbak sold at the 2019 Lexington Selected Yearling Sale (https://harnessracingupdate.com/2021/09/15/holding-on/). Thomson said that popular victory gave a boost to his entire operation, especially since Desperate Man was sired by Winbak stallion Shadow Play, the second leading sire in the OSS this year behind another outstanding Winbak horse: Bettors Delight. Winbak bred Bettors Delight and stands him in Ontario on behalf of Blue Chip Farms.
"The other night in the Sires Stakes, (Shadow Plays) were 1-2-3. I think everything in the final there was bred by one of our horses, except one. That was something. We've had a hell of a run in Canada, as far as being number one in the Sires Stakes department," Thomson said.
In terms of Winbak's Lexington consignment of 88 yearlings, Thomson said most are, "good-sized horses this year. There's not a lot of small ones. That includes the Bettors Delights. Usually… you sell a bunch of smaller or medium-sized horses, but these seem like good, rangy horses that should do very well.
"We've got four Chapter Sevens and I like every one of them. They, too, have the size to them. For us, I don't know if it goes for everybody else, but that's unusual."