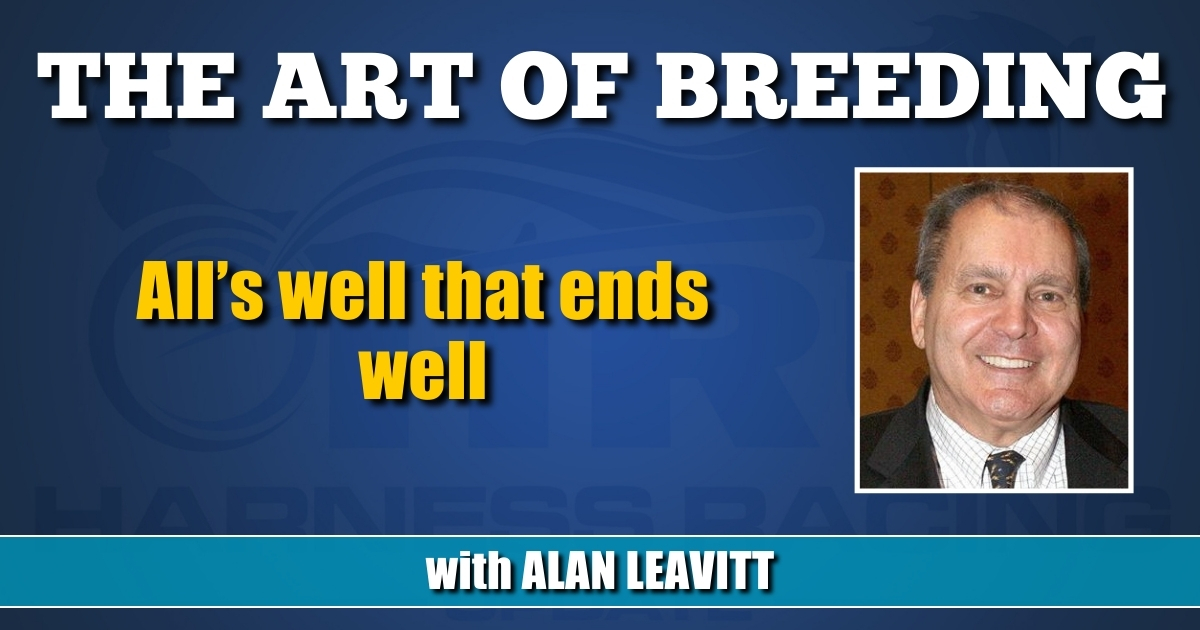 All's well that ends well
by Alan Leavitt
In what has become almost a nervous tic, every time I see an interesting horse's name, I go to Pathway and print out his or her five generation pedigree. That's what happened when a press release about a stallion named Enterprise caught my eye.
For the record, Enterprise was a quality racehorse. Regarding his all-important, at least to me, 2-year-old season, he didn't get his act together until the year was almost over. But in his only start for money, he won an overnight off by himself, so the right stuff was there. Then he went on to race with the best at three, where he more than held his own.
For pedigree, Enterprise is 3 by 4 to Garland Lobell, meaning Garland appears as the sire of his second dam on the tail-mare, or bottom line, and as the fourth name on the tail-male, or top line. In technical terms, that makes Enterprise line-bred to Garland Lobell, which is the correct term to describe a pedigree in which the sum of the generations the same name occurs is seven or eight.
But what especially caught my eye in Enterprise's extended pedigree was a sire's name on the very bottom, Super Juan. The first year the Hambletonian was held at The Meadowlands was 1981. At the time, I was very close to Howard Beissinger, and also, just for fun and experience, training a little racing stable of my own. It consisted of three horses, and the star of that little show was a Bret Hanover pacing mare named Lucky Break.
In those early days, there was a big trotting race at The Meadowlands, the Beacon Course, a week ahead of the Hambletonian. It was raced in eliminations and a final, all in the same night.
As it happened, Beissinger had two colts in the Beacon Course that night, and I had my prize mare, Lucky Break, in the second race, an overnight. The point of mentioning that is because I still had my colors on when I encountered Beissinger in the back paddock. He was visibly upset.
It seemed that he had put Shelly Goudreau down to drive his second colt in the Beacon Course. It was time to go their last warm-up trip, and no Shelly. Beissinger could be naïve about some things, and one of them was his belief that Goudreau actually went warm-up trips. Goudreau would probably have just as much likelihood to elect to get a root canal he didn't need as to go back to the back paddock and go warm-up trips.
So, with time running out, Beissinger press-ganged me to jump up behind the non Super Juan half of his entry for their last trip.
We wound up with both colts trotting as fast as they could go the wrong way of the track, before we turned them the right way to go their last trip. This, for those students of our sport who like details, was the third warm-up mile of the night for both colts.
Super Juan finished fourth in his elimination, so he just sneaked into the final. Where he proceeded to go a great race and found himself in the winner's circle. By now, Super Juan had done three warm-up miles, and two high-speed race miles. Which would have been enough for any trainer who wasn't the master horseman Howard Beissinger was.
Beissinger kept Super Juan well covered up for another hour in the back paddock. Then he took him back on the track and worked him a mile in 2:07. I stayed with him the whole night to continue my education. After he came off the track and hung up his lines from the final, 2:07 trip, he said,         "You can't do this too often, or they'll get stale. But this is the Hambletonian we're talking about."
Exactly a week later, Super Juan went the three races of his life to finish 1-2-2 in the biggest race in our world. He was never that good again, but he was good enough when it counted most to rate a spot in Enterprise's pedigree.
In my idle reading this week, there also was a story about a thoroughbred track soon to be offering fixed-odds betting. That's a concept that's been around as long as there's been horse racing, because long before there were pari-mutuel machines, bookies have been offering fixed odds betting.
As an aside, in my little hometown of Hanover, PA., when I was growing up, a magazine store on the main drag was happy to take your bets. It also happened to be the one place in town where you could buy magazines like Commentary, The Paris Review, and The Atlantic Monthly. Apparently, the police chief at the time was also somewhat of an intellectual, so he would walk past the store every morning on his way to the office, with never a sideways glance.
But the story about fixed-odds betting recalled a story about a certain harness race from many years ago, in 1974 to be exact. That was the year Nero was a 2-year-old, and clearly the best pacing colt of his generation. And there's a little story before the main story about Nero.
In 1970, a couple decided to get into harness racing. They hooked up with a California trainer, Jim Crane, and gave him a dollar amount to spend buying yearlings.
Jim went to the fall yearling sale at Tattersalls, and gave $21,000 for a gorgeous Meadow Skipper colt named Nero. He gave the sales ticket to his new owner right after the hammer fell, and told them he was leaving early the next morning for California.
"But you still have money left to spend," his owners told him. "You should stay and buy another yearling so we have two shots to get a good one."
"I don't need another yearling," Crane told them. "I've already bought the best colt in the sale."
As it turned out, that was exactly right. Nero was not only the best colt as a yearling; he was the best 2-year-old pacer in North America. He was undefeated when he shipped into the Indianapolis fairgrounds for the Fox Stake, in those days, the premier race for 2-year-old pacing colts.
Nero's closest competitor was a colt named Alert Bret, owned by Castleton Farm, who had bred him. He was a good colt, but Nero was the better horse by open lengths.
There was no legal betting in Indiana at the time, but the bookies there took a lot of action, all of it on harness racing, the only game in town, or the whole state, in those days. The Fox Stake was a big betting race at the time, and as every good, red-blooded American male knew then, the bookies offered only fixed-odds betting.
The line on the Fox Stake had Nero odds at 2-1 and Alert Bret at 7-1. There was a surprising amount on Alert Bret, but the bookies all figured this had to be longshot players who also believed in second marriages.
All the Fox Stake colts were stabled in a shedrow at the fairgrounds, and Nero's stall had a back window that opened onto an alley behind the grounds themselves. As became clear retrospectively, that window was easy to open from the outside; Nero was easy to lure over to it with a bucket of sweet feed, making it equally easy to stick a needle in his neck and inject a syringe full of Ace Promazine, a strong tranquilizer.
Crane knew something was wrong the second he started to warm his colt up for the big race. For starters, his willy had dropped down, the first visual effect of a tranquilizer. Beyond that, his colt was dead in his shell, practically nodding off in his harness. There was nothing to do but scratch the colt and put him away to sleep it off. Which left the rest of the field at the mercy of Alert Bret and Glen Garnsey, who jogged in both heats at 7-1.
It was only a goodly number of years later before any bookie in Indiana would take any action on a 2-year-old pacer. But that fiasco made Rene Dervaes sufficiently amenable to letting this kid syndicate Nero two years later. So Shakespeare got it right, at least as far as I was concerned, when he said, "All's well that ends well."