The tiny-yet-mighty pacer would reach legendary status for owners Russ Beeman and Boomer Freeman if he were to pull off a victory tonight in Harrah's Hoosier Park's $325,000 final.
by James Platz
Tonight (Aug. 13), Harrah's Hoosier Park plays host to the $325,000 Dan Patch Stakes. A stellar field will assemble for the track's signature event, including local fan favorite Little Rocket Man. Owners Russ Beeman and Jack "Boomer" Freeman — both long-time Hoosier horsemen —are excited to see how their 5-year-old will stack up against the best free-for-all pacers in the country. He may be small, but he's developed a big following in the Hoosier State.
"It's exciting. Just the fact we bought him at the yearling sale and see how he's progressed to this point in time and be in something like this," said Freeman, an Anderson, IN resident. "There are people that have been in this business their whole life that don't get to this point and we happened to get lucky."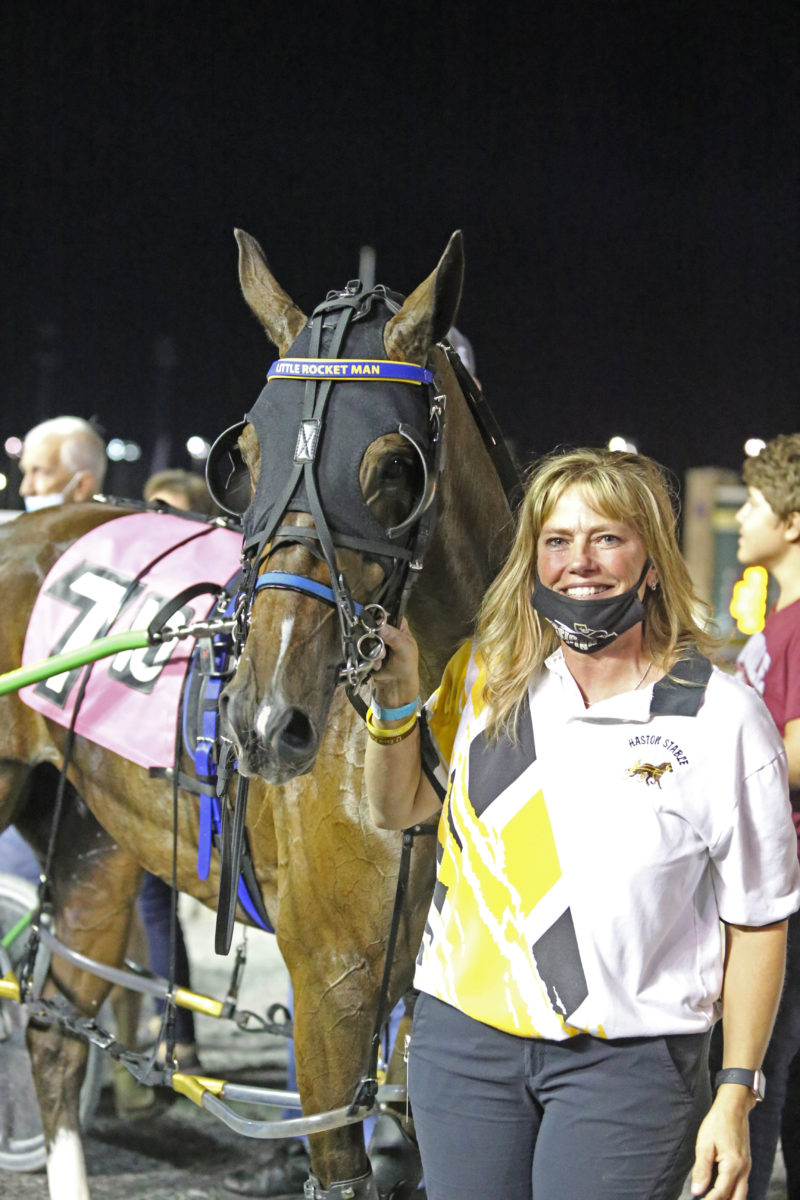 Beeman campaigned Little Rocket Man's dam, GT Miss Royal, during part of her career and admired her heart and grit. Before retiring to broodmare duties, the Pilgrims Punch mare accumulated 31 wins, including an Indiana Sires Stakes division, and banked $230,000. The racing veteran had hopes of buying GT Miss Royal's first colt, but upon inspection at the 2017 Hoosier Classic sale, the size of the Rockin Image colt concerned him.
"I went down there and he was a little bitty guy. I didn't even know he was a ridgling," said Beeman, who started out racing Trottingbred ponies in Indiana before moving to standardbreds. "I told Boomer, 'I think he's too small. I don't think he'll be big enough to race. He might race in the ponies.'"
Freeman was unfazed. He inspected the colt, and enlisted others to scrutinize the yearling as well.
"I really didn't pay attention to his size. I went with full intentions of buying him. He is the only reason I was there," said Freeman. "I looked at him and I couldn't find anything wrong. I had two or three other people look at him. I asked, 'Am I missing something?' Everyone said, 'No. He's perfect, but he's little.'"
Freeman would bid until he ended up with the horse, cataloged with the name Just Like Pete. He signed the ticket for $18,000, splitting ownership with Beeman, a business partner for three decades.
"Boomer said, 'I've got good news and bad news.' I said, 'What's the good news?' He said, 'The good news is we bought that colt. The bad news is I need your checkbook to pay for him,'" Beeman said. "I know I wouldn't have bought him if it wasn't for Boomer. That's how things happen in this business. You try to outthink yourself."
Little Rocket Man did not compete at Hoosier Park as a 2-year-old. Trained by Beeman's daughter, Missy Essig, the colt became aggressive and chased people around his stall. The decision was made to geld him, and at that time was discovered to be a ridgling, requiring surgery. Beeman opted to turn him out after the procedure, and that may have worked to the pacer's advantage.
"It wasn't because he was lame. He needed time to grow up," said Beeman, who lives just north of Hoosier Park in Alexandria. "I like racing 2-year-olds if they can handle it. But there are so many 2-year-olds that have to go so fast, you tear them up. You can tear a suspensory or tendon, or they just get sour. And there isn't just one of them, there are 10 of them."
Given the time to grow and develop, Little Rocket Man has racked up numerous wins over the last three seasons while becoming a local celebrity. Racing for the first time as a sophomore, he claimed victory in 11 of 17 starts, taking a 1:49 speed badge and earning $200,380. Moving up to the open ranks last year, the pacer managed to win half of his 12 starts and finished second twice.
Little Rocket Man was nominated to the Dan Patch Stakes in 2020, but lacked the earnings to make the field. Instead, he competed in the Gregg Haston Memorial, an event that honors Hoosier Park's first leading driver who died in an automobile accident in 1996. The gelding was in top form, circling the Anderson oval in 1:47.2 and winning by more than two lengths. Century Farroh, by comparison, won the Dan Patch that night with a 1:49 performance. The time established a new lifetime mark and gave Little Rocket Man a share of the Hoosier Park all-age track record. It was also special for Beeman, who has known the family for years, as well as Essig, who worked in Haston's stable before his tragic death.
"It's very special because Gregg was a close friend. Gregg's mom and dad raced ponies, and Gregg was just a little kid running around before he went on to race standardbreds," Beeman said. "That's probably the best thing that happened. Money sometimes ain't everything. I thought it was real special."
This season, Little Rocket Man has displayed great consistency. In 14 trips behind the gate in rein to John DeLong, he has collected nine wins while racing second three times. The 5-year-old has missed the board only once while raising his career earnings to just under $300,000. He enters the Dan Patch after finishing second his last time out. With each start, Little Rocket Man's devout following grows, a development Freeman never expected.
"The fans go crazy over him. It's just remarkable. I don't know how you would explain it. Just the thrill of being a part of it is something that's out of this world," Freeman said of the experience. "You can sit in the grandstand and hear people talk about him and they don't know who you are. I tell Russ all the time, 'People don't know who I am; people don't know who you are. Everybody knows who he is.'"
Essig's charge has drawn post six in the field of 10. Little Rocket Man is 20-1 in the morning line. Only Tellmeaboutit, another local entry, has longer odds. Freeman is confident in the small but speedy pacer.
"I've got to think he's going to win. What am I supposed to say? I hope we're not last," he said. "If we don't have confidence, who else is going to have confidence? It's just a thrill to be in with a group of horses like this."
The 69-year-old Beeman has competed at Hoosier Park since it opened in 1994. He has owned sires stakes champions in the past, but counts Little Rocket Man as the best of the bunch. He points to how the racehorse is swift, yet requires little maintenance. He feels with the right trip, Little Rocket Man could be in contention late in the mile this evening.
"There's not a bad horse in the field. Any horse can win it, and you've got to have a trip. I don't believe a horse can cut it," he noted. "If Rocket gets a trip, he gets a second over trip, he can pace with anything. That's my opinion. When he's on his A game, he can get home in 25 or 26 seconds. I think he's competitive. You start with a baby and you hope you've got one that can compete. We've been very fortunate that he can compete with the best of them, I think."
TrackMaster PPs available here.