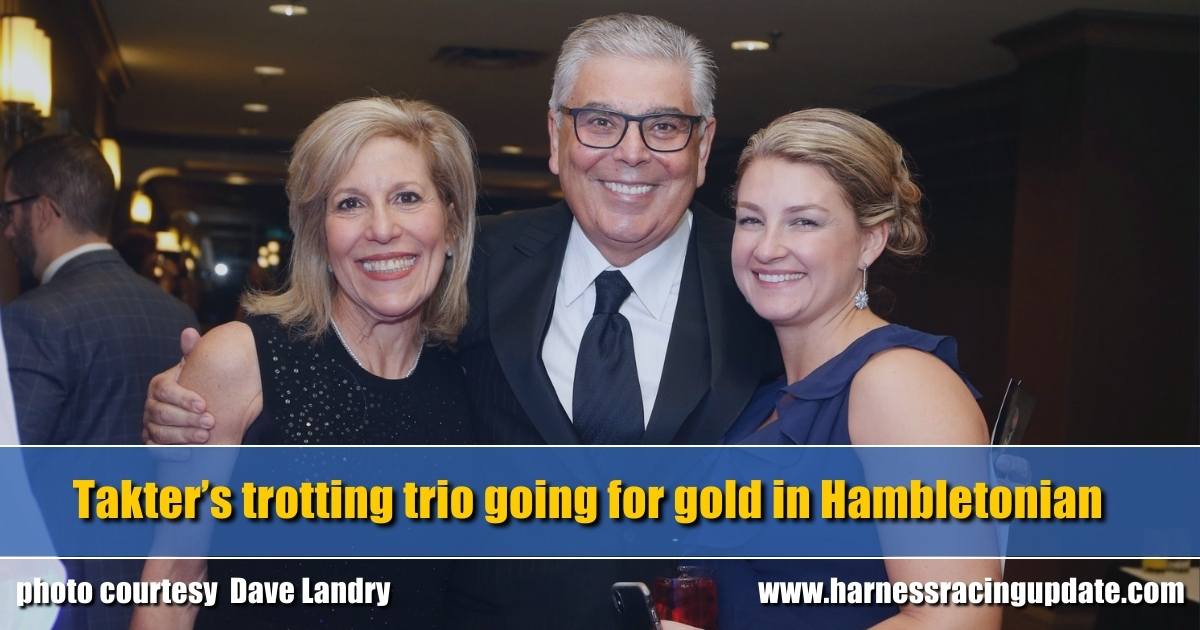 Takter's trotting trio going for gold in Hambletonian
Nancy Takter is hoping to win her first Hambletonian as a trainer with either Really Fast, Locatelli or Spy Booth.
by Chris Lomon
Nancy Takter would love nothing more than to see Olympic-like efforts from her talented trotting trio this Saturday (Aug. 7) at The Meadowlands.
While millions of eyes are on the Summer Games in Tokyo, the attention of the standardbred world will be focused on a world-class evening of top-tier athletes, horses and humans, competing for their version of gold in New Jersey.
For one of harness racing's top trainers, winning one of the sport's most prestigious events is a major goal.
Saturday, she'll have three chances at seeing it become a reality, all with sons of Muscle Hill.
Although there's no trace of egoism in Takter's voice, there is a genuine sense of confidence in her tone when she speaks of her trotting triumvirate.
Their stories and stat lines differ from one another, but there is a common thread, specifically, that each is arriving at Saturday's $1 million event in top form.
"Spy Booth drew the three-hole, which is perfect for him," said Takter, of the $460,000 purchase by John Fielding, David Anderson, Robert Leblanc, Marvin Katz, and Order By Stable. "He's a little bit green and didn't race a ton last year. The race is kind of coming to him instead of him coming to the race, which isn't usually how I plan things out. He was a little bit of a headache earlier in the year and the Hambletonian wasn't really on his radar."
A difficult decision would turn out to be the perfect tonic for a change in fortunes with the bay bred by Order By Stable of Sweden.
It came about on the heels of an unflattering training effort.
"He wasn't paying attention and was acting a little ignorant. So, I called the owners and said, 'I know you paid a lot of money for this horse, but the way he is now, he's not going to make any of us happy and he'll never stand stud.' The option was to geld this horse and, hopefully, he turns around his attitude and brings everyone some happiness at this point. We had him gelded – I'm not one who likes to do that to a horse – but in this instance, I truly believed it needed to be done."
Takter's instincts would prove to be correct and in doing so, it put Spy Booth back on the Hambletonian radar.
A slew of question marks had now been replaced by clear answers for the horse that has yet to break his maiden – 0-2-2 from nine starts – but is rounding into form at the ideal time for his connections.
"He'd be like an Olympic marathon runner. He's gone through a lot and there have been some tough roads for him, but he never gives up at any point."
Spy Booth, who will have the services of Tim Tetrick, might not be pegged for a podium finish, but Takter feels otherwise.
"He is a completely different horse, out on the track, he has his ears up and he's happy to go to work every day. He's happy with life. It's a complete 180 turnaround. And now he's in the Hambletonian. He's getting better every start and that's so great to see. I think he's got a shot if things work out well."
Locatelli has had an uneven career, but has certainly shown he can keep pace with the continent's top sophomore trotters.
Owned by Fielding, Steve Heimbecker, Black Horse Racing, and bred by Hanover Shoe Farms, the gelding, like Spy Booth, is hitting his best stride.
"He has a ton of speed and he's getting better every start. He needs to mind his manners, but he's been better with that recently. Before, I was having a little trouble with his gait – he was getting into himself a little bit. He's become a really nice horse to drive and he's very relaxed. He's one of those outsiders who has a legit shot, I think.
"He drew the five-hole, which is a good spot for him. Andrew McCarthy, who won the Hambletonian last year is going to drive him, so hopefully, Andrew has a similar day to the one he had last year. He's a great driver and I think they'll get along just great."
Takter knows Locatelli has to keep his eyes on the prize.
"He needs to stay focused. Any sport where you need to have absolute precision in your focus is what I would associate him with, something like archery or marksmanship. If Locatelli manages to keep his focus, I think he's just as good as anyone else. He has the ability, the speed and the talent."
Really Fast, who fashions a record of 4-2-0 from eight starts, has the least amount of experience of Takter's entrants, but perhaps the biggest shot at taking all the spoils.
A high-priced yearling ($700,000), the colt is more than up to speed, literally and figuratively, ahead of his biggest test to date.
He'll also relish the chance to be in the spotlight.
"He loves the big crowd, absolutely loves it. He goes by and his ears are up. He's like, 'Look at me.' There are always people hanging by the fence, taking pictures. He's quite a showman, maybe like a floor exercise gymnast in the Olympics. He'd thrive off the fans' energy during his performance."
Unraced at 2, Really Fast is owned by Brixton Medical, Hatfield Stables, Al Libfeld (who also bred the horse), and Marvin and Lynn Katz.
"Post seven is really good, which gives (driver) Dexter Dunn a lot of options out of there. You can see how things unfold and then react. He didn't race last year, so it's amazing what this horse has accomplished in such a short amount of time. Last year, at this time, he was turned out in a field on a farm, just enjoying life.
"We had to get knee surgery on him – he had a few little issues – and we got an excellent prognosis for racing. Luckily, we caught the issue before he fractured anything. We knew that something could happen, so we took care of it. It's a hard thing to do, to tell the owners who paid $700,000 for a horse that in the future he could possibly fracture his knee, and we should probably stop for a year. So, kudos to them. They are great, great owners. Their patience is going to pay off for them, I think, on Saturday."
Takter is taking a patient approach herself.
The 2020 U.S. Trainer of the Year is also sticking with her game plan.
"I am perfectly fine. My job is to make sure the horses are ready to race. For me, honestly, it's exciting to be part of the Hambletonian, but my focus on making sure they are 100 per cent on Saturday. I won't be doing anything differently. I just trust the process. You set a plan and try to execute it the best you can. You can't force things. The preparation and plan for this race started in January. Things happen along the way, good and bad, but you keep with what you know. There's a lot hard work and effort, but I've got a great staff. It's our job to ensure these horses are ready to be at their best for the race."
Ready, hopes Takter, to put on a gold medal performance for the entire racing world to see.
TrackMaster PPs for Saturday's Hambletonian Day card available here.